Chicago, IL – Courtney Vandersloot led the Chicago Sky with 19 points, and her partner in crime, Kahleah Copper, added 18 to the boxscore. Those two weren't the only ones who put in work as Candace Parker attributed with 17 points, nine rebounds, seven assists and two blocks as the Chicago Sky move on to the WNBA Finals. The Sky, who entered the playoffs as the sixth seed won tonight with a 79-69 victory over the number one overall seed, Connecticut Sun.
Vandersloot  (Sloot)and Copper were the Dynamic Duo that the Sky needed as they defeated the top seed in tonight's Game 4 of the WNBA Playoffs. Sloot and Copper started the game on an 8-2 run sparking the highest-scoring quarter of the night of 32 points.
"It was like we patched one leak and then another opened," expressed Connecticut head Coach Kurt Miller on Sky's fast-paced 1st quarter. "We were always on our heels and coming from behind."
The Sky outscored the Sun in the first half 54-41. Though Connecticut held Chicago to only an 11 point third quarter, it wasn't enough to separate from the dynamic and experienced Sky team.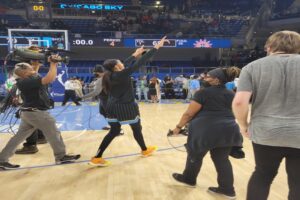 Chicago bred, Parker, brought some flare of her own pouring in 17 points. The Wintrust Arena vibrated every time Parker touched the ball after her no-look pass to Sky's Azura Stevens in the first quarter.
With only a few minutes left in the third quarter, Parker took advantage of a one on one matchup in the paint to extend Sky's lead to 77-62. The emotional veteran chest bumped her teammate at center court, the on-court energy was felt in the entire arena as the Sun called a timeout to try and regather.
But, it was too late for Connecticut as Copper drilled a free throw to put the cherry on top and seal the game for the 79-69 victory.
"This is a special group," Parker shared on her teammates. "I think the way you face adversity, has built our character and it has revealed it."
Parker went on to say that her team has believed going into playoffs that they would be here. And while many thought Connecticut would come out on top in this series, her team showed they are the real deal.
"We were missing one piece," said star point guard Vandersloot. "And it was Candace Parker. We knew what she brought to us. She was going to take us to this point that we are right here. That's what it means to us for her to come here and come home."
On the opposing side, Jonquel Jones tried to help her team to keep clawing back but it was to no avail. The MVP finished with 25 points, 11 rebounds, and two blocks. Natisha Hiedeman also played big minutes with 16 points on five-for-six from deep.
Chicago will now wait to see who they face in the playoffs after Las Vegas forced a game five against Phoenix. Game 5 between theAces and Mercury will be Friday, Oct. 8 at 9 p.m. EST.
Game 1 of the WNBA Finals will be Sunday, Oct. 10 at 3 p.m. EST.