SAN ANTONIO – The Stanford Cardinal (31-2) literally fought tooth and nail to the final buzzer to earn a long-awaited third national championship, beating the upset-minded Arizona Wildcats (21-6) 54-53 on Sunday afternoon. Stanford was led by sophomore sensation Haley Jones who finished with 17 points, eight rebounds, and one assist which led her to be named the Most Outstanding Player of the championship.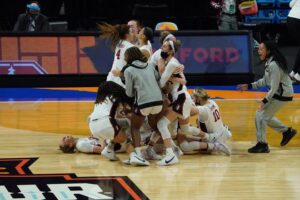 While the Cardinal are one of the most decorated teams in women's basketball history, this was the first NCAA championship that they have won since 1992 – to put it in context, Shaquille O'Neal was in his junior year at LSU, George Bush, Sr. was still President of the United States and the first text message had not been sent yet. The 29-year gap in between titles wins was the longest for any Division I coach in any sport.
Had it not been for a missed jumper by Wildcats guard Aari McDonald right before the buzzer, Stanford may have had a 30 year wait on their hands. Head coach Tara VanDerveer, who had taken over as the all-time leader in wins earlier in the season, breathed a sigh of relief once the game was definitively over.
"That's the way basketball is," VanDerveer said. "If you've got a faint heart or weak stomach, then don't coach."
While Stanford was the no. 1 overall seed and the favorite to win it all, credit has to be given to Arizona, who silenced the critics after they pulled off a 69-59 upset over the no. 1 Connecticut Huskies to punch their first-ever ticket into the national championship game. Head coach Adia Barnes, in her first tournament with her alma mater, made it clear that the loss wasn't just about the final possession but the overall game.
"It doesn't come down to the last possession, it comes down to all the little things," said  Barnes, who was trying to lead her alma mater to a title in just her first NCAA tournament as head coach. "The margin of error is so slim in a championship game. This is unchartered territory for the Wildcats."
The margin of error against a team like Stanford, in general, is very small, and shooting 28.8 percent from the floor definitely didn't help the Wildcats' chances. However, Stanford did not do themselves any favors, turning the ball over 21 times, allowing Arizona to stay within fighting distance. At the end, though, it was Stanford who finally got over the hump after losses in their last two appearances in the championship (2008, 2010).
For the Cardinal, this championship may have been their most hard-fought in the team's history. Due to COVID-19 protocols in Santa Clara County that prohibited sports of any kind at the beginning of the season, the Cardinal spent nearly 10 full weeks on the road. In spite of that, VanDerveer managed to become the all-time winningest coach in women's basketball history in December, passing the late Tennessee great Pat Summitt. With 1,125 wins under her belt (973 at Stanford, 152 between Idaho and Ohio State), the 68-year-old has no plans of slowing down yet.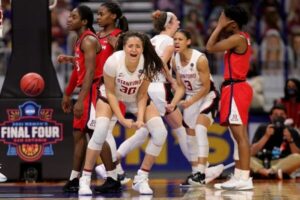 "Maybe I'll think about it later," she said. "Right now, I am very excited about what we accomplished, about the team that we have in that locker room and the young people that are committed to Stanford. I'm happy. I'm enjoying it.
"Sometimes you just have to stick with things. For me as a coach, again, you want to win a national championship. We have had shots at it. I've had heartbreak with teams that had great shots of winning it. But this team won, and I'm so proud of them."
Before joining The Ball Out, Chris Bullock was part of SB Nation's Swish Appeal for nearly three years, covering everything women's basketball. Chris has had the honor of doing live coverage of the WNBA Finals, the NCAA Tournament, and also was given his own column, "The Triple Double". A self-described "foodaholic", Chris lives in the San Diego area with his wife and two daughters, and also hosts his own podcast, "Conscious Cravings", where he speaks about his experience as a mental health advocate.