ANCHORAGE – Mayor Ethan Berkowitz has announced his plans to step down as of October 23 due to a scandal that involves a journalist, a former escort, and the owner of a popular Anchorage diner.
According to the Anchorage Press, the story started on Oct. 9 when News Link Alaska journalist Maria Athens held an interview with local business owner Molly Blakeley when the conversation turned to the mayor. The business owner (who was not named) then told Athens her daughter used to escort in Anchorage, which Athens spun into a hit piece on Berkowitz. She accused him of posting X-rated photos on an underage girls' website.
The mayor's office then issued a stout denial of Athens' accusations, saying that she is apparently not mentally stable.
"The slanderous allegations from your Alaska link reporter Maria Athens are categorically false and appear to be the product of someone who is hostile and unwell. We spoke with Ms. Athens' employer, general manager Scott Centers, who emphatically disavowed his employees comments."
The same day, Athens, 41, was taken into custody by Anchorage Police after she was reportedly in an altercation with a male. Athens was charged with fourth-degree assault, criminal mischief, and disorderly conduct. The business owners and her daughter also exchanged text messages the same day regarding the incident.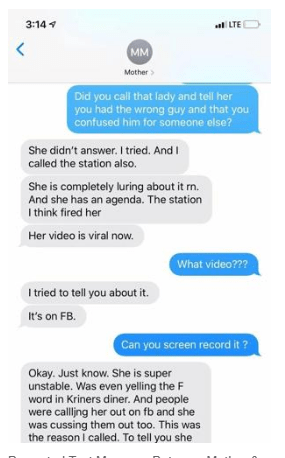 On Oct. 10, Alaska News Source reported on Athens' accusations.
"A spokesperson from the Anchorage Police Department said Saturday that they were aware of the allegations against the mayor and a joint investigation with the FBI revealed no evidence of criminal conduct."
The daughter of the business owner also went on Twitter to defend herself against those same accusations, saying that Athens was essentially just trying to get her five minutes of fame before denying any involvement with the mayor.
On Oct. 11, a Reddit user claimed to know Blakeley personally, stating that she is a Qanon believer and apparently schizophrenic. The same commenter also revealed that Blakeley's half-brother, Andy Kriner, is the owner of Kriner's Diner – a diner that had become the symbol of opposition when they defied Berkowitz's order to suspend all dine-in services in August. Ultimately Kriner and the city reached a settlement agreement to avoid a hefty set of fines the restaurant had collected.
The following day, on Oct. 12, Athens sent a voicemail to Berkowitz, which contained a bunch of anti-Semitic epithets and death threats towards the mayor and his wife, Dr. Mara Kimmel. On the same day, Berkowitz admitted to a consensual but inappropriate texting relationship with the reporter. The following day, on Oct. 13, Berkowitz had submitted his resignation to the city Assembly.
"It is with profound sadness and humility that I resign as Mayor of the Municipality of Anchorage. My resignation results from unacceptable personal conduct that has compromised my ability to perform my duties with the focus and trust that is required. I know my conduct has done great injury to my family, my staff, to Municipal employees, and to the people of our community, and for that, I am deeply sorry. To make this transition as smooth as possible, my resignation will be effective Friday, October 23 at 6:00 p.m."
As of Oct. 12, Maria Athens was arraigned and released from jail. It is unknown if she is still employed with News Link Alaska. Before joining The Ball Out, Chris Bullock was part of SB Nation's Swish Appeal for nearly three years, covering everything women's basketball. Chris has had the honor of doing live coverage of the WNBA Finals, the NCAA Tournament, and also was given his own column, "The Triple Double". A self-described "foodaholic", Chris lives in the San Diego area with his wife and two daughters, and also hosts his own podcast, "Conscious Cravings", where he speaks about his experience as a mental health advocate.