[fusion_builder_container hundred_percent="no" equal_height_columns="no" menu_anchor="" hide_on_mobile="small-visibility,medium-visibility,large-visibility" class="" id="" background_color="" background_image="" background_position="center center" background_repeat="no-repeat" fade="no" background_parallax="none" parallax_speed="0.3″ video_mp4="" video_webm="" video_ogv="" video_url="" video_aspect_ratio="16:9″ video_loop="yes" video_mute="yes" overlay_color="" video_preview_image="" border_size="" border_color="" border_style="solid" padding_top="" padding_bottom="" padding_left="" padding_right=""][fusion_builder_row][fusion_builder_column type="1_1″ layout="1_1″ background_position="left top" background_color="" border_size="" border_color="" border_style="solid" border_position="all" spacing="yes" background_image="" background_repeat="no-repeat" padding_top="" padding_right="" padding_bottom="" padding_left="" margin_top="0px" margin_bottom="0px" class="" id="" animation_type="" animation_speed="0.3″ animation_direction="left" hide_on_mobile="small-visibility,medium-visibility,large-visibility" center_content="no" last="no" min_height="" hover_type="none" link=""][fusion_text]
As the NBA prepares for a shortened return at the end of July, the Dallas Mavericks (40-27) have been preparing for their comeback with optimism and determination.
Only four games out of the three seed, the Mavericks know that keeping the chemistry they began building before the COVID-19 pandemic will be crucial for them to move forward. However, that doesn't mean they aren't paying attention to what's been going on in the outside world.
Over the course of the last month, the nation's focus has been on curbing police brutality against people of color and reforming law enforcement to be more civil-minded – something that has not been lost on the league and its players as they have weighed whether playing in this time should be on the back burner. General manager Donnie Nelson spoke candidly about how the league has a chance to shine a brighter light on these issues in Thursday's press conference.
"As a country, community and as an individual across the board, we have an incredible platform of which I think we could put the spotlight on issues that are paramount to all of us," Nelson said. "From Adam Silver to Mark Cuban and Rick, obviously, with the coaches' association. There's nothing more important to us as an organization, as a league besides getting it right. And I think all of us individually need to look internally and say 'what can we do better?' We have to hold each other accountable and there isn't anything that is more front of mind as that."
Nelson also spoke about the "bubble" at the Walt Disney World Resort that 21 other teams will be sharing come mid-July when teams are slated to report and how the league has done its best to keep its players and staff safe.
"It's not risk-free but I think in terms of just the professionalism, the amount of detail that's gone in from everything that you could imagine to ensure that hotels, practice facilities, transportation, every T is crossed and every I is dotted," Nelson said. "Now, that being said, it's impossible to ensure ourselves of a 100 percent COVID-safe environment."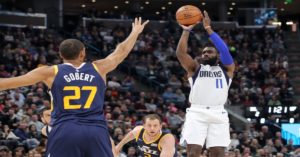 When it came to talking about finally starting workouts, head coach Rick Carlisle was his usual self – always looking at the upside.
"With today being the first official day of workouts, it's now official," Carlisle said. "This is certainly a new situation; never before have we gone through something like this in the NBA so some people might look at it with trepidation – I look at it with excitement. It's really an amazing opportunity for us."
Carlisle was also asked about whether the players were concerned about their health and safety upon entering the bubble. While he may not have had the complete answer, he did give some insight as to what the team is thinking.
"There's obviously a lot of fluidity with what we're in, in terms of between now, it's totally new territory," Carlisle said. "There are questions each day that are asked, people thought of that aren't in the 113-page memorandum but the league has remained very flexible, you can say they have maintained a fluid approach."
Luka Doncic, the 2018-19 Rookie of the Year, was very adamant about his feelings in regards to getting back on the court.
"No, I never hesitated, I always wanted to play," Doncic said with a smile. "I missed basketball a lot so I just want to play – there was no question about me, I always wanted to play."
At the end of the press conference, Carlisle expressed a sense of excitement for the games to come.
"You could look at it, all the procedural tactics, variables, etc. and look at it as a very daunting thing," Carlisle said. "Or you could look at it as a one of a kind, hopefully once in a lifetime opportunity that is really unique."
The Mavericks will return to the court officially on July 31 when they lace up against the Houston Rockets live on ESPN.
[/fusion_text][/fusion_builder_column][/fusion_builder_row][/fusion_builder_container]