According to reports, a star player for Tulane, Teshaun Hightower, was arrested Saturday and charged with being in connection with the murder, aggravated assault, battery, and possession of a firearm in Georgia earlier this month (April 8).
Hightower was excused from the team on Sunday. In addition, he's currently an inmate at Henry County Jail, per reports. He's scheduled to appear Sunday morning.
"Upon learning of Teshaun's arrest this afternoon, he was immediately dismissed from the Tulane basketball program," Tulane said in a statement.
As stated by Georgia's Henry County Police Department, there are several others that have been apprehended in relation to the homicide, including Hightower's brother Jeffrey. Kelvonie Burney, Tyreek Farmer, Tobias Gresham and Antonie Gresham have also been taken into custody. Records state that one man that's believed to be in relation to the crimes committed has yet to be arrested.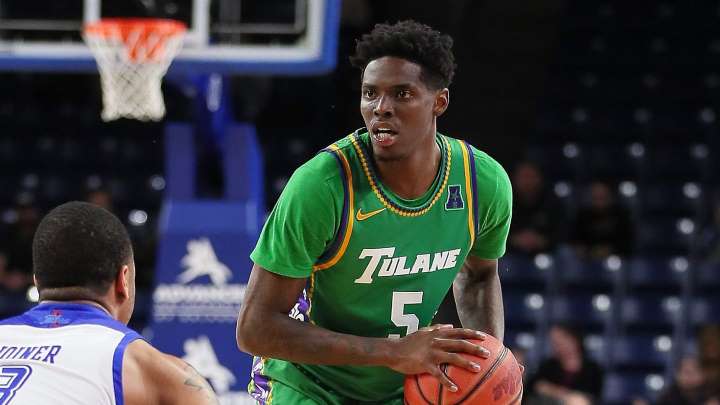 Police reports read that officers responded to a call for a person shot just a little before 11 a.m. in Stockbridge, Georgia. The incident took place at an apartment complex just an hour away from where Hightower grew up in Lithonia. The victim who was shot in the apartment complex would later be identified as 24-year-old Devante Long. Long was taken to a hospital and pronounced dead of his injuries later.
The 6-foot-5 junior transferred to Tulane last year after playing two seasons at Georgia. While with the Bulldogs, Hightower averaged 6.6 points and 1.9 rebounds in 29 games. However, he would have an outstanding season for the Green Waves during the 2019-20 season. Notching a red hot 15.9 points and 4.6 rebounds per contest.
The Tulane guard declared for the NBA Draft in April, however was planning to keep his eligibility and the option for him to return to school open.
Update as of April 27:
Atlanta attorney and representative of Hightower, Averick Walker, stated that Teshaun's brother, Jeffery, was the one who fired the gun. Killing the 24-year-old Long in April. In addition, is pounding the table to ensure that his client is the innocent party. 
"He's innocent. He didn't shoot anybody," said Walker. "It's sad that this detective sought to make him out to be a monster and he's not. When it's all said and done, it will come out in the wash that the person who did fire the gun shot the gun to protect Teshaun."
"Teshaun's brother actually fired the weapon and fired in self-defense," he continued. "The victim came out of the house with a gun in his hand and turned his weapon toward Teshaun to shoot him. That's why the victim was shot himself."
Walker also tells ESPN that under Georgia state law, Hightower and his brother had the right to defend themselves on the night of the crime.
"These people have a right to stand your ground," Walker stated. "If somebody threatens you with a weapon, you have a right to stand your ground. The victim was called outside by his girlfriend, and he came out with a gun in his hand."
Both Hightower and his brother are currently being held without bond at the Henry County Jail in Georgia.