After 33 years as the head coach at Notre Dame, Muffet McGraw has announced she is stepping down from her position.
"It has been my great honor to represent the University of Notre Dame these past 33 years, but the time has come for me to step down as your head basketball coach," McGraw shared in a statement. "I want to thank Monk Malloy and Father Jenkins for giving me the opportunity to coach the game I love at a university I love. I have learned much about leadership from the many athletic directors with whom I have served, and in particular, I want to thank Jack Swarbrick for his unwavering support."
During her tenure of leading the Fighting Irish, McGraw finished with an overall record of 848-252. In 2001 and 2018, McGraw's teams brought home national championships. In her career, McGraw's overall record is 936-236, becoming the fourth-fastest to reach the 900 win milestone.
Notre Dame has already found a coach to replace McGaw, former Notre Dame assistant and player, Niele Ivey.
"I am so honored to be able to follow in the legacy that Coach McGraw built here at Notre Dame," Ivey stated in the school's press release. "My love and appreciation for Coach McGraw is beyond anything I can express. She's more than a mentor, more than a friend, she's one of the most influential people in my life. I am full of gratitude for Coach McGraw and what she has done for me. She was the first to give me an opportunity to play for Notre Dame and coach here as well. I will forever be grateful for her love and support. I would also like to thank Jack Swarbrick and Father Jenkins for having the faith to move this program forward with me. I can never thank you enough for this incredible opportunity."
Ivey is returning to the Notre Dame sideline after serving as an assistant coach with the Memphis Grizzlies this past season.
McGraw leaves Notre Dame with plenty of accomplishments under her belt. As mentioned above, she has two national championships. As tough as it is to make it to the NCAA tournament, McGraw's Fighting Irish made 24 consecutive appearances. Even further, her team has advanced to the Final Four, nine times, and won 67 games in the tournament.
McGraw had a very illustrious career with Notre Dame. She has left a lasting impression on the program. She walks away with 31 seasons with atleast 20 wins, 11 campaigns with 30 wins, including 174 victories over ranked opponents.
Sixteen times McGraw lead the Fighting Irish to regular seasons titles — eight straight between 2012-2019. Notre Dame brought home 11 conference tournament championships under McGraw.
There are only 13 women coaches who have been inducted into the Naismith Hall of Fame — McGraw has been one since her induction in 2017. She has also been inducted into the Indiana Basketball Hall of Fame (2014) and the Women's Basketball Hall of Fame (2011).
It is with no question McGraw has left her mark and her shoes will be hard to fill. However, the hire of Ivey is a great step and one for years the basektball community has wonder when she would get her chance as a head coach.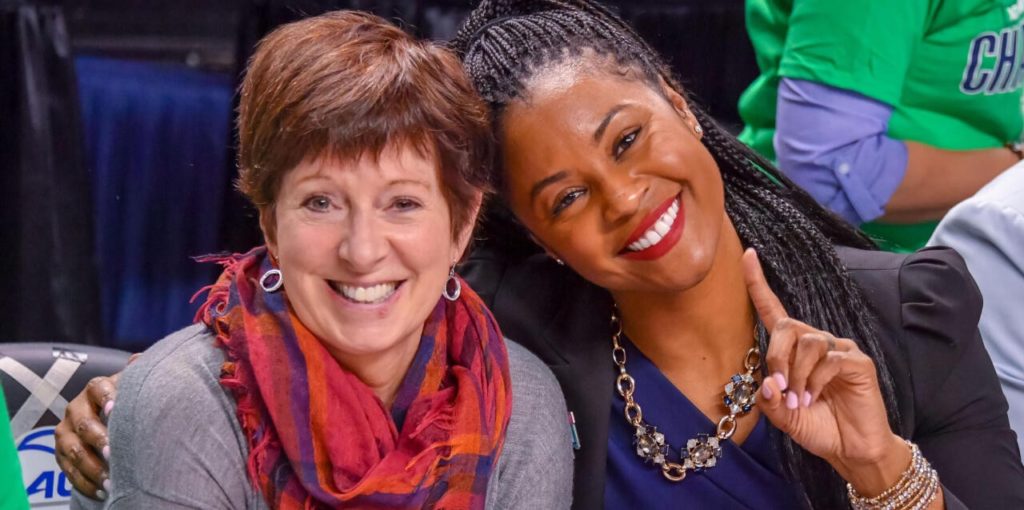 For the Fighting Irish, Ivey was on the team each of the seasons the team advanced to the Final Four: twice as a player and the other seven as an assistant.
Ivey suited up for Notre Dame and McGraw from 1996-2001. After a few seasons in the WNBA (Indiana, Detroit and Phoenix), Ivey became an assistant at Notre Dame (2007).
Since joining the staff, Ivey helped the Fighting Irish go 386-55. McGraw is pleased IVey will be taking over the program.
"I am thrilled Niele will be the next leader of the Notre Dame basketball program. She's one of the best young coaches in the game today and her success with the Grizzlies has helped make her even more prepared for her new role," McGraw shared on Ivey. "What sets Niele apart is her ability to connect with all generations — alums, her current team, and future student-athletes. She will be a fantastic role model and a leader in the women's empowerment movement, and she will represent Notre Dame in a way that will make our fans proud."
In 2016, Women's Basketball Coaches Association Division I created a new honor, the National Assistant Coach of the Year Award– Ivey was the inaugural recipient.
As an assistant, Ivey was huge in the development of All-Americans Skylar Diggins-Smith, Jewell Loyd, Lindsay Allen, and Arike Ogunbowale.
Ivey has her hands full stepping into a new position behind a legendary coach in McGraw, but it is one her former boss and the staff at Notre Dame believe she is ready for.
"Father Jenkins and I have every confidence that Niele Ivey is the perfect person to build upon the legacy established by Coach McGraw," Swarbrick stated. "As a player and as a coach, Niele helped Notre Dame women's basketball perform at a championship level. She understands Notre Dame and what it takes to help young women reach their potential here. We look forward to working closely with her in the years ahead."