Penny Toler, former general manager of the WNBA's Los Angeles Sparks, has filed a lawsuit against her former employer, accusing the team of firing her for reporting sexual misconduct regrading a team official.
The Sparks had fired Toler on Oct. 4, nearly two weeks after she went on a tirade after a playoff game that included a racial slur. In the gender discrimination lawsuit, Toler alleges that if she were a man, she would still be employed.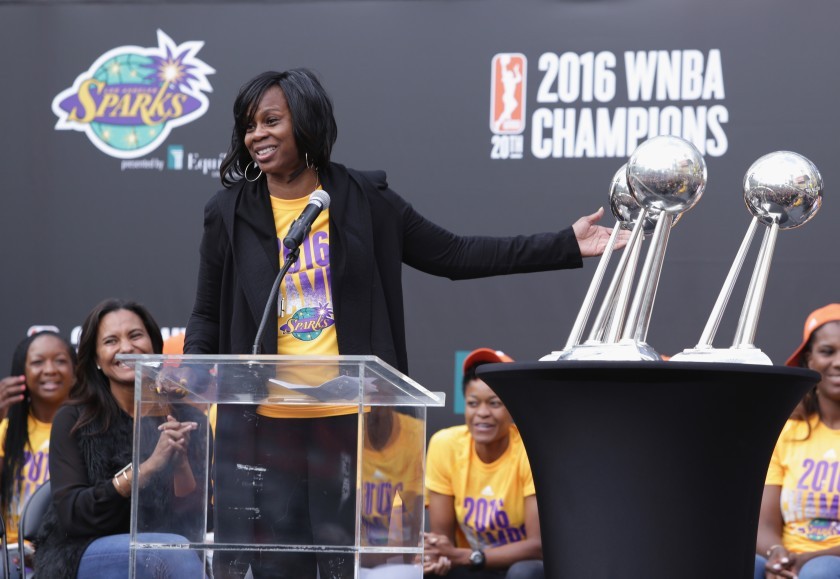 According to Toler, her firing has more to do with retaliation "after raising complaints about the workplace conduct" of Christine Simmons, the former team president, and Eric Holoman, the team managing partner, and governor, "who were engaged in an extramarital affair" during Simmons' tenure as team president — a relationship Toler said made doing her job difficult.
The lawsuit also mentions a double-standard for male employees, including current Dallas Wings (and former Sparks) head coach Brian Agler – who coached the team from 2015 to 2018. However, Agler was not mentioned by name in the suit. Agler was not immediately available for comment when contacted on Tuesday, nor was Simmons. When asked on Tuesday, Holoman said he was not aware of a lawsuit being filed.
Toler, who had been associated with the Sparks franchise since its inception (first as a player from 1997 to 1999 then became the general manager after retiring), said in the lawsuit that the atmosphere around the team was soap-opera-like, mentioning a sexual relationship between Simmons and a ball boy and Agler and an unnamed player.
Dawn Collins, Toler's attorney, told the Associated Press that it seemed like her client was singled out simply because she was a woman.
"It looks like she was singled out and treated differently because she was a woman," Collins said in regards to Toler's postgame tirade that caused her termination. "Coaches speak to their players to get them fired up, many coaches use harsher language and far more controversial language. If the term is not O.K., it's not O.K. for everyone."
There isn't any mention of who Toler reported her complaints to in regards to Holoman and Simmons' inappropriate relationship, however, Toler says in the suit that even after Simmons left the team in 2018, she still had an influence on team decisions due to her relationship with Holoman. In the suit, Toler mentioned that Simmons inquired into trading franchise cornerstone Candace Parker, but due to the relationship between Parker and Simmons, Holoman refused.
Toler told the AP that "I wasn't part of the clique. Every day people would have no idea what I went through here working for the Sparks after they were acquired by this ownership."
She also said that she felt like she was treated differently than male employees of the team, Agler included. Toler said that Agler was not disciplined for verbally abusing the players, but that he also had a sexual relationship with an unidentified player. When she asked Sparks' management to investigate the matter, Holoman said he would handle it – but nothing ever came of it. Toler said that she didn't hear anything about the allegations until the league reached out to her in 2019.
Toler said that Agler's "sexually predatory conduct caused certain Sparks players to complain that he made them uncomfortable, and compelled other Sparks players to leave the team altogether." Agler resigned from his position with the Sparks after the 2018 season and accepted the head coaching position with the Wings on Dec. 18 of the same year.
Toler's contract with the Sparks was set to expire at the end of March and had been speaking with the team over the last few months regarding the pay she felt she was owed and to clear her name.
However, the discussions ended up with no resolution. The Sparks former general manager said that she did not want to damage the reputation of the Sparks, but felt like she was left with no other choice, which is why the lawsuit came about. Before joining The Ball Out, Chris Bullock was part of SB Nation's Swish Appeal for nearly three years, covering everything women's basketball. Chris has had the honor of doing live coverage of the WNBA Finals, the NCAA Tournament, and also was given his own column, "The Triple Double". A self-described "foodaholic", Chris lives in the San Diego area with his wife and two daughters, and also hosts his own podcast, "Conscious Cravings", where he speaks about his experience as a mental health advocate.