Los Angeles, CA – The highly anticipated rematch between two of the biggest Heavyweight Champions of the world will take place on February 22nd, 2020 between former champion Tyson Fury and current WBC Heavyweight Champion Deontay Wilder.
The press conference was held Monday in downtown Los Angeles at The Novo. This fight will absolutely make history and has already had fans hanging on the edge of their seats since December 1, 2018. The fight will air on Fox Sports PPV and ESPN+ PPV live from the MGM Grand Garden Arena in Las Vegas.
A lot of controversy came to light as the two fighters discussed each other's backgrounds and personal issues. During the press conference both undefeated fighters went at each others' throats (not literally of course). The two fighters had the press conference rocking with laughter and surprising gasps with some of the comments that were made.
Once the event began, Wilder and Fury came out with words blazing. Once they were face to face they had nonstop roasts waiting for each other, starting from fashion and ending with the previous fight. Wilder started and ended his speech off with yelling his catchphrase "BOMBSQUAD" in Fury's ear, which immediately woke up the room.
Promoter Tom Brown from Wilder's camp stated that there was a reason why there wasn't an immediate rematch, which placed emphasis on the accusation of Fury being scared to face him. As far as Wilder's co-manager Shelly Finkel, he admitted loving Fury but he did state he's getting knocked out in February by his client, which caused an eruption of laughter in the room. On the opposing side we had SugarHill Steward, who trains Fury and advised us that this is not the fight to miss.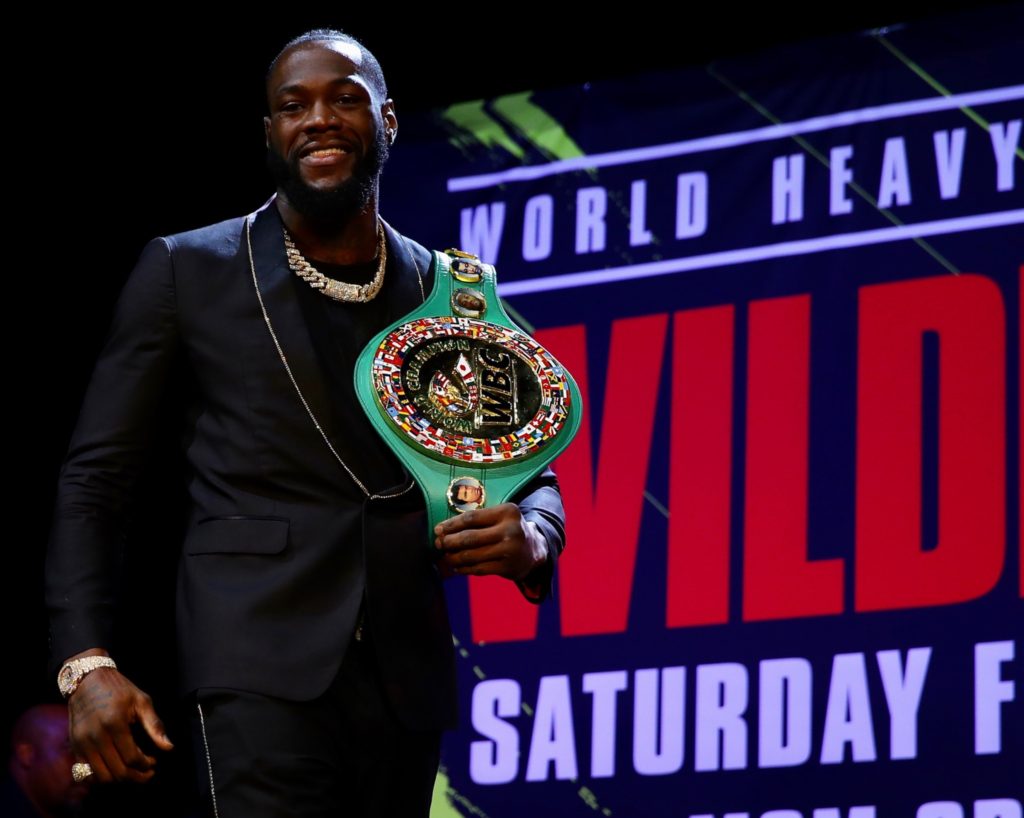 He also added that the difference with the history of this fight is the generational change of size within the heavyweight division. Not everyday do we have boxers with this type of height and size (Wilder stands at 6'7″ and Fury is 6'9″).
"The boxers I face get in tiptop A+++ shape because they know the danger they are putting themselves in," Wilder said. He's known to knock out his opponents.
Wilder also made sure to laugh and smile as much as possible throughout the conference. He made sure to call out Fury being part of history by insinuating he would definitely lose to him during Black History Month.
"It's not how you hit the floor, it's how you get back up," Fury stated during the presser. He further elaborated he didn't come here again to get a bad decision. While battling verbally back and forth, you could definitely tell the personality of each fighter was extremely different.
Fury, known to have a class-clown like personality, admitted to the inspiration for his suit was "flamboyant lifestyle, flamboyant person, flamboyant suits." His white suit featured himself holding his championship belts, featuring pink and yellow colors which stood out.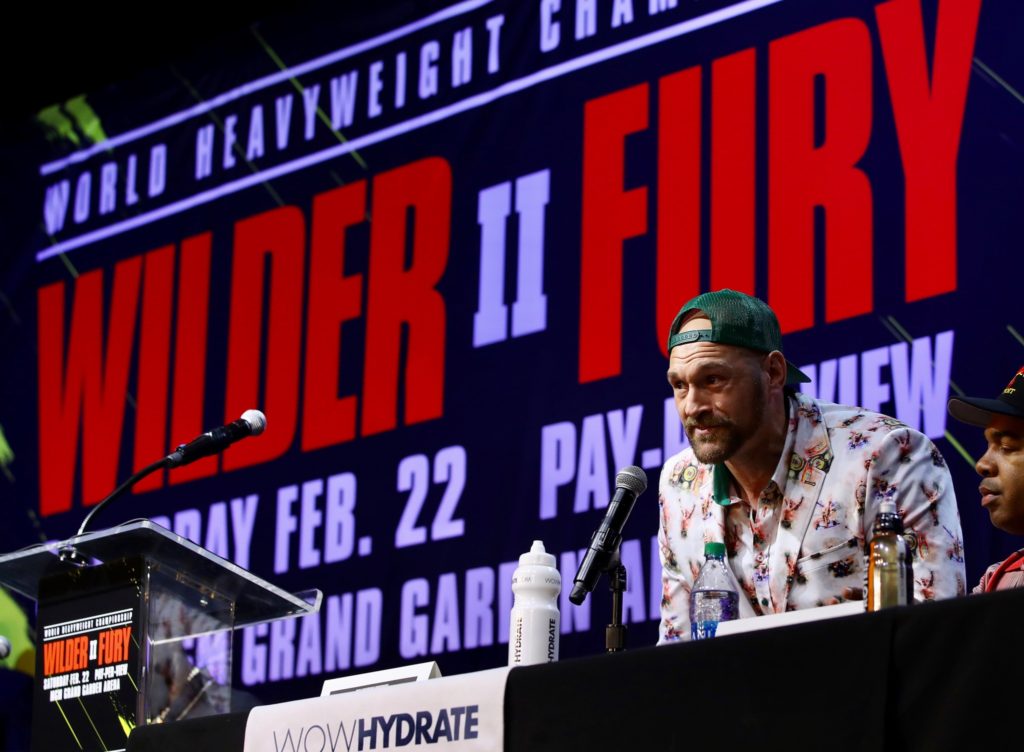 Fury states he will "get the green belt, also going to get the Ring Magazine, and I'm also going to keep my Lineal Championship." The biggest comment made of all was when Tyson predicted knocking Wilder out in two rounds. It was so unexpected that one of the media reporters yelled "WHAT?"
He backed up his comment by advising that he manifested it with a reoccurring dream telling him about Round 2. He also mentioned that he kept getting dealt the number two while playing poker as well. The highly anticipated fight will be a thrill to watch for everyone because it's hard to say how many people would agree with him. This will be a tough battle that will finish with more than just bragging rights.
As for Deontay's end, he reassured us that he's more prepared than ever and that despite he will make Fury "go timber" and that this time he won't be able to get back up like the previous boxing match. As the pressure continued, talks about Fury's mental health came up but Wilder said he's personally suffered in ways as well so it's not a crutch he's able to use for the fight.
This time around he promised "a more calmer, patient Wilder." As entertaining as this press conference was, February can't come soon enough because these two have some unfinished business to attend to as Wilder stated. The amount of talent going head to head is one for the books and we haven't seen a heavyweight fight like this in years.