Philadelphia, PA — LeBron James passed Kobe Bryant for a top-3 spot amongst the games all-time leading scorers. However, the night was spoiled as the Philadelphia 76ers dominated the Los Angeles Lakers, 108-91.
Just Want to Get Home
It will be a night that will always be remembered in NBA history. James finished with 29 points, eight assists and seven rebounds and is now the third all-time leading scorer, surpassing fellow Lakers (36-10) great Kobe Bryant.
However, as quick as you may want to remember this night, you might want to forget it.
Los Angeles never looked to be in the game against Philadelphia (30-17) even when taking into account the runs they made late. No one really looked as if they wanted to play in this contest that was wearing a purple and gold uniform, with the exception of Alex Caruso and Anthony Davis. 
Kyle Kuzma looked like someone hurt his feelings, James started out the game turning over the basketball, finishing with eight in total and several other Lakers looked lost. When things like that happens, it takes a team a long time to get into their automatics. 
Los Angeles has the best collection of talent we've seen in quite some time. However, it bites them mightily like it did tonight. You can blame it on a road trip if you like because LA has been on a tough one. You could blame it on the dog days of the NBA season where no one really pays attention and the All-Star game is weeks away.
However, you would've believed that with no Joel Embiid for Philadelphia, Los Angeles would've taken advantage of the 76ers inside or would've been more physical.
Pick Up The Pace
This is clearly a different team when Embiid is not on the floor in terms of pace. It's night and day. 
The 76ers are near the bottom half of the league in terms of pace. Much of that is because when Philadelphia has Embiid on the floor, the game stops and slows down. However, when Ben Simmons is able to run this club, spectators can see they want to get up and down. 
Offensively their tempo was off the charts. Not in terms of fast break however, they only scored eight points. However, it was how they played on both ends. Simmons led the charge when it came to controlling the game with 28 points, 10 rebounds, eight assists and four steals. He also got help from teammate Tobias Harris, who had 29 points.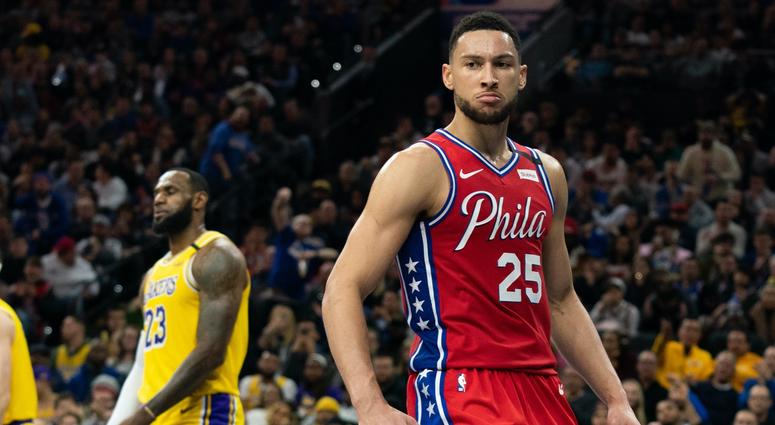 Simmons did a fantastic job being a point guard. He understood who he had, what he had and what made them comfortable.  He got everything started for Philadelphia by making the passes that led to open threes for guys like Raul Neto, Al Horford, Furkan Korkmaz and Harris. But, when one guy passes like that and gets others involved, it becomes contagious. In addition, his pass would lead to the pass that led to the open basket. Whether that was from inside the three-point-arc or outside of it. 
Philly knocked down 13 threes in 37 attempts (28.6 percent). Not great in terms of end of game stats and you don't expect much from a team who's 17th in the league in three-point shooting. However, the pace they played with, swinging the ball and finding openings, those shots were good shots. Now were some shots forced? Yes. The 76ers did play sloppy in spurts. However, they bounced back quickly. That's the mark of a great team.
Defense Leads to Offense
On the defensive end, the 76ers were hounds. Los Angeles had 22 turnovers in the game. Much of it was due to them not being in the right places in their offensive situations, but also because Philly played great off-ball defense. 
Of those 22 turnovers, the 76ers scored 30 points. They played the passing lanes well as a team, finishing with 12 steals as a unit. Simmons would have four steals and Matisse Thybulle, who was a force defensively, had five steals. Whenever the 76ers got those steals, all five players ran the floor hard because they knew that Simmons would look for them. 
It makes things easy when you play like this. Team's lay down when not only on the offensive side are you wearing them out, but defensively you are giving them problems. Much of this was that Los Angeles didn't take advantage of the size mismatches and opportunities. However, defense is a matter of will and no team should want to see a box score say a team got 12 steals on us. Philly had the ball taken 12 times as well. Although, the outlook was different for them. 
Los Angeles got the steal and slowed the ball down until the games twilight moments. Philly got it and ran. When a defense plays like that, basketball turns into a 40-yard dash.
UP NEXT
Los Angeles heads back home to face the Los Angeles Clippers again on Jan. 28
The 76ers will welcome the Golden State Warriors into town on Jan. 28