Four distinct roads, one common goal: the claim of being the best team in college football.
As we approach the College Football Playoff season, the top 4 teams: LSU, Ohio State, Clemson and Oklahoma have all been nice to each other in media sessions but come December 28, there will be no room for cordial words, just all-out pigskin warfare.
In this article, we're going to break down both games and determine what it means for the championship game in the Big Easy.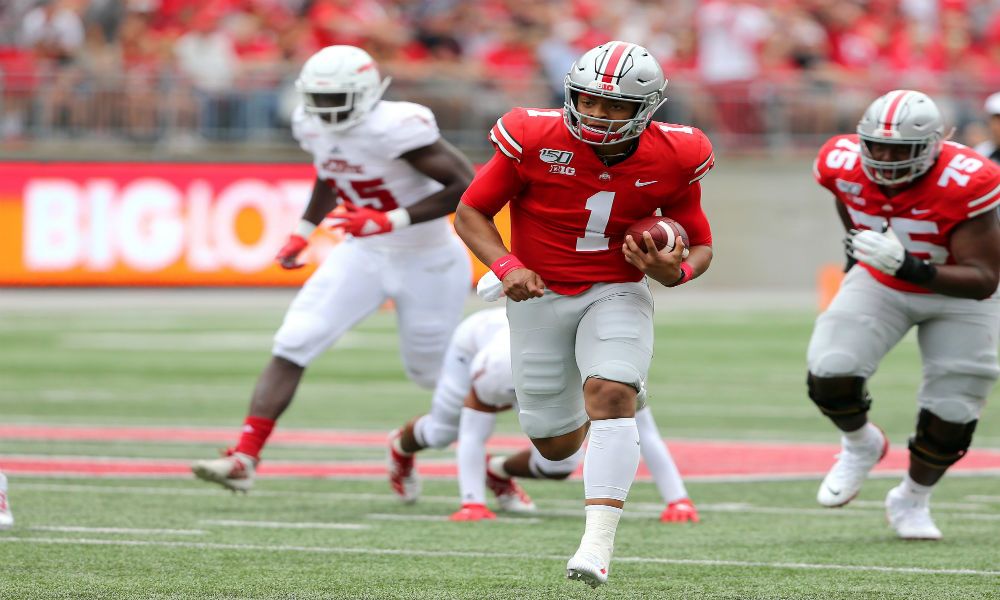 PlayStation Fiesta Bowl: #2 Ohio State vs. #3 Clemson
You can make a valid case that the Ohio State Buckeyes (13-0) should be the number one team in the nation; they had four wins over AP-Top 25 teams with an average point differential of 25.2.
The Buckeyes aren't beating teams; they are putting on a masterclass on how to properly dissect an opponent from top to bottom. On the offensive end, quarterback Justin Fields has been an absolute godsend. As a sophomore, the Heisman Trophy candidate (one of two on the team – more on that later) threw for 2,953 yards and 40 touchdowns (3rd in the nation).
To add, he only threw one interception the entire season, the best in the nation. Before you can use the argument "well, he probably fed on the unranked teams". consider this: he threw for about the same average of yards per completion (9.3 to 9.6 against unranked) and almost half of his passing yards against those teams. Oh, I almost forgot to add this small tidbit: he also ran for 471 yards, amassing 10 touchdowns.
On the other side, defensive end Chase Young (the second Heisman candidate on the team) does enough damage on his own to make opposing offenses look the other way. In only eight games (he was suspended four games due to an NCAA violation), Young collected 44 tackles, 6 forced fumbles and a school-record 16.5 sacks. Young's presence was so crucial that when he was suspended mid-season, some media pundits truly believed that it could have costed Ohio State a couple of wins.
That being said, the Clemson Tigers are no slouch opponent. Winners of two of the last three College Football Playoff championships, the Tigers are out in search for a third and this time, they have a bit of a chip on their shoulders. According to ESPN's Football Power Index, the Tigers only have a 46 percent chance of defeating Ohio State.
One can't help but think that because the Tigers play in the ACC, they didn't play anyone worth noting. It's an unfair argument to say that simply because the rest of the conference had a down year, that Clemson has to suffer as a result. Even head coach Dabo Swinney had some choice words about how his team was disrespected, saying that they were the defending champions and went into the playoff as the third seed.
Here are some numbers to swallow to consider how dangerous Clemson is: 35.6, 252.9 and 10.6. That is the average margin of victory Clemson has won by, the number of rushing yards per game they amassed and the points per game allowed by their number-1 ranked total defense. This game will most likely come down to who has the hot hand going into the fourth quarter, as both teams are fairly matched all across the board.
WRITER'S CHOICE: I hate going against the defending champions, and I truly think I will end up eating crow for this one. But ultimately, Ohio State is on a mission and Clemson, while the veterans here, have not faced a complete team like Ohio State during their run. Even in beating Alabama twice, the Crimson Tide were not a complete juggernaut. Ohio State has the better overall team and is battle-tested.
Chick-Fil-A Peach Bowl: #1 LSU vs. #4 Oklahoma
It's no secret that this game in particular is the most anticipated game between the two playoff games. There are too many headlines that can be used when you look to describe the game: Burrow vs. Hurts, High-Class Offense vs. Slobberknocker Defense, etc.. Regardless of who comes out the winner, this game may go down for the ages as one of the best in college football history.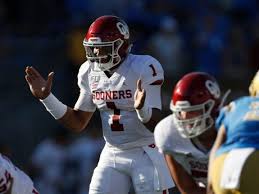 On one hand, you have Lincoln Riley's Oklahoma Sooners. The 12-1 Sooners were one of the best offensive teams in the nation, finishing second in total yards (by .1) and fifth in points (43.2). Anchored by Heisman Trophy candidate Jalen Hurts (who won the College Football Playoff in 2016 as a member of the Alabama Crimson Tide), the Sooners won the Big 12 title and climbed their way back from out of bowl contention to claim the last spot.
On the other hand, you have the LSU Tigers. Head coach Ed Orgeron has built this team into one of the scariest teams in the nation. Not only did they lead college football in total yards, passing yards and points per game, but quarterback Joe Burrow has proven he might be the best quarterback in all of football this year.
Burrow, who came onto the national scene as the 2019 Fiesta Bowl MVP, carried that momentum into the season as he broke 3 school and SEC records: passing touchdowns (48), passing yards (4,715) and passing percentage (77.9). On top of that, he won the Johnny Unitas Golden Arm award as well as leading LSU to the SEC championship with a 37-10 shellacking of then-no. 4 Georgia. If Burrow is able to replicate that success against the improved Oklahoma defense (better than it has ever been in Riley's term but still middle-of-the-pack), LSU could easily walk away with the win.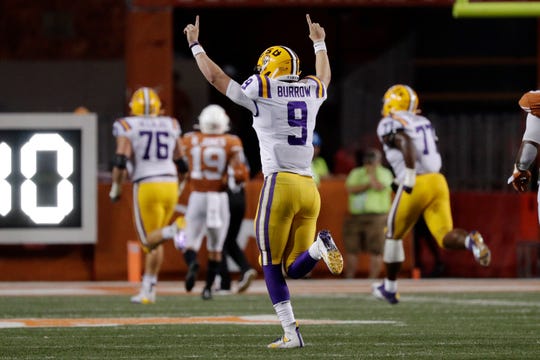 WRITER'S CHOICE: Considering that Oklahoma barely squeaked by Baylor in the Big 12 championship game, it is hard to root for them against an LSU team that is truthfully head and shoulders above them. I've been a Sooners fan since 1996 but Joe Burrows is just a different class of quarterback compared to ANYONE else in the Big 12. It would be nice for Jalen Hurts to get that storybook ending and win a second championship…but the odds of that are less than him winning the Heisman.
FINAL GUESS: #1 LSU vs. #2 Ohio State – LSU walks into their home state in Louisiana and claims the College Football Playoff title as theirs.