Black Monday in the NFL is in full swing. For many teams, they have not been shy to begin making their changes. A lot of changes we can't say we didn't see coming, yet for some franchises, we're wondering what's taking so long to make a decision?
He's what's gone on so far around the NFL.
Cleveland Browns part ways with Head Coach Freddie Kitchens
According to reports, the Cleveland Browns have elected to sever ties with head coach Freddie Kitchens after one season as the team's head coach.
"We thank Freddie for his hard work and commitment to this organization but did not see the success or opportunities for improvement to move forward with him as our head coach. Our focus is on hiring an exceptional leader for this football team and we will take a comprehensive approach to this process. We are excited about the core players we have to build around and develop and we look forward to bringing in a strong head coach that will put this group of players in the best position to succeed."

Owners Dee and Jimmy Haslam
The news came on Sunday following the Browns 33-23 loss to the Cincinnati Bengals. According to ESPN's Adam Schefter, Cleveland has requested permission to interview New England Patriots offensive coordinator Josh McDaniels. In addition, they have requested permission to interview Baltimore Ravens offensive coordinator Greg Roman and San Francisco 49ers defensive coordinator Robert Saleh. 
Kitchens was hired as the team's running backs coach in the 2018 season. He would be moved up to offensive coordinator a few months later after the team fired former head coach Hue Jackson and offensive coordinator Todd Haley.
The switch of positions put a spotlight on how well Baker Mayfield was responding to Kitchen's play-calling. Completing 68.4 percent of his passes for 2,254 yards, 19 touchdowns and eight interceptions in the final eight games of the 2018 season.
It's safe to say that Kitchen's wasn't on many team's search for a head coach much in large part because he didn't have much experience. He wasn't even on General Manager John Dorsey's list of potential head coaches when he got the GM job in 2017. However, Dorsey took a chance on the inexperience coach because of what he saw in the dynamic of Mayfield and Kitchens.
Yet, we see that blew up in everyone's face. Which is surprising.
After the influx of talent that surrounded Cleveland coming into the 2019 season (Baker Mayfield, Odell Beckham Jr., Jarvis Landry, Nick Chubb, Myles Garrett, Denzel Ward, etc), you had to be of the mind that this was a "super team" if that word can be used. Not only did they fail to live up to expectations, but they finished 6-10. Not even a .500 finish.
However, that's what happens when you bring in a great deal of talent into a situation with a first-year head coach. Expectations hit. It then diminishes the fact that you have an inexperienced coach. So, you don't give him one or two years to see what you have. It's win… or become fired.
We see how that worked out for Kitchens. Yet, this doesn't hide the fact that the Browns have been a bad team for a long time.
Since buying the team in 2012, the Haslams are now en route to hiring their 7th head coach. In addition, once a hiring is made, it will be Cleveland's 12th head coaching hire since the Browns returned to Ohio in 1999.
The Kitchens firing is the second time that a coach only got one year to be head coach for the Browns. Rob Chudzinksi was the other.
It seems that with the coaches they're asking to have a meeting with, they want a guy that not only fits this era, but can manage the talent on this roster. However, it seems that the damage has already been done. Cleveland once again may have to start over from scratch and trading guys who asked teams to come get them.
Giants fire Pat Shurmur after two seasons, retain Dave Gettleman
Following a disappointing season from the New York Giants, the team has decided to excuse head coach Pat Shurmur after two seasons. 
"This morning, we made the very difficult decision that it would be in the best interest of the franchise that we relieve Pat of his duties. Pat has been a successful and highly-respected NFL coach for 21 years and he is not solely responsible for our record. But we came to the conclusion it is best to have a fresh start with the coaching staff."

John Mara, team president
Under Shurmur, the Giants finished 9-23 and never won more than five games in either of his two seasons. He's 19-46 in four seasons as head coach with the Giants and Browns and one game as Philadelphia Eagles interim coach. It marks the seventh lowest win percentage in NFL history.
He was in the second year of his five-year contract.
According to ESPN's Adam Schefter, New York has requested permission to interview New England Patriots offensive coordinator Josh McDaniels and Kansas City Chiefs offensive coordinator Eric Bieniemy.
Yet, although it's the end of the Shurmur era in New York, the Dave Gentleman saga will continue. The Giants will retain their General Manager. This comes as a surprise to many football fans, because you would've expected that a Shurmur firing would also equal the firing of Gettleman.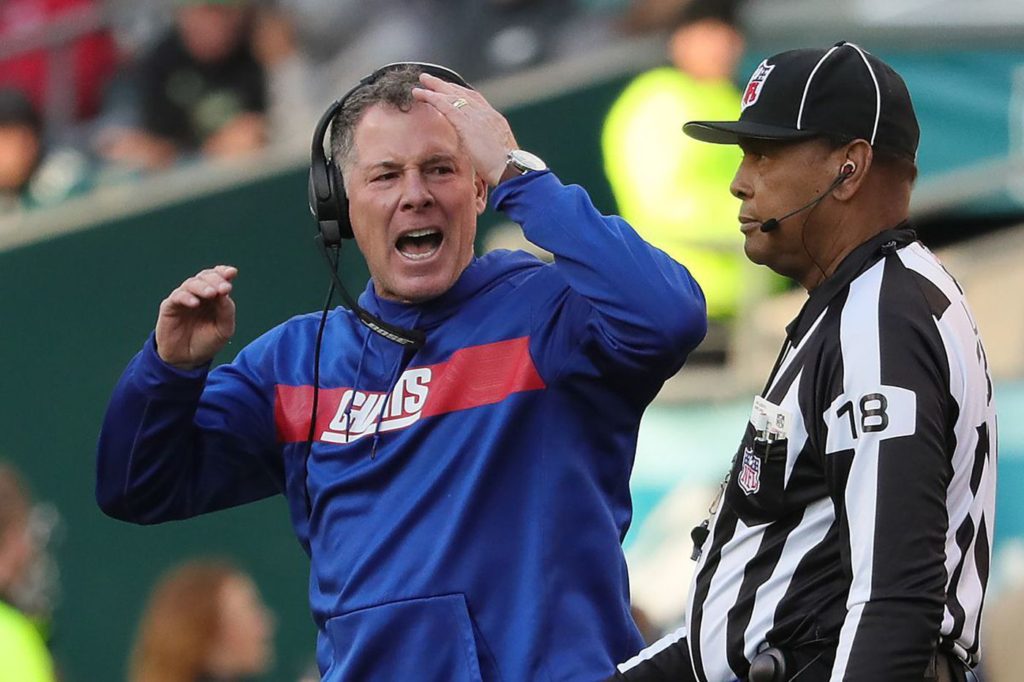 However, Giants co-owner John Mara still has faith in the New York GM.
"Dave has a long record of success," Mara stated. "We think he's capable of putting a great team together and he's going to get that opportunity. To the extent we need to make changes in personnel or the way we do things, we're going to discuss that."
Reports state that Mara has said that he, co-owner Steve Tisch and Gentleman will have a opinion in who the Giants hire as their new head coach. This will make the third head coach that New York will have since Tom Coughlin brought the city two Super Bowl championships.
Question will be if there will be a top-tier coach, be it college or pro, that will want to work with Gentleman? Normally you want a clean slate when you're looking to rebuild a situation.
You're talking about interviewing the Baylor head coach, Matt Rhule. In addition, two coaches who'll be sought after by a lot of franchises in McDaniels and Bieniemy.
Mara is making an argument in his mind that Gentleman has been able to draft well. Does that drive people away? It'll be made clear come this off-season as the team begins their search.
This is a young team with your pieces. However, it's not a finish product. In fact, it's not even a decent project. You can only hope if your Mara that you're making the right decision by letting go of one and keeping the other.
Redskins excuse Bruce Allen, expected to bring in Ron Rivera
After years of failure, the Washington Redskins have made a decision they should've made years ago.
Washington has fired long-time president Bruce Allen after a decade with the team. Allen started with the Redskins as an executive vice president and general manager in December 2009 before being promoted to team president in May 2014. The Redskins went 62-97-1 under Allen and made two playoffs appearances among three head coaches. They failed to win any playoff games during Allen's tenure.
"As this season concludes, Bruce Allen has been relieved of his duties as president of the Washington Redskins and is no longer with the organization. Like our passionate fan base, I recognize we have not lived up to the high standards set by great Redskins teams, coaches and players who have come before us. As we reevaluate our team leadership, culture and process for winning football games, I am excited for the opportunities that lie ahead to renew our singular focus and purpose of bringing championship football back to Washington."

Daniel Snyder , owner of Washington Redskins
However, from what was heard, you expected changes too come Washington's way. In addition, help seems to be on the way.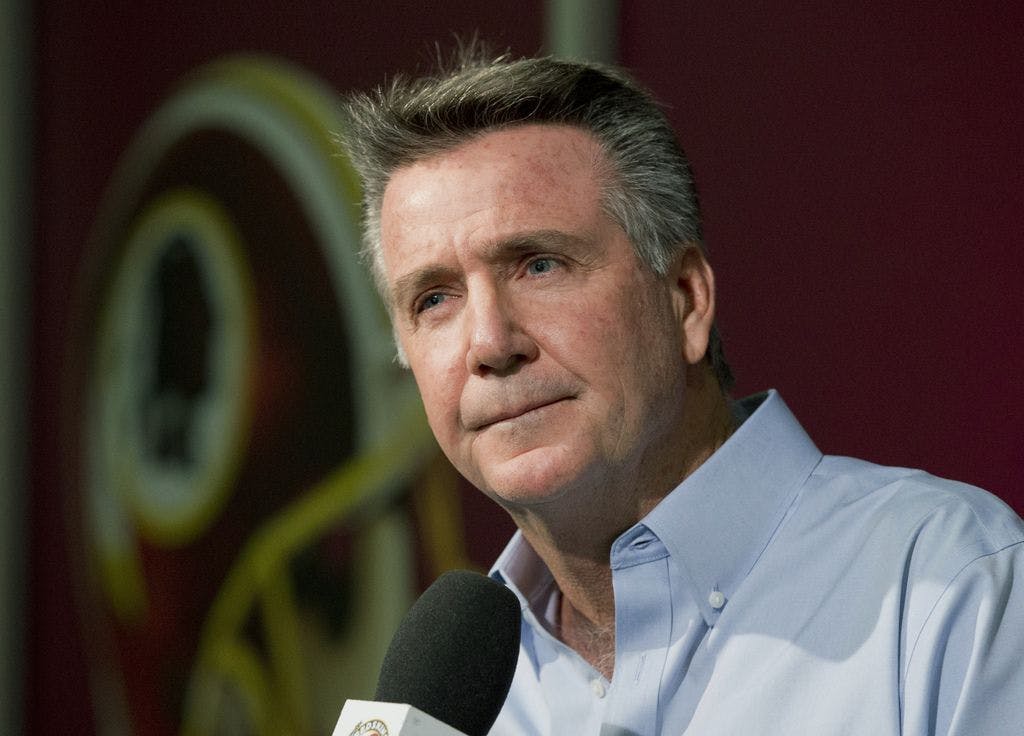 According to reports, the Redskins are expected to hire former Carolina Panthers head coach Ron Rivera. Rivera was fired by the Panthers in early December after the team went 5-7. 
The 57-year-old Rivera becomes the seventh head coach hired by owner Dan Snyder. To many, he was looked at as the most sought after head coach. He could be a good fit with Washington after the team parted ways with fired Jay Gruden after an 0-5 start in his sixth year.
Rivera will have his work cut out for him with this team however. This is a team that has been rebuilding for what seems to be forever. This used to be one of the better teams in NFL history. They won three Super Bowls in five appearances between 1972 and 1991. 
However, that was then, this is now. Now, they've been the laughing stock of the league. Washington hasn't made the playoffs for what will now be five seasons and they haven't won a playoff game since 2005.
Yet, if anyone could turn this around, maybe it is Ron Rivera. Despite the disfunction, Rivera did turn around the Panthers during his tenure. Before he took the Carolina job in 2010, the team was 2-14. He gets brought in, the team goes 12-4 three seasons later and in 2015 they go 15-1 and make a Super Bowl appearance.
In addition, he compiled a 76-63-1 record with Carolina, and granted the Panthers had only three winning seasons in his eight full years. However, they reached the playoffs four times, including in 2014 with a 7-8-1 record, and won the NFC South three seasons in a row. 
The guy is a winner. But, sometimes you can't win with dysfunction and sometimes there are coaches that can't take dysfunction and make it work or stay patient until they get who they need. Washington has said that changes were coming and they've already made two. Now it's time to see if this was too late or just the right time.