Jacksonville, FL — After a come from behind victory last week against the Denver Broncos, the Jacksonville Jaguars find themselves in the swing of things in the AFC South.
Their upcoming game against the Carolina Panthers on Sunday will make out to be an interesting one as both teams coming into this game are 2-2 and will be without their star quarterbacks. However, the young quarterbacks that are playing in this game, Kyle Allen and Gardner Minshew.
Head coach Doug Marrone said in Wednesday's press conference that this is a Panthers team in which he respects when it comes to the team on both ends of the football field. However, one of the main focuses before the team heads to Carolina, is to find a way to stop star running back Christian McCaffrey.
Who is not only great running the football, but Marrone has taken into account how well McCaffrey plays in the Panthers' passing game as well.
"You almost want to put a corner on him," said Marrone. "What's unique about him is that not only is he outstanding with the route tree coming out of the backfield, but he's outstanding with the route tree when he's lined up as a receiver."
"He's a very talented player," he continued. "He can really do a lot of things. They're going to find a way to get him the football. We understand that, and we have to make sure that we have a lot of people around him cause he's difficult to bring down when there's space one-on-one."
Another one of the keys for this team is the continued progression of the offensive line. Jacksonville ranks in the top six worst as a team in penalties. They can't afford to not be their best when protecting their quarterback against this defense, who is number one in sacks, quarterback hits and passing yards defense.
"Defensively they're outstanding," Marrone stated. "Probably one of the best defenses we'll see this year. Probably the most disciplined that I've been able to see."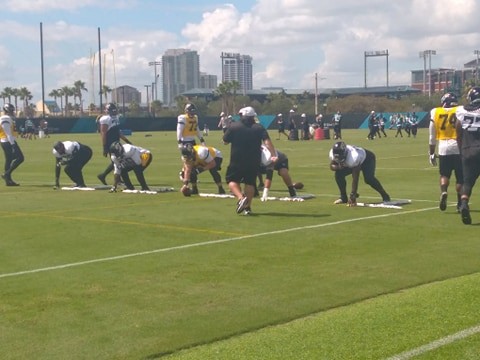 Yet, not only does this team need great pass protection, but run protection as well. Leonard Fournette had a monster game in the Mile High city. The Jaguars are going to need him to continue that trend going forward. Ankou feels that Fournette is going to be just fine. 
"It was a perfect storm," said Ankou. "He ran hard, yards after contact was really a big point of emphasis for us last week and I have no doubt that he's going to be bring it again and again."
Defensively for the Jaguars, there was kind of a night and day look for them in the last two games they played. Against the Tennessee Titans, nine total sacks. Against the Broncos there wasn't a recorded sack and only one interception. That would concern a lot of people, but Ankou says that this defensive unit is just fine.
"Every game works a different way, that's the beauty of football," Ankou stated. "Not every game is going to end up the same way. I think it's just bringing it to the table and just staying consistent with it."
The mustached Minshew was limited in practice due to a hit he took in the final drive vs Denver and was in a brace on his left knee. However, says it's just to be safe, that he's fine and that he was able to do everything he wanted to in practice.
"I've worn one before," said Minshew. "It's not a bit deal. A lot of people do this as a precaution, but it felt good."
The toughness of a Minshew has been great considering a lot of people wanted to write him off after the game against the Baltimore Ravens in the preseason. Now he's one of the more talked about players in the league and potentially on the Jags since pre-trade request Jalen Ramsey.
Even though "Minshew-Mania" is in full effect in Jacksonville, the Jaguars are not riding the hype of it. Yes it's fun. And guys like wide receiver DJ Chark would partake in it after practice.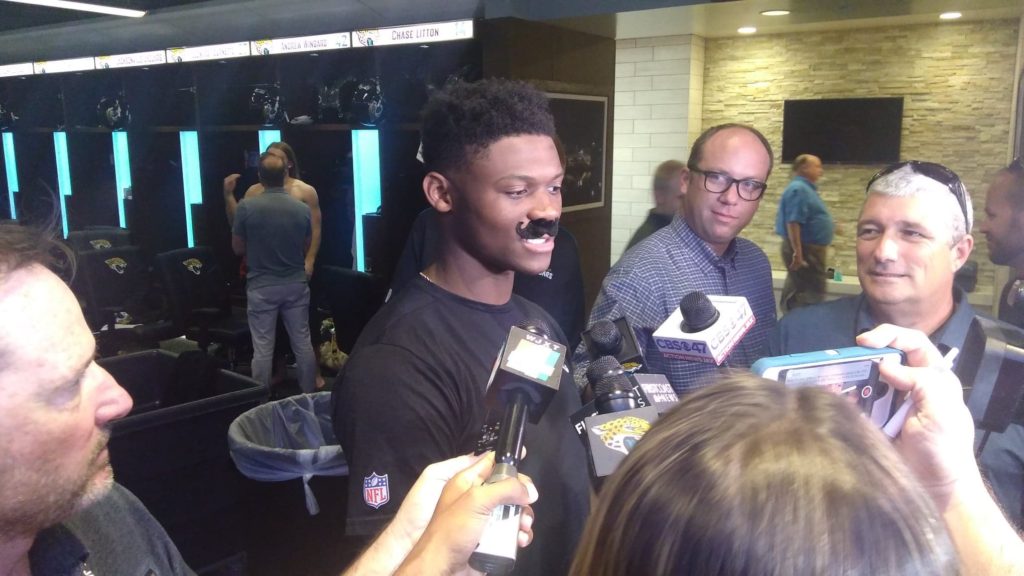 But, their focus is on winning against Carolina and being the best they can be.
"I try not to listen to that kind of stuff," said special teams Tyler Ervin. "Most of the guys are the same way. We just come to work and we're guys that like to win. So we just try to compete and do our best every single game."
Jacksonville and Carolina kick-off on Sunday at 1 pm ET on CBS.