By Anna Herrin
Los Angeles, CA — Wednesday night's dinner event at Bottlefish was just simply perfect. It was a pairing dinner including Dry Creek Vineyards wine with the seasonal tasting menu offered by Bottlefish. It was quite the dinner experience. The two brands paired together perfectly as they were both focused on sustainability and providing their customers with the perfect mix of environmental consciousness and elegance.
Bottlefish focused on four key points: quality, value, service, and cleanliness. They feel that if you nail these four ideas, you have yourself a success. I can tell you first hand, they have nailed it!
They have created a neighborhood restaurant that can appeal to all age groups and all styles of dining. You can show up after a black-tie event for some oysters or you can head over from Pilates for a glass of wine. Bottom line, they're accommodating, and are there to make you happy.
What's great about dining at Bottlefish was you don't have to eat according to their rules, they are there to make you have the best possible experience. There at Bottlefish, you can count on incredible food, impeccable service (most of their staff has been there for over two years), and sustainably sourced delicious food.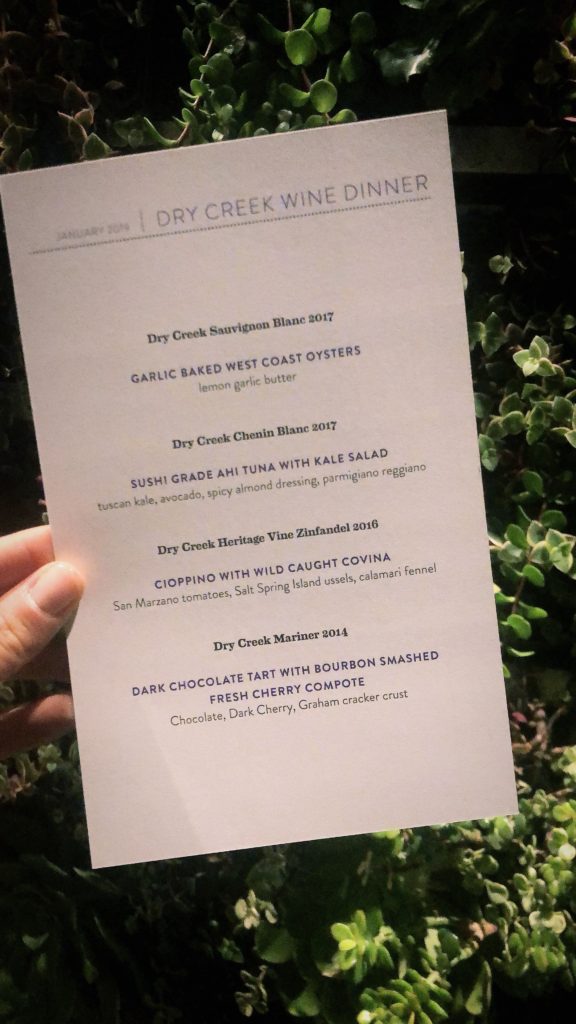 So, what did we eat and drink Wednesday night?!? The dinner started off with garlic baked west coast oysters, which went perfectly with a 2017 Dry Creek Sauvignon Blanc. For our second course, we had sushi grade ahi tuna and a kale salad, which was paired with a 2017 Dry Creek Chenon Blanc. It was truly the best kale of all time, and I've eaten a lot of kale.
We then moved on to our third course which was a cioppino with wild caught Covina and a 2016 Heritage Vine Zinfandel. The pairing of fish and red wine seemed strange at first, but they went together perfectly. The tomato base of the cioppino with the peppery zinfandel was a perfect match.
Dessert at Dry Creek Wine Dinner. Photo by Anna Herrin/The Ball Out
We finished everything off with a dark chocolate tart with bourbon smashed fresh Cherry Compote paired with a 2014 Mariner. We all know how good chocolate and red wine go together so I'll leave this pairing up to your imagination.
The meal flowed seamlessly, and you were left feeling perfectly satiated with a great wine buzz, if I do say so myself. The guest speaker for the evening was Joe Czesnackowicz who is the regional manager of Dry Creek Vineyards. He spoke about all of the unique wines and explained why they went so well with each course.
The whole evening was a perfect balance of great food, fun company, and spectacular wine. I have plans to visit Dry Creek Vineyards on-site in the future, and look forward to another evening at Bottlefish!