Hello and welcome to another edition of Outside the Hashes.

Before we dive into our topics, I'd first like to give a shout out to all the retail and mall workers this holiday season. As a former retail employee, I know this is the craziest time of the year in stores. And if you are a holiday shopper, take time out of your day to thank these workers because while they may not be perfect, they are trying their best to make sure you and thousands of others go home with the right gift for your loved ones.

For all the college students out there struggling to get to the end of the semester, you are almost to the finish line — power through those finals!

And to everybody else, enjoy your time with loved ones this holiday season. You never know when someone close to you may not be around anymore so cherish the moments with them.

Now on with the program.
1. Roger Goodell has to go

Like my colleague Chris Bullock said in his latest column, the NFL is not the morality police. But all the issues that have been brought up of late have one thing in common – the man upstairs – commissioner Roger Goodell.

The lack of activity from Goodell this year has been quite mind-bottling. TMZ released video footage from a security camera on November 30th showing Kareem Hunt shoving and kicking a woman in a hotel hallway. The incident took place in February, but due to lack of visual evidence, no police arrest of Hunt was made and the running back got off suspension free.

The NFL did not investigate Hunt's case at all and entrusted the Kansas City Chiefs organization to handle the situation. Now, something is not right in the last sentence because this is the same NFL that went after running back Ezekiel Elliot in 2017 for his domestic violence incident. Shoot, this is the same NFL that hired a team of investigators in 2015 to prove whether or not Tom Brady and the New England Patriots deflated their balls in a lopsided playoff victory.

Elliott was eventually handed down a six game suspension but that was not on par with what other players have gotten for domestic violence. Before video footage of the Ray Rice incident came about, the former Ravens running back only received a two game suspension from the NFL. The Cowboys defensive end, Greg Hardy, initially received a 10-game suspension, which was later reduced to four, after his domestic violence incident. Former Arizona Cardinals running back Jonathan Dwyer received only a three-game suspension from the NFL after his domestic violence charge and current Washington Redskins linebacker Ruben Foster has still yet to be suspended by the NFL for his domestic violence charges.

See the common theme here? That's the problem, there is none.

Goodell and team owners came together in 2014 and addressed the issue by tightening up their personal conduct policy. However, they have yet to show much change in addressing this issue.

Time and time again, we have seen the league's commissioner fail to properly punish players. There is no real protocol in handling such disciplinary actions as various lengths in suspensions have been given out for the same offense. It is heartbreaking to see such a wonderful sport be tainted by the people who run it.

The NFL does not have a domestic violence problem, it has a Roger Goodell problem.
2. Enough of the Social Media Witch Hunts

Oklahoma quarterback Kyler Murray won the Heisman Trophy on Dec. 8th, but moments after the ceremony, his big night was ruined by what has become one of the most shameful themes in sports media this year – old dug up offensive tweets.

After winning the Heisman award, it became public that Murray had used homophobic language in his tweets back in 2011 and 2012, when the dual-sport athlete was 14 and 15-years old. This immediately led to outrage across the social media landscape and Murray's character was viewed in a different light, which had me sick.

Fun fact: Did you know that if you commit a crime such as theft or assault at the age of 17 years or younger, you get tried as a juvenile and that crime does not follow you to your adult record?
So why in the world are we digging up athletes' old tweets and covering them as a front-page stories? What kind of society are we to judge someone based off what they posted as a 13-17 year old?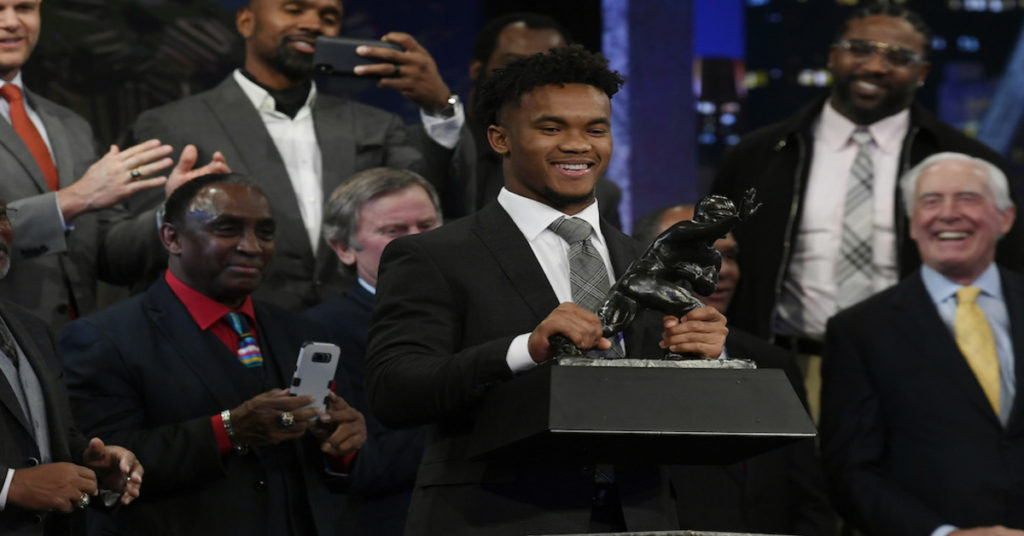 Similar instances occurred in 2018 with athletes such as Villanova's Donte DiVincenzo after his national championship performance, quarterback Josh Allen before the NFL draft and Brewers pitcher Josh Hader during his first MLB All-Star game among others.

All these instances had me thinking, has society become nieve to our adolescence? I guarantee everyone reading this has said something offensive and regretful as a teenager whether it was to a friend, a family member, a teacher or on a social media post. You know why? Because most teenagers make bad decisions, it's what humans do.

So enough of the digging up old tweets from an athlete's youth to ruin a big career moment. It's down right disgraceful and shows how shallow our journalistic media can be.

3. A New Sport on the Rise

To clarify, this sport isn't exactly new. But if we are being honest, soccer has not been a popular sport in the United States for quite some time. However, the sport is on the rise and a record-breaking attendance of 73,019 at the MLS Cup is evident the of the sports increased popularity. Atlanta United FC wound up defeating the Portland Timbers 2-0 in that match, capping off an impressive 2018 MLS season.

The MLS has always had its fair share of international superstars, but most of the time the athlete came from overseas to play their final year or two before retiring. That trend has changed up quite a bit as the amount of international talent in the MLS is better than it ever has been before.

Take Atlanta United for example. They were led by 25-year old Venezuelan star forward Josef Martinez, who won the All-Star game MVP, regular season MVP, MLS Cup MVP and broke the league record for most goals in a season (31). And on the losing end, the Timbers were led by the midfield duo of Diego Valeri and Sebastian Blanco, both on the Argentinian national team.

The international talent was well spread out across the league as players like Zlatan Ibrahimovic (Sweden), Wayne Rooney (England), Borek Dockal (Czech Republic), Carlos Vela (Mexico) and Sebastian Giovinco (Italy) all helped out their respective teams. If the MLS continues to bring in quality international players to play along members of the USMNT, the league will continue to increase in popularity.

With the decline of contact football at the youth levels, we could see soccer be the greatest benefactor among young athletes. Basketball is a sport that relies greatly on height, baseball requires plenty of hand-eye coordination to continue playing at the higher levels and hockey is far too expensive of a sport for the common child to play leaving soccer as the most accessible sport. Don't be surprised if the MLS rises into the top four most watched sports in the U.S. over the next 10 years.