You could say that the consistency of Tennessee Titans outside linebacker Derrick Morgan is a rarity.
Midway through his ninth season in the league, Morgan has played 10 or more games every season except his rookie season (2010). After coming into the league naive and looking at football as his end all be all, Morgan's world view has grown as he has gained valuable life experience. It was shocking, but he did learn there was a world outside of football.
"I came out of college not even knowing how to write a check," Morgan said. "There was a focus on developing in football but not as a man."
The first step in growth was learning more about his finances, taking it upon himself to learn and apply the knowledge to his own accounts. Out of that came interest in investing in burgeoning companies and learning how to build wealth through investments.
"During this time companies like Facebook and Twitter were going public to billion dollar valuations. This pushed me to investigate technology and understand the potential of the industry," Morgan said. "My interest in tech ties into community building, bringing opportunities to under-served communities and leveling the playing field. I started to help alleviate that issue in my sphere of influence whether that be Nashville, Coatesville, or Atlanta. I have really been focused on social impact and what that means economically."
Since then, Morgan has been focused on finding creative ways to make an impact on his community by taking a hands-on approach.
"Charitable donations are good, but there are other ways of working to build communities and show howto build wealth for yourself and teach others to do it for them," Morgan said. "I have taken the onus onto myself to take advantage of this platform I have via the NFL. I realized this a few years ago and took advantage, I went back and got my executive MBA from Miami in an effort to better myself and grow."
"I hear from veterans all the time that phone calls don't get returned as frequently after their time is over. My goal is to help the younger guys to understand what they have available."
Furthering his foothold in tech, community ties, and investment, Derrick took to Austin, Texas in the fall of 2017 for the South by Southwest festival.
"Last year at SXSW, me and my business partner Mike Peterson took about 100 kids from HBCUs to SX to allow them an opportunity to see the tech space and have a great experience being exposed to tech giants such as Google, Twitter, Amazon, Mailchimps of the world. I think it was beneficial for them as a lot of those students got internships and jobs from the visit."
Relationships with like-minded organizations have allowed for a local connection.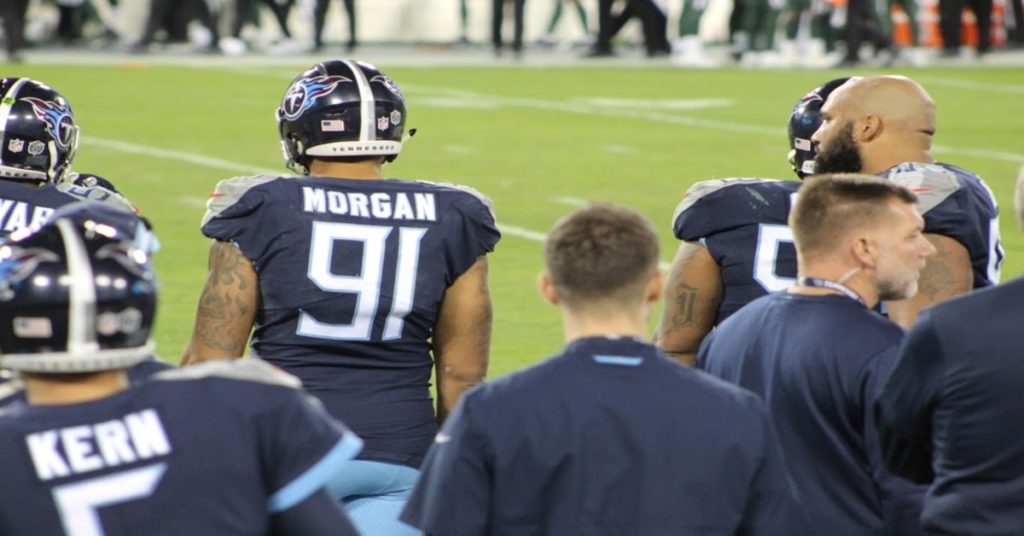 "I work with multiple nonprofits in Nashville, one of those is the Ovation Center," Morgan said. "It allowed 20-25 students to go through an entrepreneurship camp. We had students bring their business plan in and be coached by experts in the field and grow their business plan out."
Morgan has also taken this approach to his football camp. Unlike the normal camps that focus primarily on football-related activities, his camp splits the time between football and STEM (Science, Technology, Engineering, and Math) activities.
"Additionally, my yearly football camp included a STEM component. We had different experts come in and teach kids about cryptocurrency and blockchain technology and drones.".
Derrick has also been partnering with current NFL stars to help athletes who are in the process of transitioning from the gridiron to civilian life.
"I have been working with athletes facing transition. Working with Cam Wake, Eric Berry, Ndamukong Suh and others, we had experts in different industries. (ex. Laurence "Jay" Brown of Roc Nation, Jessie Eisler, Owner of the Atlanta Hawks)," Morgan said. "Guys that have proven successful would come in and give us advice on certain topics that allow us to connect with people in various industries and completely learn these industries. I have been truly focused on learning and educating myself as to not be put in a box. Looking into the best use of my time."
When Derrick isn't sacking quarterbacks on the field or revolutionizing neighborhoods with access to high level technology, he is focused on lifestyle. A strong proponent of health and wellness, Derrick has focused on what he is putting in his body and how he can educate other on making strong decisions for their personal health.
"Another passion of mine is healthier living. I took ownership of my own health," Morgan said. "I took it upon myself to research things that I was interested in specifically towards injuries I have had. I would do different research about them to gain a better understanding on what was happening to me. I focused on ways to get that extra one to two percent over my opponent."
In order to better understand his body, a scientific approach was taken.
"I did food sensitivity tests, to determine what my body reacted to well. I consulted with a plant-based nutritionist to make sure I was putting the right stuff in my body. My wife over the years has transformed what I have been doing. We have moved toward organics, moved away from sugars, and moved toward healthy eating."
Once Morgan transformed his eating habits, his body began to transform with it.
"After doing research and reading clinical studies I came to the conclusion that this is something that can aid in my recovery time and help me train harder and recover faster. I'm a big data guy so I looked into getting blood work done before and after 6 months. My blood profile changed completely, my cholesterol, blood pressure, and inflammation in my body dropped greatly. This confirmed what I believed."
Once his teammates began to notice the effects, Morgan and his wife Charity, started to implement his diet into the locker room. As an end result, they are now looking into taking their approach more mainstream.
"My wife, Charity Morgan, being a chef helped as she applied her training to a plant-based diet. Heading into training camp she was preparing meals two times a day," Morgan said. "My teammates were curious and reached out to try the diet. It was domino effect and by the end of the year we had 12 players on the meal plan (not all of them were plant-based). We are exploring opportunities in the space now and we are continuing to be advocates for a plant-based lifestyle. You can learn more at chefcharitymorgan.com and find us on Instagram @chefcharitymorgan."