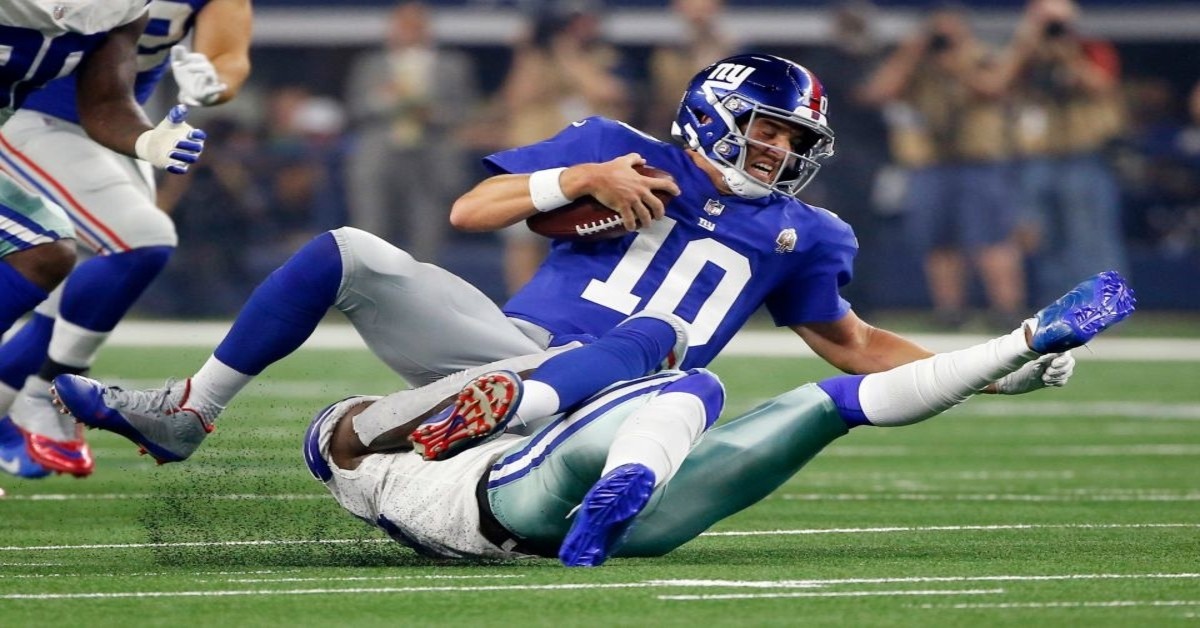 IRVING, TX – It was a night to forget for New York Giants quarterback Eli Manning, and it wasn't because of his stats.
Manning was sacked six times by the Dallas Cowboys defense and was hurried on nearly every pass play, which led to a dominating 20-13 Cowboys win on Sunday night. 
The lack of breathing room for Manning was largely in part due to the Giants' offensive line missing a handful of assignments up front. Right tackle Erik Flowers, left guard Will Hernandez and right guard Patrick Omameh all had trouble picking up the Cowboys' blitzes and stunts. Starting center John Halapio also went down with an injury in the third quarter, which did not help the cause.
The longest play from scrimmage for the Giants was a 37-yard throw-and-catch by Cody Lattimer. The second longest was an 18-yard catch-and-run by tight end Evan Engram, but nearly every other play was under 15 yards as Manning was forced to dink and dunk before the pass rush got to him.
Running back Saquon Barkley was a huge benefactor hauling in 14 catches, but it was all for naught as the running back got very minimal gains and finished with only 80 receiving yards.
Dallas, on the other hand, was aggressive on both sides of the ball. Quarterback Dak Prescott connected with wide receiver Tavon Austin on a 64-yard touchdown pass early in the first quarter. The big play forced the Giants secondary to play back, opening up running lanes for running back Ezekiel Elliot, who had a much better performance than week one as he finished the game with 78 rushing yards and one rushing touchdown.
The Cowboys scored a field goal and touchdown in the first quarter to give them a 10-0 lead, but then both teams struggled to get any kind of offense going through halftime.
After halftime, linebacker Damien Wilson sacked Manning and forced a fumble, which gave the Cowboys great field position which led to a field goal. The Giants responded with an 11-play, 66-yard drive for a field goal, however, Dallas then executed a 14-play, eight-minute drive that resulted in an Elliott touchdown, putting the game out of reach.
New York managed to recover an onside kick and score 10 points in the final four minutes of the game, but it was far too late to mount a comeback.
While the Giants did win the time of possession battle, they failed to create any big plays on offense. They averaged 3.8 yards per play and a lot of credit has to be given to Cowboys defensive coordinator Rod Marinelli for bringing so much pressure on Manning.
Manning finished the game 33-of-44 with one touchdown and 279 yards, while Prescott threw for 160 yards, going 16-of-25 and one touchdown. Barkley rushed the ball 11 times for 28 yards and Evan Engram finished the game with seven receptions for 67 yards and a touchdown.  
For the Giants, they're going to need a big win next week in Houston if they are going to build any sort of momentum early in the season. The Cowboys will travel to CenturyLink Field next week to take on the Seattle Seahawks.