Los Angeles, CA — The old saying was true last night at the Staples Center as the Los Angeles Clippers (8-5) hosted the Golden State Warriors (11-3).  The impressive "ooh's" and "aah's" reverberated throughout the arena the entire game, but especially when Golden State's Kevin Durant tried to take over the contest. Over 19,000 fans were there to see the Clippers take on the defending champs in an exciting match-up.
Despite Durant's triple-double, it wasn't enough as Los Angeles took home the 121-116 overtime victory.
"They play hard, they play and they are well coached," stated Golden State's Shaun Livingston after the game on the Clippers.
The absence of Stephen Curry was evident for the Warriors as the team struggled to find any offense outside of Durant early in the game. His shifty side to side moves was hard for Los Angeles to contain. And if it wasn't his offense, his long arms were a problem to get around defensively.
By half, Durant was leading all scorers with 21 points. On the opposing end, the Clippers saw four players with at least 10 points. One bright spot for the home team was rookie Shai Gilgeous-Alexander who was penetrating the paint to get easy baskets. His aggressive scoring also had the crowd going wild and cheering. He finished with 18 points, five rebounds, three assists, and two steals.
After two periods, the collective teamwork by Los Angeles had the home team up, 64-61.
A big key for the Clippers last night, was the depth of its bench. Montrezl Harrell had himself an excellent game as he contributed 23 points, four blocks, eight rebounds, one assist, and one steal. And it wasn't even his stat line that necessarily stood out, but the passion he was playing with. On both sides of the ball he was very active and often one of the players diving on the floor for a loose ball.
Harrell expressed his love for the city of Los Angeles and how he's happy to be here. He also mentioned that Los Angeles fans should know that he will "try and do the same thing this game and next game, I don't ride highs."
Even though he struggled early in regulation, Lou Williams showed fans why sometimes he is referred to as a "walking bucket." In overtime, Williams completely stole the show as he hit either a circus shot and got the and-one, or baited the Warriors defense into fouling him on his jump shot sending him to the free-throw line. His shot was off, but he drilled all 14 of his free throws, which helped the Clippers seal the game.
Williams finished with a team-high 25 points, six assists, two rebounds, and two steals in Los Angeles' 121-116 win.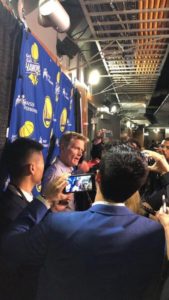 Another turning point outside of the Clippers production from its reserves was Harrell baiting Durant into a foul with three minutes left to go in overtime. Golden State's star was called for his sixth foul and finished with a triple-double of 33 points, 10 assists, and 11 rebounds.
Klay Thompson came alive late in the fourth and overtime as he knocked down clutch three-pointers – especially with Durant out.
"They're good, but they're nothing special," stated an unimpressed, frustrated Thompson after the game.
This remark came to no surprise due to Thompson's sharpshooting ability and the hope that his clutch shooting would save the day in the precious overtime minutes. However, his late scoring surge wasn't enough either, as his 31 points weren't enough.
"They'll do better next time," shared the Warriors' head coach Steve Kerr after the loss.
Golden State now will look to bounce back against Atlanta on Tuesday, Nov. 13, while the Clippers don't play again until Thursday, Nov. 15 against San Antonio.
What a THRILLER!! L.A. Clippers SURGE past Golden State Warriors in OT! Here are Deja's thoughts from the game! What are your thoughts? #NBA #ClippersNation #DubNation

Posted by The Ball Out on Monday, 12 November 2018