Omaha, NE — An arena filled with excited, cheering people made the atmosphere at the Omaha CHI Health Center perfect for their hometown hero, Terence Crawford, as he defeated Jose Benavidez on Saturday, Oct. 13.
"We knew that he wanted to get in my head and make it a firefight," Crawford said. "I saw him in his corner taking deep breaths and knew he was done."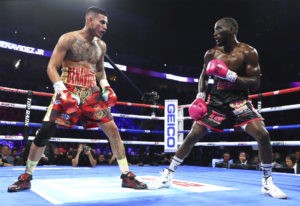 Crawford heard a lot of crap, but he didn't let that break him during one of the biggest moments of his life. Crawford came into the fight ready to represent his hometown, and they knew he wouldn't let them down.
The fight started off slow, but Crawford came out aggressive while Benavidez Jr. had nothing. He used his energy and trash talking toward Crawford during the entire fight instead.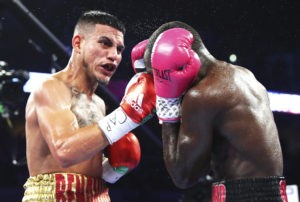 There were a few rounds where Benavidez Jr. had a few punches on Crawford, but that just made him defend and fight even stronger.
The crowds' palms were getting sweaty, and an air of nervousness fell over those in attendance. Crawford had a few potential falls, but he picked himself up and continued to fight.
In the final round, Crawford showed the crowd who he really was. Benavidez Jr. slowly started to lose his momentum and didn't throw out any punches. Seizing the moment, Crawford threw an uppercut and knocked his opponent down.
"I gave a hell of a fight to the best fighter in the world," Benavidez Jr. said. "This is boxing. It happens. He is a great fighter, but I'm a great fighter, too. We gave the fans a great show."
The crowd went wild and the entire arena was echoing with loud cheers of proud people.
Crawford retained his World Boxing Organization World Welterweight Title! He still remains undefeated and continues to show how his hard work is paying off.
I have never been to a boxing match before, but I must say, what a night!!
I had never been to a boxing match before, but I must say, what a night!!
It was such a cool experience and a very sentimental feeling! Being from Omaha myself, it was great seeing so many people enjoying themselves, and supporting various boxers, especially the hometown favorite, Crawford.
Although Crawford and Benavidez Jr. were the main boxers for the evening, there were a lot of other well-known boxers who had a match, too.
The 2016 Olympian winner, Mikaela Mayer, made an appearance as well. She defeated her opponent, Vanessa Bradford. It was such an amazing time for girl power, seeing Mayer show how tough girls can be was truly incredible.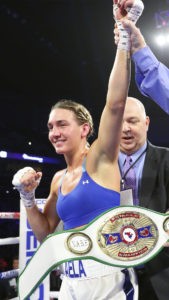 There were also boxers like Viorel Simion, Shakur Stevenson, Steve Nelson, Oscar Riojas, and many more that were boxing as well. All in all, it was such an unforgettable moment in boxing history last night! Such a great thing to be a part of.
For those watching from home, I would highly recommend attending your next big boxing match because you won't regret it, and probably will never want to watch from home again!
For a girl that doesn't know much about boxing, I feel like this event truly taught me a lot about the boxing community, and made me feel the passion they give everyone else.
Just when you thought Omaha, Nebraska was nothing but farms and tractors, we surprised you with an outstanding defeat by Terence Crawford.