Glen Ellen, CA — What do you think of when you hear the words wine country? Amazing wine? Great company? Breathtaking views?
Believe me…this stereotype truly meets its expectations.
But, what most people don't know is: the wine country also offers divine farm-to-table dinner events.
Saturday I had the pleasure of visiting the Award-winning B.R. Cohn Winery and Olive Oil company, as they hosted a farm-to-table dinner series located on their beautiful Sonoma Valley estate.
Award-winning food and wine are great. However, in my opinion, the night gets even better when you have pleasant people to share it with.
As I walked onto the estate, it had a multitude of tables on the patio, intricately decorated with glasses for wine, mini bottles of the company's olive oil, and a little menu so guests knew exactly what they had the pleasure of eating for dinner.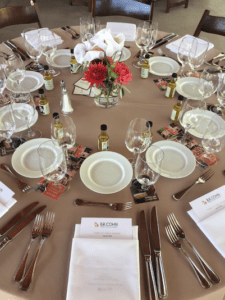 Each meal was paired with a prized wine, so I had to make sure to try each one to get the full experience.
The first course I ate was a light zucchini "Summer" Caesar salad. It was paired with a white wine, a refreshing 2016 Chardonnay.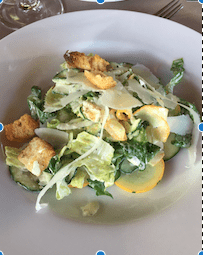 The second course was something I had never even heard of before. I was served Sonoma Porchetta, house-made with grilled stone fruit and mostarda bitter greens. This course was paired with a fruity 2015 Cabernet Sauvignon.
For those of you who aren't sure what that is, don't worry because I had no idea either. In fact, it's a piece of tender seasoned pork, served with a dried peach and apricot chutney, along with vegetables like broccoli rabe.
Different, but delicious!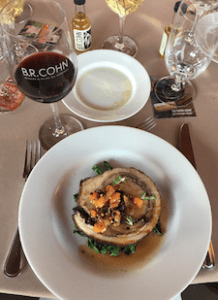 For dessert, we were served seasonal Pavlovas. It tasted like a crunchy meringue with fresh strawberries and blueberries over a chocolate mousse. The dessert wine they paired this with was a 2015 Zinfandel. Zins never disappoint.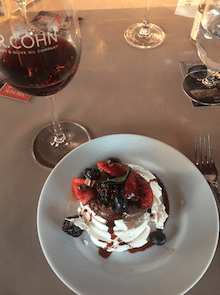 Experiencing the food was great, but being able to experience it with friendly people I had never met before, made the night even more enjoyable.
Nothing compares to a Saturday night with fresh food, good wine, and sociable company. Plus, the view was beautiful.