San Diego, CA — It's a fairly known fact that most people appreciate good comfort food that is straight from the heart.
It's also a very well-known fact that the best comfort food comes from the South, and after visiting 5th Avenue Kitchen and Tap in San Diego, you'll understand why this is true.
Only two months old, 5th Avenue Kitchen and Tap teamed together with Elite Events to host their official grand opening event party on June 9th. The restaurant, a result of two local icons wanting to bring some Southern spice to San Diego, was popping: they offered free Hurricanes, gumbo, jambalaya, and some of the best mixed berry salad you could ever put in your mouth.
This venture is owned by Ron Crilley (who also owns the renowned Kraken Bar and Restaurant in Cardiff) and Andrew Boyer, who was the longtime GM at Carver's Steaks and Chops in Rancho Bernardo. Boyer, who helms the kitchen and is responsible for the menu, originally honed his craft from his hometown of New Orleans.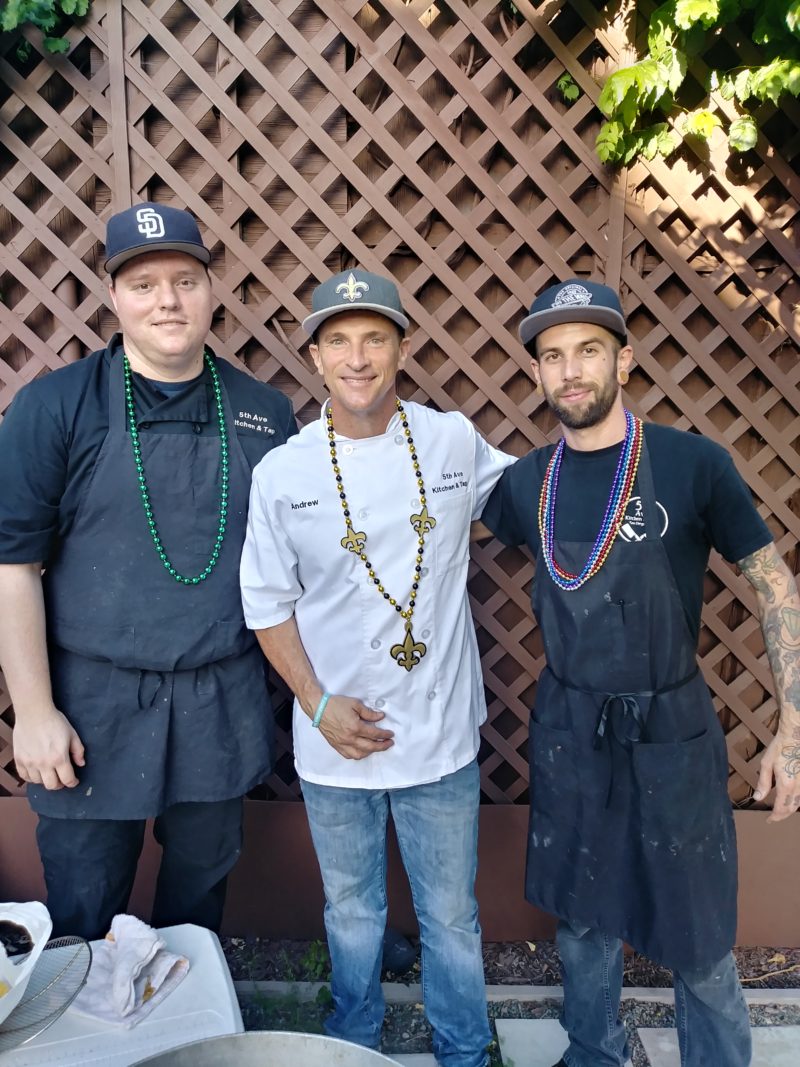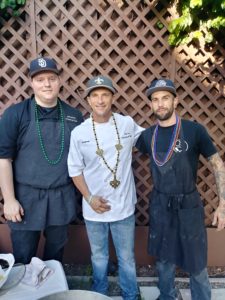 "When I first came to San Diego, I actually started out at Pizza Port when they started up in Carlsbad," Boyer said. "So anytime they would have special events, I would always make New Orleans-style food and it went over. So eventually, after years of working multiple restaurants, I found a partner who believed in my vision, and here we are."
Dale S'Amante, the owner of Elite Events, was ecstatic to be hosting this event, making sure to welcome everyone with a warm smile, and friendly demeanor. This event in particular was special to him, as he and Andrew go way back.
"I've known Andrew for a long time," S'Amante said. "And his food is nothing short of legit."
Driving up the street, you could smell the deliciousness from a couple of blocks away. And when you walked up to the entrance, you could feel the Mardi Gras-type vibe that came from the restaurant. As soon as you walk in the door, you saw their fully stacked bar, complete with multiple big-screen televisions and a nice open-porch view of the Hillcrest neighborhood. The main dining room was full of patrons celebrating, enjoying a warm Saturday afternoon and the company of kindred spirits.
The big surprise, however, was when you walked further into the restaurant. As you walked toward the back, you were welcomed to a big outdoor beer garden that resembles something like your dream backyard. There was the big shady tree in the far back area, cornhole, two big-screen TV's and a bunch of room for people to sit and enjoy their delicious food.
Boyer takes pride in the fact that his food isn't practical in the sense of needing directions.
"The best food is something that you feel in your soul, that's why they call it 'soul food'," Boyer said. "While I was making the gumbo, one of the chefs kept saying, 'I think it's ready' and I told him not yet. Let it take its time, you'll know when it's ready. And after a while, I tasted it and told him, 'Now it's ready'."
While we sat in the back area, we enjoyed some homemade gumbo, jambalaya and mixed berry salad…all of which were amazing. The owner mentioned that all their meats and sauces are made in-house, and their French bread (the base for their signature po' boy sandwiches) is imported from New Orleans. We washed the food down with some delicious tequila from Dulce Vida Organic Tequila, who served free samples to all the patrons, as well as gave out free swag.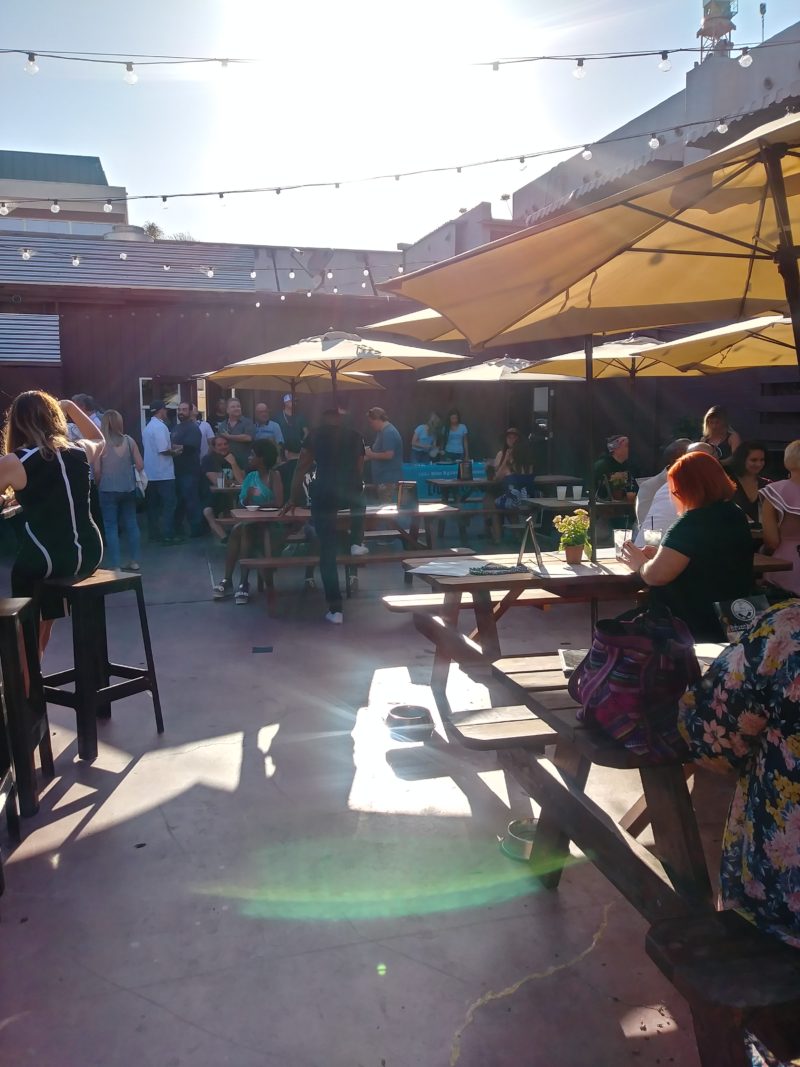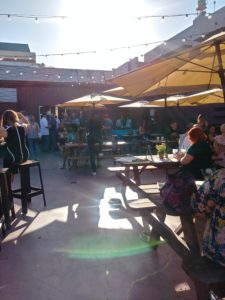 It was impossible not to enjoy the camaraderie you felt from the event, as everyone seemed to be smiling and feasting on Cajun dishes that are not common to the San Diego area. One of the highlights of their menu is a signature dish: the 5th Avenue Dirty Fries.
The dish, stacked full with homemade steak fries, is topped with four-cheese sauce, That Boy Good BBQ sauce, fresh jalapenos, caramelized onions and their signature shredded brisket, and they even provide roasted tomato ranch on the side. If you weren't hungry before seeing that, you definitely were ready to throw down after you took a look at this epic meal.
The main event of the opening came later on, as they started prepping a huge steel pot and warmed it up over an open fire in the outside patio. Once the stew was warmed up, they brought out the main dish: imported fresh crawfish straight from the shores of Louisiana. Boyer and the chefs allowed patrons to help put the fish in the pot to start cooking, and after the fish were placed in they put in fresh corn on the cob, made-from-scratch Creole spices and let it boil for about a good half-hour.
Once the crawfish boil was done, they served it up to guests and even showed some first-timers how to crack it open and enjoy the juicy meat. You could see the smiles on the chefs' faces as they watched the customers embrace the Southern-style dishes, knowing that they were breaking barriers for some people who have never tried it.
Overall, the event was a big hit with the customers, and based on the reactions, the 5th Avenue Kitchen and Tap will be putting smiles on people's faces for a long time.