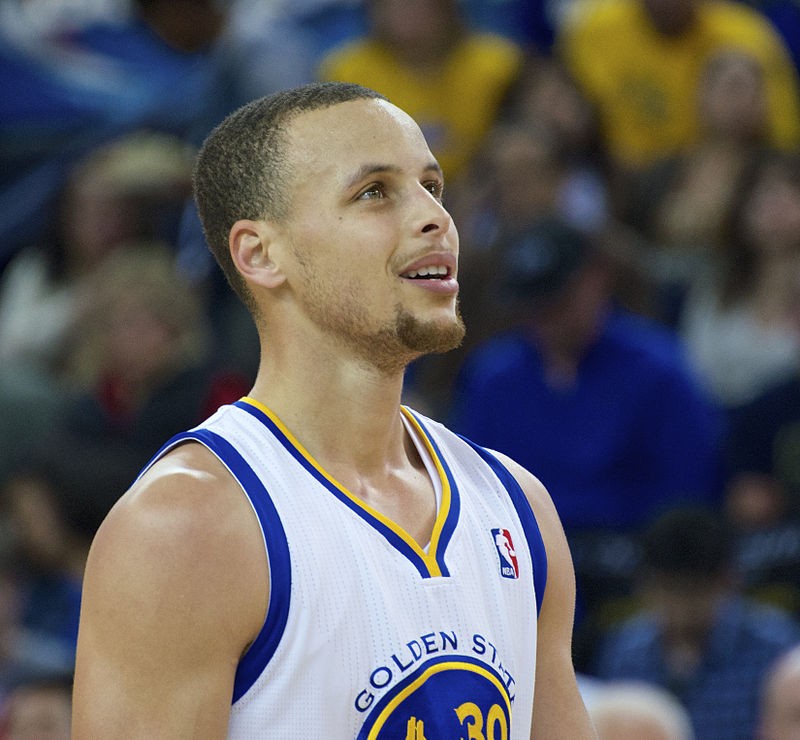 By RJ Saunders
Oakland, CA — What you have to respect when it comes to the Golden State Warriors, is that they can beat you in a multiplicity of ways.
The first quarter was a rather slow one for the Warriors. Stephen Curry was looking as if he wasn't going to find the touch in Game Three, as he started 1-of-6 from downtown and the Rockets looked to want to repeat what they had done to Curry in Game Two by trying to make Curry barbequed chicken with whoever he was guarding on the Rockets.
However, the Warriors after a quick timeout by Steve Kerr, went on a 9-0 run. In addition, they began playing the brand of basketball that we have been so accustomed to seeing over the years and would finish the quarter on an 11-0 run and a 31-22 lead.
That momentum in the end of the first quarter for Golden State would lift their spirits. Although Houston was keeping it close, it just felt as if the Warriors were going to win this game. Golden State was beginning to clog the lane, causing the Rockets to turn the ball over 10 times. Golden State gave no air space to the Rockets as they shot 34 percent from the field and an even colder percentage from the great beyond (26 percent).
Going into halftime, however, the Warriors only led by 11 points (54-43) despite their exquisite defensive performance.
But in the third quarter, "Chef" Curry got back in the kitchen. He made you hungry as you saw him boil, sauté, fry, shake, bake and serve the Rockets. He scored 18 of his game high 35 points in the third frame and went through a stretch where he had hit eight shots in a row.
Curry also in the second half found the touch from downtown (5-of-12 3pt), after coming into Game Three only hitting two three pointers. In addition, he scored 26 of his 35 points in the second half on 83 percent shooting.
The Warriors as a team in that third quarter were fantastic, outscoring the Rockets 34-24 on 60 percent shooting.
The others on the "Hampton's Five" played great as well, combining for 58 points. Kevin Durant had 25 points and Draymond Green added in 10 points as well as 17 rebounds. But the night would belong to Stephen Curry and this may be the performance that gets his confidence back, and gets him back to his back-to-back MVP form.
The Rockets let their old habits get the best of them. They reverted back to playing isolation basketball as opposed to the Game Two performance where there was a lot more ball movement. They started off going shot for shot with the Warriors and it seemed that if they played as they did in Game Two, it would be a winnable game for the Rockets in Oakland.
However, once the Warriors started to make their runs, the Rockets would go back to their style of watching James Harden and Chris Paul dribble the ball for long periods of time and miss a handful of shots. Both Harden and Paul in this contest combined for 12-of-32 shooting and six of the Rockets' 20 turnovers.
In addition, the Rockets were not able to answer any of the multiple runs that Golden State had throughout the game. Golden State made run after run until they ran away with the game. And if you're an opposing team on the opposite side of a Golden State run, it tends to suck the life out of your roster.
The Rockets were also cold as well as a team (39 percent). If the Warriors and Stephen Curry were serving hot food, Houston was serving ice cream. Houston would go through long stretches where they wouldn't score a single field goal and have several missed layups and put back opportunities. And you know that missing field goals is a part of the game.
However, you do not want to do that against the defending champs or else you'll get blown as seen in the game, because they take complete advantage of your mistakes and missed opportunities.
Turnovers were also a major problem for the Rockets as well in this game and Golden State would take complete advantage. The Warriors scored 28 points off of the 20 turnovers made by the Rockets. In addition, the Rockets did not play very good defense as Golden State tallied 20 assists to only eight turnovers for the entire game.
Curry had a spectacular night. However, what you saw out of tonight's game is that even if Curry would've continued to struggle as he did in that first half, the Warriors have other ways of winning. Yet, the Rockets' old habits are going to die hard and may cost them the series if they don't do what made them successful in Game Two. And if that is going to be the case, Golden State will be headed to their fourth straight finals and will have an opportunity to repeat as champions.