Pasadena, CA — If you thought Disneyland was the happiest place on Earth, guess again.
Masters of Taste is an event worth experiencing, if you are 21 and over, of course. Hosted at the Rose Bowl Stadium in Pasadena, Masters of Taste involved all my favorite subjects: food, alcohol, non-alcoholic beverages, and dessert.
Each delicious dish was made from Los Angeles' best — and finest restaurants and Master chefs — while the tasteful drinks came from LA's selective wineries, breweries, and cocktail bars. About 2,000 guests showed up to the food and beverage festival on Sunday, May 6 for its third annual event.
"It just gets better and better," said one couple who has attended Masters of Taste since it was introduced in 2016.
The event was open to VIP members, from 3 p.m.-4 p.m., giving VIP an extra hour to enjoy the unlimited tastings Masters of Taste has to offer. Meanwhile, general admission was from 4 p.m.-7 p.m.
The vast array of food and drinks came from over a hundred of culinary, beverage, and sweet Masters, including, Alexander's Steakhouse, Jaffa, World Empanadas, Bai, Hitching Post Winery, Mt. Lowing Brewing, Helados Pops, The Dolly Llama, Porto's Bakery, and so much more.
A select few partook in the Woodford Reserve Challenge, which challenged any willing Master, to create a unique offering with their signature bourbon. Participants included Ayara Lûk, Momed, Crème Caramel, Zooies, Groundwork Coffee, San Fernando Brewing, The Raymond 1886 + Woodford Reserve, and Claud Beltran & Co., Bacchus Kitchen. In my opinion, Groundwork Coffee won the challenge just by coming up with the idea to mix coffee and alcohol together — yes, please.
Relaxing and eating unlimited food inside the Rose Bowl Stadium was, to say the least, very fulfilling. There was a DJ, who played a wide-range of music, and announced when VIP members could catch a certain chef introduce themselves to make his or her special item. Afterward, guests were allowed to taste the new dish.
On top of that special treatment, there were many areas to sit and enjoy your food, and umbrellas to give you shade. If you got too full, from all the food you were devouring, all you had to do was take a quick five-minute break to recoup, and then you were back on the horse, trucking to the next tasting tent.
A definite fan favorite was Helados Pops, which offered six flavors of ice cream in a broken coconut. The wait time was nearly an hour. Other favorites were the spicy tuna Baja tostada by Pez Cantina and the chu-chee scallops by Ayara Lûk.
The most out of ordinary dish was the salmon mousse made by Montrésor. Salmon for dessert? I don't know about you, but I will stick to my gelato from Fatamorgana Gelato or lemon cake by Nothing Bundt Cakes, but hey, that's just me.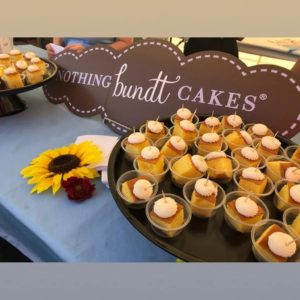 If you are that lone wolf in the pack, who is always willing to try new and exciting food and drinks, then Masters of Taste is definitely right up your alley; however, if you are the type of person who knows what they like and are sticking to it, then perhaps music festivals are the better type of festivals for you.
One last thing about Masters of Taste, as if it wasn't amazing enough already, 100% of the proceeds go towards the Union Station Homeless Services, which is a non-profit organization committed to helping homeless individuals and families rebuild their lives. There were multiple Union Station Homeless Services tents throughout the stadium where one could receive more information on the organization, or to make further donations.
Who knew there was an event, that allowed you to make a positive change in someone else's life, by stuffing your face with delicious food and drinks for four hours? What a world we live in.