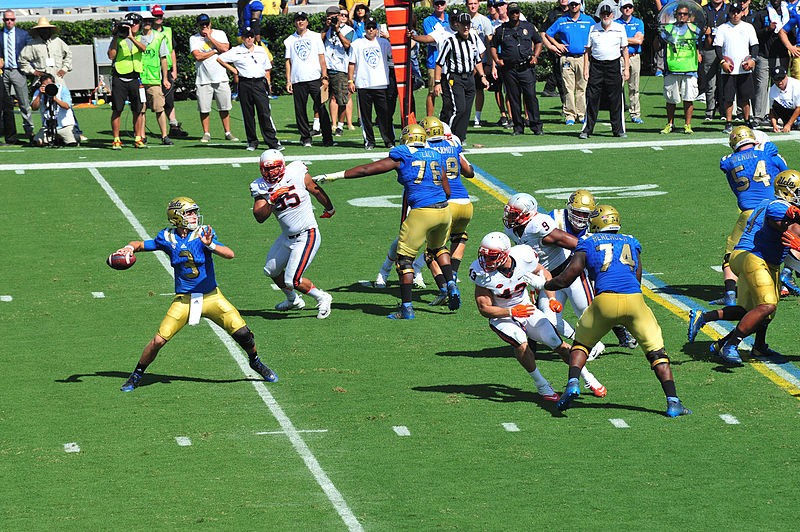 Arlington, TX — With the NFL draft just around the corner, it seems as though this year's narrative has generally centered around the quarterbacks. The draft class of 2018 quarterbacks has the potential to be historically good. As many as six passers could go in the first round, and four of them could be gone by the fifth pick.
The quarterbacks are unique, all offering different strengths and weaknesses. Being able to pinpoint those strengths and weaknesses is vital when it comes time to set a draft board and make your pick.
Here is everything you need to know about the strengths and weaknesses of the top four quarterbacks in this year's draft: Sam Darnold, Josh Rosen, Baker Mayfield and Josh Allen.
SAM DARNOLD
One of the most prized prospects of the 2018 NFL Draft is University of Southern California quarterback, Sam Darnold.
Darnold made his on-field debut as a redshirt freshman, turning USC's season around. The Trojans started 1-3, but compiled a record of 9-1 after Darnold replaced Max Browne as the starting quarterback.
Strengths
Size: Tallying in at 6'4" and 220 pounds makes him the ideal size for an NFL quarterback.
Personality: Darnold is known as a leader, both on the field and in the locker room. Classmates at USC describe him as a "humble and kind" young man.
Ball Placement: It's the responsibility of a quarterback to be able to throw a football through a tight window, and Darnold can do just that. He racked up 57 career touchdowns and 7,229 career passing yards.
Weakness
Ball Security: The number one concern for Darnold is ball security. Being fearless is a blessing and a curse, and it's led the quarterback to sometimes take chances he shouldn't be taking. Darnold racked up 13 interceptions and 11 fumbles last season, and 22 total career interceptions over a two-year span as a starter for USC. He has a tendency to rush throws, and be a risky passer at times, getting himself into some tough situations.
JOSH ROSEN
Josh Rosen is likely to become the first University of California Los Angeles quarterback since 1999 to be selected in the first round of the NFL draft on Thursday.
Considered by many analysts to be the most skilled and pro-ready quarterback in this year's draft, Rosen still faces several obstacles off the field. His demeanor and public reputation put him into question, resulting in the prospect possibly falling out of the top 10.
Strengths
Size: Weighing in at 6'4" and 226 lbs. makes Rosen a great fit for an NFL quarterback.
Passing: Rosen threw 59 touchdown passes and 26 interceptions in three seasons for the Bruins, completing 60.9 percent of his passes and averaging 311.3 yards per game.
Weaknesses
Outspoken: An AFC executive called Rosen a "mess off the field."
He's also a kid that put a hot tub in his freshman dorm room and isn't shy about saying whatever it is that's on his mind- whether it's sporting a "F—- Trump" hat while playing on a Trump golf course, or telling Bleacher Report "The whole CTE thing is completely overblown."
Uncoachable: Scouts, coaches and teammates have allegedly called Rosen "uncoachable, smarter than all of us and a prick."
His famous habit of asking "why" in meeting rooms has been portrayed as a case of him being difficult to coach because he won't just accept instructions. It may not be Rosen's intention, but him questioning everything makes the coach work harder.
Comments from past coaches: Former UCLA head coach Jim Mora stirred controversy when he told NFL Network that with the No. 1 pick, the Cleveland Browns should take USC quartback Sam Darnold. Mora told Sports Illustrated that Darnold is a better fit for the Browns and that Rosen "needs to be challenged intellectually so he doesn't get bored," in the NFL. Fans were shocked that Rosen's former coach couldn't vouch for him.
Durability: In his time at UCLA, Rosen has had two concussions and shoulder surgery a year ago. Many scouts are concerned that the Manhattan Beach native is injury prone.
BAKER MAYFIELD
University of Oklahoma quarterback Baker Mayfield boasts the accolade of 2018 Heisman Trophy Winner. He has the tools to be the most polished quarterback in this draft class, but he also has issues that could hold him back at the next level.
Strengths
Ball Placement: He led the nation in pass efficiency by a large margin and yards per pass attempt (11.8). He completed 70.7 percent of his passes over the last two seasons.
Versatile: Mayfield plays with a fiery demeanor and can move around the pocket. He can find his running backs in the flat, work with his tight ends at 10-to-15 yards, and make accurate throws to the sidelines that only his wide receivers can get to.
Decision-making: When it comes to decision-making, Mayfield ranks at the top of his class. He has quick feet and stellar body control, and can evade a pass rush and extend plays with a combination of athleticism and football IQ. He doesn't collapse under pressure when the clock is ticking and he needs to make a decision on whether to toss the ball, scramble or take the sack. Mayfield is a pro at handling himself in the heat of the moment.
Weaknesses
Size: His 6-foot stature is shorter than ideal for a traditional early-round quarterback. NFL Scouts are also questioning his small hands. Some scouts find hand size to be vital, others find it irrelevant. Mayfield's size isn't nearly as much of a concern as certain people make it out to be, but we must note that his hands are small for a quarterback.
Off-field Trouble: In February of 2017, Mayfield was arrested in Fayetteville, Arkansas, on charges of public intoxication, disorderly conduct, resisting arrest and fleeing. He pleaded guilty and paid a $943 fine. He later posted a lengthy apology to Twitter, calling the incident "the biggest mistake of my life."
Antics: After 31-16 victory on the road against Ohio State, Mayfield drew criticism after he placed an Oklahoma Sooners flag on the Ohio State crest at midfield.
A few months later, he made a lewd gesture toward the Kansas bench, resulting in a benching to start the following game.
JOSH ALLEN
Wyoming's Josh Allen doesn't come with all the bells and whistles you'd expect from a starting college quarterback. He grew up on his parent's ranch, attending to the cantaloupe, wheat and cotton, in a small California town. He never received hours of private coaching, or play football tournaments year-round. In fact, he grew up playing baseball and basketball in high school. It wasn't until college where he began playing football and emerged as a top quarterback. Allen's raw, natural talent, makes him a huge asset to any NFL team.
Strengths
Size: Josh Allen certainly looks the part at 6'5", 233 pounds. His size, strength, hand size, and arm length that checks every box for the prototypical quarterback.
Arm Strength: Boasting a strong arm allows him to make long throws down the field to pick up big yards.
Athleticism: Allen sports high-level speed and athleticism for a player his size. He is able to power or throw his way out of a collapsed pocket and utilize his legs to extend plays and even pick up the first down. At the Scouting Combine, he ran the 40-yard dash in 4.75 seconds. Throw in the fact that he's 6'5″ and a whopping 237 pounds, and Allen becomes one of the most challenging quarterbacks to sack in the country.
Weaknesses
Overextending: Allen's strong arm is both good and bad. We see the bad come through when he overextends throws, and forces the football into traffic. He needs to work on making more short and intermediate throws.
Past Season: From a statistical standpoint, his last season didn't measure up. The question for scouts will be how much of that has to do with the talent around him, which was unimpressive, or if his potential was overrated to begin with.
Experience: As stated before, Allen broke into the game of football beginning in college. He didn't grow up playing the sport like many other prospects. Allen comes from a school in the Mountain West Conference, which has inevitably limited his exposure. Skeptics question if he has experience needed to succeed in this industry and if he is as seasoned as other franchise quarterbacks. The Ball Out Reporter: Emily Markus is a proud graduate of the University of Miami. She holds a Bachelor's of Science in Communications, with a major in broadcast journalism, and a double minor in public relations and sports administration.
Throughout her four years at University of Miami, she participated in UMTV, including holding on-air roles for SportsDesk, the university's emmy award-winning sports channel. Emily has been featured on-air for ESPN and ESPNU, and has assisted ESPN during interviews for Monday Night Football. Last summer, she had the opportunity to cover the ESPY awards live from Los Angeles, California.
Currently, she works as a Producer/Editor at NFL Network in Culver City, California.