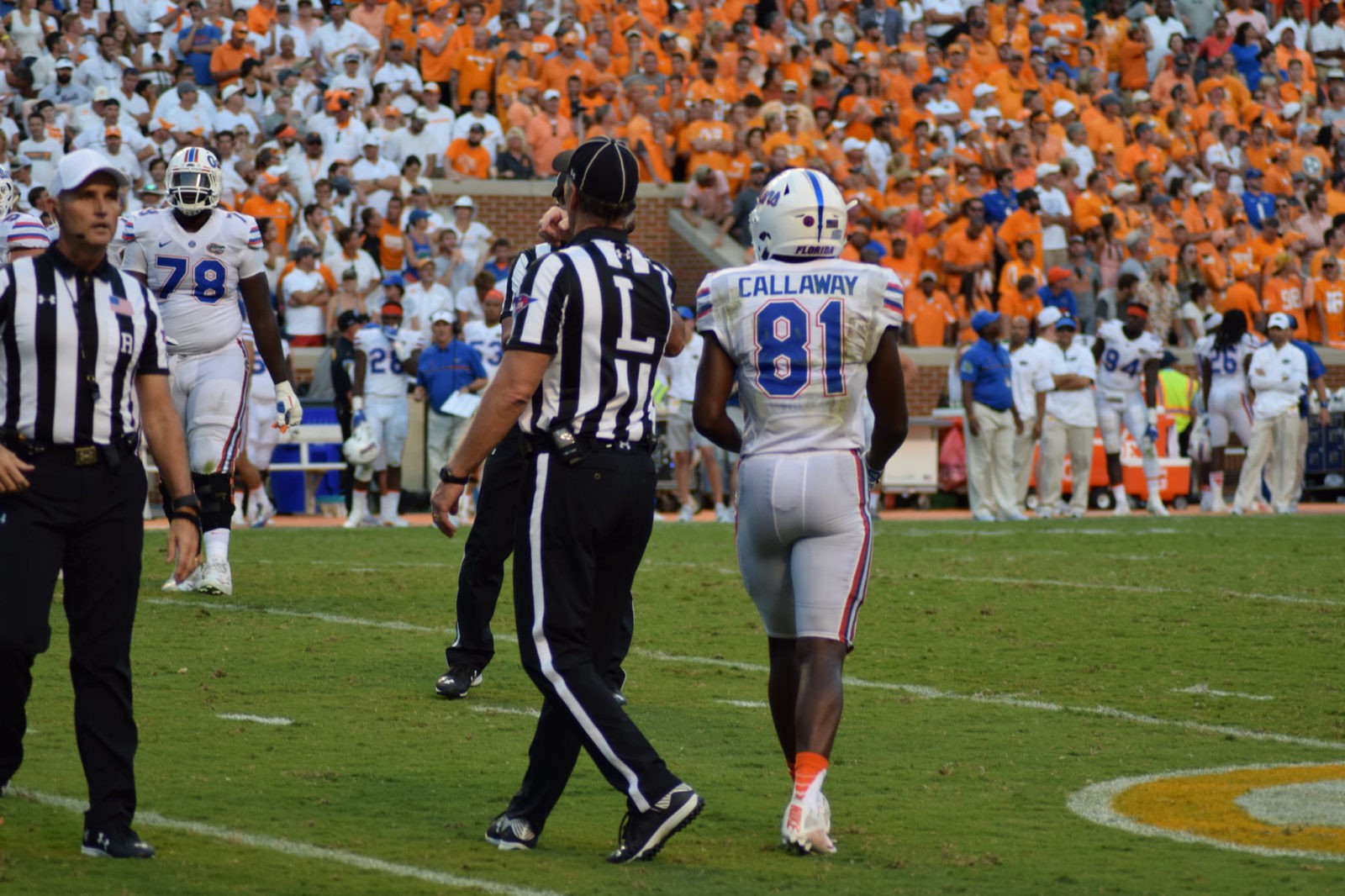 By Noah Alvarez
Around this time every year, there is a buzz like no other amongst NFL fans. The season has been over for months now, the free agency frenzy has faded and fans are stuck watching whatever NBA or NHL playoff games that happen to fall on Sundays. Chances are, if your team did not win the Super Bowl, you are anxiously waiting for the next season to start. And if your team did win the Super Bowl, you are probably still celebrating and are already thinking about going back-to-back.
During the spring, there is one major NFL event that not only reminds us that the next season is close, but it gives hope of what's to come; that event being the NFL Draft. Every year, there are storylines about different prospects – good or bad – and of course storylines of who each NFL team is considering.
This year there has been a significant increase in buzz about the upcoming NFL draft, largely in part due to the stellar quarterback class. Some draft classes are lucky to have two or three quarterback prospects that a lot of people are excited about. In this year's draft class however, there are a potential six or seven quarterbacks that could end up being great NFL starters.
Outside of the quarterback class, there are some exciting prospects at other positions as well. This draft class features maybe the deepest running back class in over a decade and has a lot of solid defensive back and linebacker prospects as well.
Before dipping into the some of the main storylines, here are my prospect rankings for each position group in this upcoming draft:
Quarterback
Baker Mayfield, Oklahoma

Sam Darnold, USC

Josh Rosen, UCLA

Lamar Jackson, Louisville

Josh Allen, Wyoming
Running Backs
Saquon Barkley, Penn State

Derrius Guice, LSU

Sony Michel, Georgia

Ronald Jones II, USC

Nick Chubb, Georgia
Wide Receivers
Calvin Ridley, Alabama

Courtland Sutton, SMU

D.J. Moore, Maryland

D.J. Chark, LSU

2 tied; Anthony Miller, Memphis and Christian Kirk, Texas A&M
Tight End
Hayden Hurst, South Carolina

Dallas Goedert, South Dakota State

Mike Gesicki, Penn State

Chris Herndon, Miami

Jordan Aikens, Central Florida
Offensive Lineman
G Quenton Nelson, Notre Dame

G/T Isaiah Wynn, Georgia

T Mike McGlinchey, Notre Dame

G/C Billy Price, Ohio State

G Will Hernandez, UTEP
Defensive End
Bradley Chubb, NC State

Marcus Davenport, UTSA

Sam Hubbard, Ohio State

Da'Shawn Hand, Alabama

Duke Ejiofor, Wake Forest
Defensive Tackle
Vita Vea, Washington

Da'Ron Payne, Alabama

Taven Bryan, Florida

Tim Settle, Virginia Tech

Maurice Hurst, Michigan
3-4 Outside linebacker
Arden Key, LSU

Harold Landry, Boston College

Lorenzo Carter, Georgia

Josh Sweat, Florida State

Dorance Armstrong Jr., Kansas
4-3 Outside linebacker
Roquan Smith, Georgia

Tremaine Edmunds, Virginia Tech

Darius Leonard, South Carolina State

Jerome Baker, Ohio State

Josey Jewell, Iowa
Inside Linebacker
Rashaan Evans, Alabama

Roquan Smith, Georgia

Leighton Vander Esch, Boise State

Malik Jefferson, Texas

Oren Burks, Vanderbilt
Cornerback
Denzel Ward, Ohio State

Mike Hughes, Central Florida

Josh Jackson, Iowa

Jaire Alexander, Louisville

Isaiah Oliver, Colorado
Safety
Minkah Fitzpatrick, Alabama

Derwin James, Florida State

Justin Reid, Stanford

Ronnie Harrison, Alabama

Terrell Edmunds, Virginia Tech
Trades, Trades and more Trades
With the help of trades from last year's draft and this offseason, this draft has the potential to feature the most trades in draft history. During this offseason, we have seen the New York Jets, Buffalo Bills and New England Patriots make trades to move up in the draft. The Jets are picking third overall and swapped places with the Indianapolis Colts, who now pick sixth.
The Bills traded their 21st overall pick to the Bengals in order to move up to the 12th spot and rumor has it they are pursuing to move up higher. The Patriots have moved up to the 23rd overall pick while still keeping their 31st pick after trading wide receiver Brandin Cooks away to the Los Angeles Rams for the Rams' first rounder. Come draft night, keep an eye out on the Denver Broncos and the Arizona Cardinals as the two teams have been tied to rumors about potentially trading up or down.
Who's coming for the number one spot?
Arguably no franchise has more pressure than the team selecting first overall in the NFL Draft. This year, that team is the Cleveland Browns. In recent drafts, there is usually a clear-cut number one overall prospect that makes a lot of sense for the team that is picking first. But in the Browns case, the team has so many needs which creates at least four to five options for them to select from.
Saquon Barkley is arguably the best player in the draft class and could be one of the best running backs we have seen in a long time. He is a complete back that can run between the tackles, has the speed to beat defenders to the edge, has the athleticism to make tacklers miss in the open field and is a great receiver coming out of the backfield. In his final year with Penn State, Barkley tallied 1,271 yards on the ground, 54 receptions, 632 receiving yards and 21 total touchdowns.
Last season the Browns selected edge rusher Myles Garrett first overall and he registered seven sacks in 11 games played. Having a dominant edge rusher is important in today's pass-happy NFL and having two dominant edge rushers is a game changer. The Browns could look to give Garrett a sidekick and draft NC State's Bradley Chubb.
Chubb is a rare complete defensive end coming out of college that can make an impact on the run and passing game. During his senior year for the Wolfpack, Chubb accumulated 10 sacks and 23 tackles for a loss. A pass rush attack of Chubb and Garrett would be a terrorizing duo for AFC North quarterbacks.
And of course, much like the past half-decade, the Browns are still in need of a quarterback to lead their team. Lucky for them, there are about three or four worthy quarterbacks they could select no.1 overall. Sam Darnold out of USC would be a great selection with the first pick.
Darnold had a monster redshirt freshman year leading the Trojans to a Rose Bowl victory, but struggled during his sophomore year and turned the ball over quite a bit. He is only 20 years old but he has shown the ability to be clutch late in games where the other quarterbacks of this draft class have not.
Josh Allen and Josh Rosen are two other quarterback names that have been thrown into the mix for the first overall pick. Allen out of Wyoming has the physical attributes of a NFL quarterback but he did not put all the pieces together while in college. In two seasons as the starter, his completion percentage was at 56.2% and he turned the ball over quite a bit making bad decisions.
Rosen out of UCLA is the most natural pocket passer of this draft class but the knock on him is his attitude. During the fall of last year, it was leaked that Rosen would consider not declaring for the draft if the Browns wanted to select him first overall.
A month ago, Rosen's former head coach Jim Mora said in a radio interview that NFL teams might be concerned about Rosen's concentration level and focus, stating that he 'has a millennial mindset.' Even if it weren't for his rumored attitude problems, Rosen also suffered a multitude of injuries while playing for the Bruins and teams may question his durability.
Tom Brady's Heir
Last season the New England Patriots rolled the dice and traded their prized backup quarterback Jimmy Garoppolo to the San Francisco 49ers in exchange for a second round pick. Garoppolo was set to be a free agent this offseason and the odds were slim that the Patriots were going to be able to resign him.
Brady is going to be 41 this season and even though he is still playing at a high level, father time will eventually kick in. Potential middle-round quarterbacks in this draft class that would benefit from sitting behind Brady a year or two before taking over include Kevin Faulk, Kyle Lauletta and Chase Litton.
Faulk out of Washington State led the Cougars to some of their best seasons during his career as as the starter. In three seasons as a starter, Faulk had a 68.7% completion percentage and recorded 30 touchdowns to only 13 interceptions in his final year. The knock on him is his arm strength and his pocket mobility. Lauletta out of Richmond is very similar to Garoppolo in his draft class in the sense they both flew under the radar because they played at a small program.
Watching Lauletta's film, he plays a lot like Kirk Cousins and is not afraid to take risks running the ball or fitting throws into tight windows. Litton out of Marshall was a surprising early-entry in this year's draft class. He threw for 3,115 yards and 25 touchdowns last season and many thought he would be a top five quarterback in next year's draft class had he stayed.
Notable Names with Declining Stocks
Whether it is because of off the field issues, health or character issues, each year in the draft there are college prospects who are worthy of a first round pick but fall to the middle rounds because teams are concerned with their baggage. Arden Key is a big name that is projected to fall to day 2 of the draft. Key is a freakishly athletic defensive end out of LSU who had a very disappointing final season in Baton Rouge. As a freshman and sophomore, Key combined for 16 sacks and 19 tackles for a loss.
He had big expectations junior year but he fell short, being dismissed from the team during the middle of the season to attend rehabilitation for his marijuana use and returned a shell of his former self. Many scouts have him as a first round talent but due to his lack of production and off the field issues, Key might fall to as far as the third round.
Maurice Hurst is another name falling on draft boards. The Michigan defensive tackle was diagnosed with an irregular heart condition at the NFL Combine and was not allowed to partake in the drills. Hurst met with doctors at Harvard and was later cleared to participate in Michigan's pro day, but ESPN insider Todd McShay has reported that many NFL teams have taken Hurst off their draft boards.
James Washington was the nation's leading receiver last year and winner of the Biletnikoff award but many mock drafts have him falling out of the first round. Why? The knock on Washington is that he faced very passive Big-12 secondaries and played in a pass-happy system at Oklahoma State.
Then he went on to test really poorly at the NFL Combine this offseason which raised some eyebrows about Washington's athleticism. He may be a one-dimensional wide receiver but Washington has the potential to be as dangerous of a deep threat in the NFL as guys like Ted Ginn Jr and DeSean Jackson.