August 31, 2023, marked a day that will forever be etched in the annals of sports history. Nebraska Volleyball Day, an event that was already significant in its own right, shattered all previous records, setting a new global benchmark for attendance at a women's sporting event.
A staggering 92,003 fans packed the stadium to its brim, a turnout that exceeded all expectations and toppled all existing records.
More than Just a Game
However, this historic event transcended mere record-breaking. It was a profound testament to the love for the game of volleyball and the unwavering support of its ardent fans. The atmosphere within the stadium was electric, filled with cheers and applause that resonated far beyond the confines of the sports arena, echoing into the hearts of millions around the world.
The Unifying Power of Sports
Nebraska Volleyball Day served as a powerful reminder of the unity that sports can foster. It was not just about watching a game; it was a unifying event that brought together people from all walks of life, united by their shared passion for volleyball. The record-breaking turnout is a testament to the growing popularity and acceptance of women's sports worldwide.
The University of Nebraska's Volleyball team attracted a sell out crown of over 90,000 for their doubleheader in Memorial Stadium! It's the largest crowd to ever attend a women's volleyball game. What an amazing sight to see! @HuskerVB

— Earvin Magic Johnson (@MagicJohnson) August 31, 2023
Elevating Women's Sports
The record set at the Nebraska Volleyball Day sends a clear and resounding message: Women's sports are a big deal. They are not to be overshadowed or underestimated. The event has undoubtedly set a new standard, challenging other women's sporting events to match, if not surpass, this level of audience engagement.
Paving the Way for Future Success
The unprecedented success of this day acts as a beacon of hope for future women's sporting events. It demonstrates the potential for massive turnout, serving as an inspiration for other teams and sports leagues around the globe. It's a call to action, encouraging broader support and recognition for women's sports.
Pride and Recognition
In the wake of this monumental event, Nebraska Athletics expressed immense pride in their achievement. They acknowledged the hard work, dedication, and resilience of the team, the relentless support of the fans, and the collective effort that went into making this day a grand success.
An Inspiring Figure
Merritt Beason, a captain of the Nebraska Volleyball team, played a significant role in this historic event. As a cherished member of The Ball Out Family, her leadership and dedication are evident.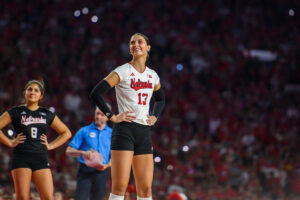 Her heartfelt words, "It was so cool for us to spend all of today with Husker Nation. We were so excited to spend today with Husker Nation and to break a world record", echo her deep-rooted love for her team and the game. She is not just a phenomenal athlete, but also an inspiring figure whose passion and perseverance serve as a shining example for all.
Nebraska Volleyball Day: A Momentous Achievement
With this incredible achievement, Nebraska Volleyball has truly made its mark in sports history. The record-breaking turnout is a testament to the team's talent, the fans' fervor, and the enduring appeal of the game. As we celebrate this milestone, we cannot help but look forward with anticipation to many more such moments of glory in the future.
This exceptional event stands as a symbol of the power of unity, the love for sports, and the potential of women's athletics. It serves as a reminder that when we come together in shared passion and purpose, we can create history and inspire change on a global scale.