MILWAUKEE, WI –On Wednesday night, the Marquette women's basketball team (9-4, 2-2 BIG EAST) suffered a 54-52 loss to Villanova (11-3, 2-1 BIG EAST). 
Both Villanova and Marquette got off to a slow start to the contest and struggled to find an offensive rhythm early. In fact, the Golden Eagles finished with just eight points in the first quarter and the Wildcats led with 13.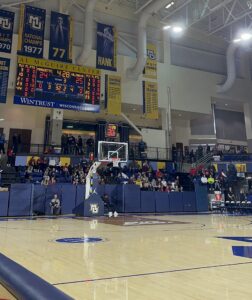 "I just thought that we missed easy layups and then honestly from there our big identity piece is being able to rebound," said senior guard Jordan King. "We just didn't have a lot of offensive rebounds to cover for those missed lay-ups."
Marquette rode the hot hand of King, who had another career night for the Golden Eagles. King notched her first career double-double and had a career-high in rebounds. King led the team in both categories while playing all 40 minutes of action. The senior guard finished the game with 23 points, 11 rebounds, and shot 47.9% on 9-19 shooting from the floor. 
Despite a slow start for Marquette and Villanova, both teams came out of halftime with a spark and momentum was flowing. After both teams scored 16 points in the third quarter, Marquette found themselves down five late in the fourth. King hit a mid-range jumper with 51.5 remaining to make it a three-point game at 53-50. After a dominant defensive possession, Marquette forced a shot clock violation to get the ball back with 19.3.
King then scored a layup with 5.7 on the clock to pull within one. After a one-for-two trip to the free throw for Villanova's Maddy Siegrist, there wasn't enough time on the clock for Marquette to get a shot up.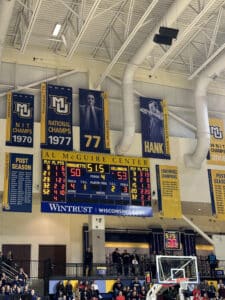 "We're disappointed obviously with the ending of the game, this was a good, hard-fought BIG EAST game and we knew playing a team like Villanova it was going to be a grind," said Marquette head coach Megan Duffy. "I thought Jordan King had some great moments willing us with some offense, and I thought overall we did a nice job on (Maddy) Siegrist, but there were some timely baskets by Villanova and they had some big defensive stops, too." 
Sigrist finished with her own double-double with 21 points and 11 rebounds for the visiting Wildcats. After tonight's performance, the senior forward now has 2,200 career points. 
Marquette heads to UConn to face the Huskies on Saturday, Dec. 31 at 1 p.m. CST. Villanova continues its road trip and opens up the New Year with a game against Xavier on Jan. 1 at 12 p.m. CST.