NEW YORK – With the first, second and fifth picks, there was no way that the Dallas Wings were going to leave the 2021 WNBA Draft empty-handed.
The Wings definitely made a statement, drafting homegrown product Charli Collier and Finland's Awak Kuier with the first two picks in the draft – the first time that a team has drafted 1 and 2 in league history. With the fifth pick, Dallas chose Chelsea Dungee from Arkansas.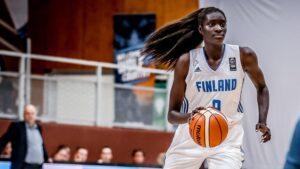 Collier, a 6'5″ phenom from Houston who played at the University of Texas, averaged 19 points and 11.3 rebounds while shooting 51.1% from the field for the Longhorns as a junior; she also became the third true junior to be drafted no. 1 (she was draft-eligible because she turns 22 this calendar year) and the first Longhorn to be drafted as the top pick. Kuier, also 6'5″, plays professionally for Ragusa in Italy, where she has averaged 8.9 points and 6.8 rebounds this season. At 19, she is the first Finnish player to be drafted in WNBA history.
With Collier and Kuier, the Wings get a sorely needed wing presence that was missing last season as they finished ninth place in the bubble (8-14). Dungee (22.3 PPG as a redshirt senior) gives Arike Ogunbowale another offensive-minded guard to work alongside.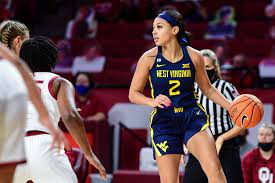 The Atlanta Dream, with the third pick, chose Arizona Wildcat guard Aari McDonald, making her the first Wildcat to be chosen in the first round. McDonald, who led the Wildcats to their first-ever NCAA Championship game, comes to Atlanta with high praise as she leaves the Wildcats as the single-season points leader. The Indiana Fever took West Virginia guard Kysre Gondrezick at the no. 4 pick, which was baffling considering Louisville's Dana Evans (who ended up going in the second round to Dallas) was right there for the taking. Gondrezick, who averaged 19.5 points last season for the Mountaineers, was projected to be a second to third-round pick.
The New York Liberty took UCLA's Michaela Onyenwere with the sixth pick while the Los Angeles Sparks took Alabama's Jasmine Walker and North Carolina's Stephanie Watts with the 7th and 10th picks, respectively. With the eighth pick, the Chicago Sky took Shyla Heal from Australia and the Minnesota Lynx drafted Tennessee's Rennia Davis. The Seattle Storm made the first draft-night trade, taking Aaliyah Wilson from Texas A&M with the 11th pick before trading her to Indiana for Kennedy Burke. The last pick of the first round went to the Las Vegas Aces, who took Iliana Rupert from France.
The second and third-round picks are listed below:
SECOND ROUND
13) Dallas – Dana Evans, Louisville
14) Las Vegas – Destiny Slocum, Arkansas
15) Atlanta – Raquel Carrera, Spain
16) Chicago – Natasha Mack, Oklahoma State
17) New York – DiDi Richards, Baylor
18) Seattle – Kiana Williams, Stanford
19) Indiana – Unique Thompson, Auburn
20) Chicago – DiJonai Carrington, Baylor
21) Chicago – Micaela Kelly, Central Michigan
22) Los Angeles – Arella Guirantes, Rutgers
23) Seattle – N'Dea Jones, Texas A&M
24) Indiana – Trinity Baptiste, Arizona
THIRD ROUND
25) New York – Valerie Higgins, Pacific
26) Indiana – Chelsea Perry, UT Martin
27) Atlanta – Lindsey Pulliam, Northwestern
28) Los Angeles – Ivana Raca, Wake Forest
29) New York – Marine Fauthoux, France
30) Connecticut – Aleah Goodman, Oregon State
31) Indiana – Florencia Chagas, Argentina
32) Phoenix – Ciera Johnson, Texas A&M
33) Indiana – Maya Caldwell, Georgia
34) Los Angeles – Aina Ayuso, Spain
35) Seattle – Natalie Kucowski – Lafayette
36) Las Vegas – Kionna Jeter, Towson
The Washington Mystics were the first team n WNBA history to have zero draft picks, as they traded all three last summer to acquire Tina Charles from the Liberty.
Before joining The Ball Out, Chris Bullock was part of SB Nation's Swish Appeal for nearly three years, covering everything women's basketball. Chris has had the honor of doing live coverage of the WNBA Finals, the NCAA Tournament, and also was given his own column, "The Triple Double". A self-described "foodaholic", Chris lives in the San Diego area with his wife and two daughters, and also hosts his own podcast, "Conscious Cravings", where he speaks about his experience as a mental health advocate.