As the smoke from Selection Monday clears, fans of women's basketball have been talking already about some of the fallout from the bracket selections for this unconventional 2021 NCAA Women's Basketball Tournament. This year, like the men's tournament, every game of the tournament will be held in one location – the beautiful city of San Antonio, Texas. And just like every year, there were plenty of head-scratching choices made as well as some very unifying choices.
You know how we do it at The Ball Out, so in our typical style, we're going to discuss the four no. 1 seeds as well as two confusing decisions made by the selection committee. Let's ball out and break it down!
STANFORD CARDINAL – OVERALL NO. 1 SEED (ALAMO REGION) 
First things first, let's get this straight: this pick was essentially the easiest no-brainer pick that any committee could have made. Hall of Fame head coach Tara VanDerveer has had the Cardinal (25-2) in lockstep from the beginning jump ball of the season and despite a couple of shaky mid-season losses, there wasn't any question this team was going to make its 33rd straight NCAA Women's tournament (of which VanDerveer has led 32, the lone exception being 1995-96 when she took hiatus to coach the US Olympic Women's team).
While a lot of the focus early on was on sophomore dunking sensation Fran Belibi (and rightfully so), it was senior guard Kiana Williams that led the way for the team, averaging 14.3 points per game while also averaging the most minutes (31.7). It was her dominating performance against no. 9 UCLA (26 points, 6 3-pointers in 36 minutes) that sealed the deal for the Pac-12 championship, their third in the last five seasons and 14th in the last 20.
It would be foolish though to sleep on junior guard Lexie Hull, who has shown that given the rock she can be a dangerous weapon alongside Williams. Their first-round matchup against 16-seed Utah Valley should serve as a warm-up for the remainder of the tournament.
UCONN HUSKIES – NO. 1 SEED (RIVERWALK REGION)
There's no doubt that the 11-time NCAA champion UConn Huskies (24-1) are riding a wave of momentum going into the tournament, but with the announcement of head coach Geno Auriemma having to miss the first week of the tournament due to a positive coronavirus test, some have a good reason to ask whether this means an early exit for the Huskies.
Let's keep it 100 though – if you know women's basketball, there is one guarantee: UConn will make a deep run (the last time they failed to reach the second round of the tournament was in 1993; I was six at the time). Plus, they have one of the most impactful players in the nation in freshman Paige Bueckers, who has already begun carving her name among the school's greatest such as Maya Moore, Rebecca Lobo, Breanna Stewart and Diana Taurasi (Bueckers led the team in scoring, assists, steals and minutes played).
What makes this season's run even more impressive is that this squad had no seniors and seven freshmen – most teams in this case wouldn't be able to carve out a one-loss record for the season. I get it, the hardcore fans will just brush it off as UConn being UConn, but let's give them credit for being able to brave such adversity and still being dominant. The Road to the Championship won't be an easy one with such a huge target on their back but thus far they have stood up to the challenge.
NC STATE WOLFPACK – NO. 1 SEED (MERCADO REGION) 
The Wolfpack turned a 20-2 record and a hard-fought win over the Louisville Cardinal in the ACC Championship into their first-ever no. 1 seed at the NCAA's. And while the team is obviously excited, head coach Wes Moore would have been just as satisfied if they didn't get it.
"The No. 1 seed is a great honor, obviously," NC State coach Wes Moore said, adding with a smile, "You all know me. I'd just as soon stayed No. 2 and laid low. You still gotta go out either way and work. This whole year has been about adjusting and staying flexible. This team has done a pretty good job all year of handling things. Now is the fun part, to be able to play on this stage."
The no. 1 ranking was a bit of a surprise to some although on the surface it shouldn't have been: between them and the other candidate (Texas A&M), only one won their conference tournament. Texas A&M finished with the same number of top-50 wins (11) as NC State but got bounced in the semifinals of the SEC Tournament, with South Carolina eventually winning (more on that in a moment). NC State also beat the no. 1-ranked team twice this season (SC, Louisville) in convincing fashion.
Make no mistake: NC State isn't a sleeper no. 1 seed, they are legit.
SOUTH CAROLINA GAMECOCKS – NO. 1 SEED (HEMISFAIR REGION)
The fourth overall seed doesn't seem to justify the effort of this Gamecocks team this past season.
Granted, the team finished 22-4 but look at the road they traveled to get to that point:
13 games against ranked opponents (most in the country)
10 away games and 5 neutral site games (finishing 12-3 overall)
one of SEVEN SEC teams to make the tournament (six of them within the top 16 teams in the tournament)
Head coach Dawn Staley will always make sure her team stays ready and this season was no exception, but to have the schedule this squad did and still come out on top as the SEC champions is nothing short of admirable. While they are expected to make a deep run in this tournament, they will have to do so without senior guard LeLe Grissett (6.7 ppg, 50% FG and 4.2 rpg) due to a lower right leg injury she suffered in the SEC championship game. Grissett was the glue gal for the Gamecocks bench and that is considered a major loss. How the team huddles around that and each other will make a difference in whether they make it to the Sweet 16 and beyond.
And now, we're gonna get into two of our biggest head-scratchers from Selection Monday.
FLORIDA GULF COAST GETS 11 SEED
Someone is going to have to explain to me why it is that a team like Florida Gulf Coast finishes 26-2 (most wins in NCAAW), ran roughshod through the Atlantic Sun (ASUN) conference tournament, and was among the most consistent teams in all of college basketball and yet only received an 11 seed for their efforts.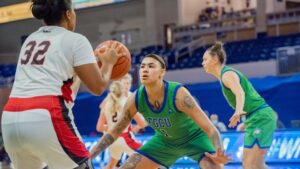 The Eagles finished a perfect 11-0 both at home AND on the road (their only losses coming at neutral site locations), hadn't lost a game in over THREE MONTHS, and outscored their opponents by nearly 700 points (2300-1640, with their average margin of victory at 23.6 points per victory). The Eagles were also the most dangerous team from beyond the arc, making 334 as a team (33.1 percent) and finishing in the top 10 in most of the offensive categories.
Kierstan Bell was an absolute monster for the Eagles this season, finishing as the fifth-ranked scorer nationally (24.3) and was the first ASUN player to be named both the conference player of the year and newcomer of the year on top of being named one of the five finalists for the Becky Hammon Mid-Major Player of the Year. Her teammates were no slouches either: Andrea Cecil, Tishara Morehouse, and Aaliyah Stanley all played big roles in helping the Eagles land their seventh ASUN championship in the last 10 seasons (keep this in mind – the women's basketball team didn't start play until 2002).
While their first-round opponent is no easy knockoff (no. 6 Michigan), the argument could be made that FGCU deserved a higher seed than that – regardless of what conference they played in.
THE BOTTOM OF THE BARREL
This season was definitely one for the books, and not necessarily in the best way in terms of this bracket.
While we saw teams that definitely got the right seed, the teams that were dangerously close to missing out and still made it were definitely were sketchy choices. The BYU Cougars (18-5) may have been the most confusing choice for this writer – they didn't even win their conference yet got in over the following teams:
Notre Dame Fighting Irish (missed their first NCAA tournament since 1995)
Houston Cougars (16 wins but 97th-ranked schedule)
Oklahoma Sooners (12-12, lost in first round of Big 12 Tournament)
DePaul Blue Demons (14-8, missed their first NCAA tournament since 2002 and lost four of their last five games)
You see the record and you are probably saying, "of course BYU got in, they had the better record". And that is where you cannot trust the numbers on its own. BYU only played three games against NET top-50 teams all season (all three of them were against Gonzaga and they finished 1-2), had the 140th-ranked schedule and to top it off, the way they lost the Big West championship should have done them in. The Cougars were up by 13 in the third quarter against a Gonzaga team that had six players sick with the stomach flu…and STILL LOST 43-42 at the buzzer. While the other teams may not have warranted a berth based on record alone, Notre Dame and DePaul should have been given the opportunity over BYU.
The NCAA Women's Tournament starts on Sunday, Mar. 21.
Before joining The Ball Out, Chris Bullock was part of SB Nation's Swish Appeal for nearly three years, covering everything women's basketball. Chris has had the honor of doing live coverage of the WNBA Finals, the NCAA Tournament, and also was given his own column, "The Triple Double". A self-described "foodaholic", Chris lives in the San Diego area with his wife and two daughters, and also hosts his own podcast, "Conscious Cravings", where he speaks about his experience as a mental health advocate.