WASHINGTON, D.C. – The U.S. Supreme Court unanimously rejected a lawsuit filed by the Texas Attorney General to throw out the presidential election results from Georgia, Michigan, Pennsylvania and Wisconsin that saw President-elect Joe Biden win those states and win the election as a result.
The lawsuit, filed by AG Ken Paxton (who was subpoenaed by the FBI on Friday after whistleblower complaints), was already a long shot but gained traction after President Donald Trump and 106 House Republicans filed amicus briefs in support of the lawsuit, which essentially was an attempt to overthrow the will of the American people by barring those states from casting their electoral votes for Mr. Biden and shifting the selection of electors to the states' legislatures. The decision would have required the justices to discard millions of votes.
In the five-sentence order, the justices said that "Texas has not demonstrated a judicially cognizable interest in the manner in which another State conducts its elections. All other pending motions are dismissed as moot." Justices Samuel Alito and Clarence Thomas recognized that while they cannot deny the state its right to file a complaint, there was no legitimate grounds in which this case would be seen by the Supreme Court. The final sentence, dismissing any pending motions as moot, essentially puts to rest any notion that the Supreme Court would save the day for President Trump and overturn the election – which is what Trump had been saying in the media for months, as noted by the three newest justices he appointed (Neil Gorsuch, Brett Kavanaugh and Amy Coney Barrett) for that very reason.
Claims of rampant voter fraud had been proven nonexistent in over 50-plus cases that the Trump campaign had filed since the Nov. 3 election – including by Trump's own appointed Attorney General William Barr, who had said that there was no voter fraud "on a scale that could have elected a different outcome in the election."
Texas Republican Party Chairman Allen West released a statement shortly after the decision was made, which basically threatened that the 18 states and 106 congressmen secede from the United States and form its own country.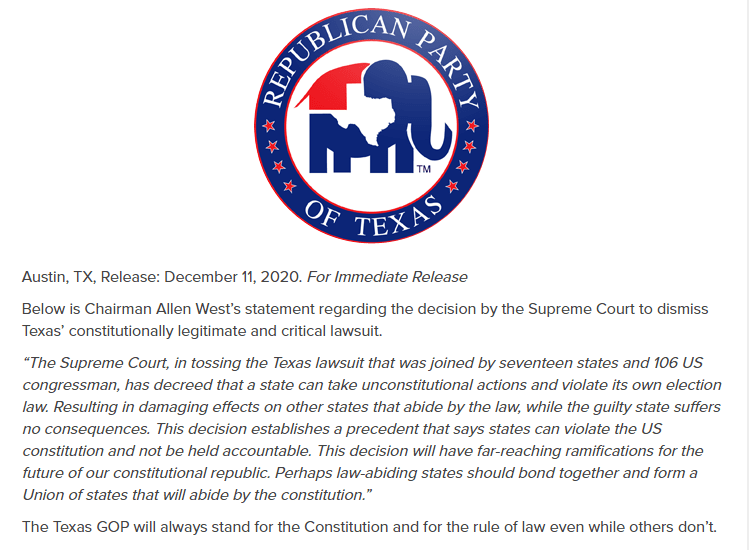 Before joining The Ball Out, Chris Bullock was part of SB Nation's Swish Appeal for nearly three years, covering everything women's basketball. Chris has had the honor of doing live coverage of the WNBA Finals, the NCAA Tournament, and also was given his own column, "The Triple Double". A self-described "foodaholic", Chris lives in the San Diego area with his wife and two daughters, and also hosts his own podcast, "Conscious Cravings", where he speaks about his experience as a mental health advocate.