According to reports, the players of the NFL have accepted the terms of the new collective bargaining agreement (CBA) with league owners. 
The vote towards the endorsement of this agreement was a tight one. It was decided by 60 votes: 1,019 "yes" votes and 959 "no" votes. The approval of the CBA ensures NFL labor peace allegedly until the 2030 year and now sets the stage for a 17-game regular season as early as 2021.
"We are pleased that the players have voted to ratify the proposed new CBA, which will provide substantial benefits to all current and retired players, increase jobs, ensure continued progress on player safety, and give our fans more and better football."

Commissioner Rodger Goodell, NFL.com
Here's a rundown of all that has been agreed to with the new CBA.
GAME 17
Say goodbye to finishing the season 8-8. League owners will have a window from 2021 to 2023 to expand the regular season from 16 games to 17 games, which is expected to happen. However, the players and owners haven't discussed in detail how the 17-game season actually will work.
In addition, it looks to be that starting in the 2021 season, the NFL season will begin on Labor Day weekend, not the following week as it normally has been doing. That weekend at the moment serves as the kickoff for a lot of college football.
FINANCIALLY SPEAKING
Per the NFL network's Tom Pelissero, the league's management council has notified team officials of the salary cap being $198.2 million per team for the 2020 regular season. Furthermore, as part of the agreement,  beginning in 2021, the players' share of revenue will improve from 47 percent to 48 percent. 
Pelissero tweeted that on top of the revenue improvement, the cap will also "spike accordingly."
Now as reported by ESPN, players will now be paid over 34 weeks. However, this could be changing to 36 weeks if and when the NFL decides to increase the number of games in the regular season to a 17. Yet, as it stands at this moment, players are paid in 17 weekly installments during the regular season. The new system will allow them to collect paychecks for eight months of the year instead of just four.
The new deal also provides increases in pay during the off-season, preseason, postseason, and performance.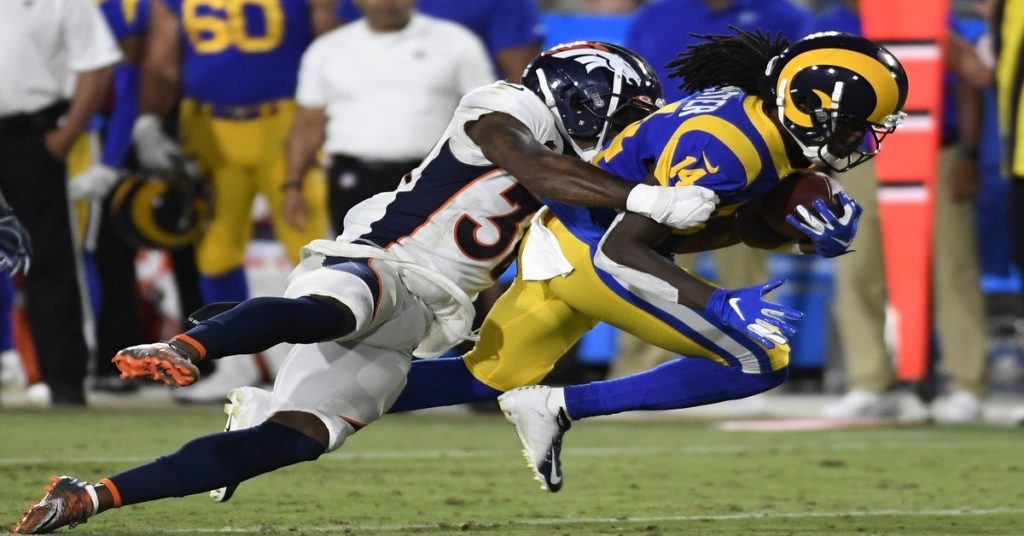 DRUG POLICY
Suspensions have been eliminated due to a positive marijuana test. There will be a limit in the testing period which will now be the first two weeks of training camp and raise the threshold for a positive test from 35 to 150 nanograms of THC. 
The NFLPA deal memo also says that "violations of law for marijuana possession generally will not result in suspension." Essentially, if you test positive, your test gets reviewed by a board of jointly appointed medical professionals to determine whether you need any kind of treatment.
Performance-enhancing drugs have also had altercations in the agreement as well.
A first failed test for stimulants or diuretics will result in a two-game suspension.
A first failed test for anabolic steroids will result in a six-game suspension.
"Manipulation and or substitution and use of a prohibited substance" will land players an eight-game suspension.
A second violation for stimulants or diuretics results in a five-game suspension.
A second violation for anabolics results in a 17-game suspension.
The CBA also increases the punishment for DUI to a three-game suspension. Also, suspended players now will be permitted to be at the team facility during the second half of their suspension period.
FRANCHISE TAG
The tags will still be in place according to the CBA. The change in the fabric of the use of the tags are that in 2030, the final league year, teams won't have the ability to use two tags in the same offseason, as they do if 2020 turns out to be the final year of the current deal.
PLAYOFFS
A wild-card team will be added to each conference. There will now be seven teams who reach the playoffs in each conference instead of the six we've been accustomed to. So, only the No. 1 seed in each conference will receive a bye, while the other three divisional champs will host a wild-card team.
So we won't get two-weekend playoff games, we now get three.
MY FEELINGS
It's more football: I think that's what everyone wants. Maybe not the players because the league has really tried to pound the table on player safety. However, as with any CBA, it's give and take. Teams get decrease of 12 padded practices during training camp. Maybe that'll help with the grind for a lot of players. 
However, I know the international games are going to be a burden for some. With the expectation of a 17th game, do the owners try to bump it up more in the next CBA? This will be something to keep an eye on. 
Players are getting taken care of: I like how the players are getting more money in terms of revenue share. Also, for the players making minimum salaries, they'll now receive significant increases in pay. I feel we're a ways away from the NFL being fully guaranteed, but maybe this CBA can be a springboard into potentially helping players to receive more money. 
Drug policy: I'm straight edge. However, players continue to ask us to become more and more educated when it comes to marijuana. In addition, they say it helps with stress, injuries, etc. 
I've never had a problem with one doing marijuana, it's your life. But, will it impact your play on the field? I want to believe these players will be smart and not go overboard. Yet, we will have those who will and so my question is now in the NEW CBA once we get to that in 2030, will things change. I believe this will tell all. Players wanted this and they got it. Now, will you be smart?