Toronto, Canada — The Toronto Football Club (TFC) won the MLS Cup in 2017, but the 2018 season didn't have the same happy ending. Entering the final regular season game on Oct. 28, there wasn't much to play for knowing the post-season was out of reach.
What was to there to play for? Pride. A final victory would prevent TFC from finishing with fewer than half as many points as last year. A victory would also prevent their opponents, Atlanta United, from the MLS record for points (which TFC holds from their 2017 season).
Despite the disappointing 10-18-6 record and 36 points this season, Toronto ended the 2018 campaign on a high note — with a 4-1 victory over Atlanta, who entered the game in first place with 69 points.
"When you have the opportunity to beat a team, to deny them a trophy, to deny them [the record], for sure there's some motivation there," said head coach Greg Vanney. "It doesn't make up for the season we had, but the effort and the execution was very good against a good team."
The home team — who was without Drew Moor, Victor Vazquez, and Jozy Altidore — opened the scoring early in the first half with a deflected shot by Lucas Janson, earning the 1-0 lead. Then, just over 10 minutes later Toronto doubled their lead with a low drive by Marco Delgado.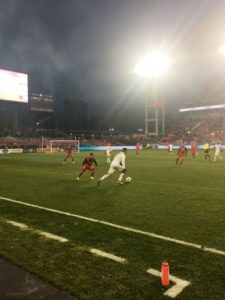 Here's where things got interesting, though. Right before halftime, Atlanta's Josef Martinez — the league's top scorer — had a wide open look at the net to put his team on the board, but his shot hit the left post. The crowd at BMO field went wild.
Yet, that was just the beginning of the craziness in the Toronto arena with over 23,000 fans.
The word of the second half was, 'offside'. Just 10 minutes into the second half, Toronto's Justin Morrow made the score 3-0 before the goal was overturned for an offside offense after video review. Then, in the 63rd minute, the same thing happened to Atlanta when a late flag called the offside overturning a scored goal. It was a rollercoaster of emotions for both squads.
Eventually, Josef Martinez put Atlanta on the board with his 31st goal of the season, and TFC followed it up with another goal in the final minute of regulation. With three minutes added in extra time, the final score of the rollercoaster game between a top team and one of the bottom teams was 4-1.
"The best part of the day is the fight, commitment and the work that everybody put in," said Vanney.
Although the season was not ideal, TFC fans left BMO field on a high note — with their MLS scoring record intact.