Happy Thursday ladies and gentlemen, and welcome to a new edition of "The Triple Double!"
And of course, this is also the first column of this holiday season, and man are we in good spirits. The same can't be said, however, for a couple of franchises in the NBA and NFL. I hope you're ready for these cold takes.
1) IT'S GONNA BE A COLD, COLD WINTER
The state of Minnesota is affectionately known as the "Land of 10,000 Lakes".
And if Wednesday afternoon was any indication, the hopes and dreams of every Minnesota Timberwolves fan will be drowning in those lakes sooner rather than later. Don't believe me? Ask Adrian Wojnarowski.
All-Star Jimmy Butler participated in Minnesota's practice, a session that included him verbally challenging teammates, coaches and front office, league sources told ESPN. Butler was vociferous and emotional at times, targeting Thibodeau/Layden/Towns/Wiggins. Story soon on ESPN.

— Adrian Wojnarowski (@wojespn) October 10, 2018
It only gets better from here. This is exactly what any team wants to hear from one of its franchise stars:
At one point in a scrimmage, sources said, Butler turned to GM Scott Layden and screamed, "You (bleeping) need me. You can't win without me." Butler left teammates and coaches largely speechless. He dominated the gym in every way. Jimmy's back.

— Adrian Wojnarowski (@wojespn) October 10, 2018
This goes out to Scott Layden and head coach Tom Thibodeau: you had one job. When Butler came into the office and asked for a trade, you already knew the situation had progressed past nuclear. Yes, you were put in a difficult spot; you had already mortgaged your future to bring Butler to Minnesota. But it was pretty apparent early on that Butler's work-a-holic attitude didn't mesh well with your young stars in Andrew Wiggins and Karl-Anthony Towns.
Let's look back further into last season: at the time Butler suffered a right meniscus injury (Feb. 23), the Timberwolves were 36-26 and were third place in the Western Conference. Butler was looking like an MVP candidate, and it was hard to argue against it. Once Butler was out, the team slid all the way to the eighth and final spot, and the only reason they got in was because they beat the Denver Nuggets in the final game of the season to break their tie (a game that went into overtime and got saved because Butler went off for 31 points).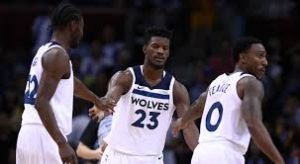 With Butler at less than 100 percent, the Wolves ended up losing in the first round of the Western Conference Playoffs to the Houston Rockets. It's hard to say whether a full season of Butler could've prevented such a horrendous slide at the end of the season, but it also shouldn't have all been on his shoulders, either.
Andrew Wiggins had just gotten a max extension, and if you looked at advanced statistics, you'd see that he was only the team's eighth-best player. This is the same guy who played the THIRD-MOST MINUTES in the NBA last season.
Then you have the franchise cornerstone himself, Karl-Anthony Towns. His relationship with Butler was contentious at best (click here) before this off-season, then it turned into a ticking time bomb. Within a week of Butler making his trade demand, the Wolves gave Towns a five-year, $190 million supermax extension (because that's what you're supposed to do with your first-ever no.1 draft pick). That alone was a clear signal that Towns and Wiggins are expected to be the foundation for which the Wolves will build upon.
Owner Glen Taylor made it clear that Butler needed to be moved and he needed to be moved fast. Layden and Thibodeau, however, seemed to be in no rush to do so. Multiple reports have come out in the last few weeks about the ridiculous demands that Minnesota wants in any deal for Butler; as of this writing, the Miami Heat are now in week three of negotiations with Minnesota.
This leads us back to Wednesday. Butler not only showed back up to practice but took a team of third-stringers and beat the starting squad (which included Towns, Wiggins and Jeff Teague) then went on the above-mentioned tirade. Then, to pour more salt on the wound, Butler sat down for a no-holds-barred interview with ESPN's Rachel Nichols; which led many to believe he had planned the entire charade.
This morning the Timberwolves canceled practice and all media availability, which at this point is the best move. With what happened on Wednesday, there is no way that Taylor can allow Butler to remain in a Wolves uniform. The manner in which Butler emasculated their franchise centerpieces and their front office shows just how bad this situation has become.
And the coldest part about all this…
(Sips coffee before typing this)
Everything Butler said was absolutely true. And they all know it.
2) THERE'S A DUMPSTER FIRE IN OAKLAND
If you're an Oakland Raiders fan reading this, let me embrace you in a sympathy hug.
As a life-long Chargers fan (when they were in San Diego), I can relate to questionable management decisions that make you want to rip your hair out (Junior Seau, Rodney Harrison, Drew Brees…I can go on). And with how the Raiders (1-4) are performing this season, especially on the defensive end, it looks like you are feeling my pain too. We may be rivals, but even I wouldn't have wished this on you.
All this could have possibly been avoided if head coach Jon Gruden hadn't flexed his muscles in dealing with now-Chicago Bears linebacker Khalil Mack. Mack, who was sitting out during training camp and the pre-season over a contract dispute, was in the last season of his contract and wanted to be paid according to his performance. You can't argue against the logic: in his first four years, Mack had already been named Defensive Player of the Year (2016), had made three Pro Bowls and was named All-Pro twice. To give you an idea of how dangerous he is defensively, his 40.5 sacks were a third of the total the entire Cleveland Browns roster (120) had over the same time period.
Yet, Gruden, going into the first year of his 10-year, $100 million contract, couldn't even bother to have a sit down with Mack and see what he could do to convince him to come to camp. Nope, he was content to talk about how much he wasn't there until Mack was traded to Chicago. If the Bears felt he was valuable enough to give him a six-year, $141 million extensions, why wouldn't the team that drafted him and knows what kind of production he can provide?
And now that brings us to this current situation. Every week this season, reporters have needled Gruden ad nauseum about the defense and its pass rushing. Every week, Gruden trolls the reporters with answers like this:
"It's hard to find a great one," Gruden said after their Week Two loss to the Denver Broncos. "It's hard to find a good one. It's hard to find one; you just said it. With college football, they aren't dropping back to pass and throwing anymore.
Let me explain this in a way that will make sense: in four games, Khalil Mack already has more forced fumbles (4) than the entire Oakland Raiders defense and is only one sack (5) behind them. It's not that pass rushers aren't there. Gruden is just trolling Oakland fans along until the team eventually moves to Las Vegas, and Mack is laughing all the way to the bank for a potentially perennial playoff contender.
3) LET'S GET PERSONAL FOR A MINUTE
I've been doing columns for The Ball Out since early summer, and while I like to make things fun, I've never taken the time to allow you to get to know the man behind the column. So I figured that today would be a perfect day to open that door.
October 11 is a special day for me for multiple reasons. One, my nephew was born on this day, but most importantly this milestone occurred: 13 years ago today, I met the love of my life and now wife, Ashley. If you have read any of my entertainment articles or follow us on Instagram, she's my right-hand person in all those adventures.
I was a second-year student at a community college, and I had just left the library to start heading home. While I was crossing the student union, I ran into our mutual friend, Lisa. I hadn't talked to her in a while, so we said hello. Right after our intros, Lisa introduced me to Ashley, who had been napping in her chair. She woke up for a moment to say hello, and right there…I just knew.
I remember looking up to the sky and talking to my late grandfather (he had passed away the month before – on Sept. 11), and asked, "Was this what you meant when you kept joking about me bringing a girl home?" Two years later, I was her first kiss. We chased each other around for a good nine years; though most of that was just me not knowing what I really wanted. On July 1, 2014, we got serious and started dating; on New Year's Eve, we got engaged.
In April, we got married, and it has been six blessed months since. Ashley has seen me at my best; she has loved me even at my worst and my darkest moments. She has been supportive of my career and my education, even if that meant me having to live elsewhere. She has also been a caring role model and supportive mother to our two daughters, the beacons of our lives.
I can't explain enough in words how much Ashley has changed my life for the better. And I can say with the utmost confidence that without her support, I wouldn't be here writing this column.
Have a wonderful day everyone, and until next time, keep shooting your shot.