Orlando, FL — Teamwork is a challenge. In college football, teammates must be humble and supportive. They must manage their personal egos, adjust to change together, and share the same mindset: win the ballgame.
For the Knights of the University of Central Florida, teamwork was truthfully displayed on Saturday.
"These guys that I got make me look a lot better," said McKenzie Milton, who rushed for two touchdowns, and threw for four touchdowns with a total of 328 yards passing.
In their match-up against the ACC Pittsburgh Panthers, the defending American Athletic Conference champions out-ran, out-passed, and out-played the Panthers in a 45-14 win. This ranks as the nation's longest winning streak of 17 games.
"Obviously [The Knights] are a good football team. They didn't win 16 games in a row coming into this game by accident," said Pittsburgh's Head Coach Pat Narduzzi. "It's hard for anybody to do that."
A sign of teamwork: be humble and supportive. During the press conference following the game, the Knights were eager to shout out others and share their strategies of personal improvement to better the team.
"A lot of times I'm getting the rushing touchdown because the running back is bringing the block," Milton expressed after the game when answering if he would be the leader in rushing touchdowns for UCF. "Whatever I produce is because of the help of the guys up front and from the running backs."
The week, running back Adrian Killins Jr. not only blocked in today's game, but also enhanced his capabilities in this week's practices as he became a reliable receiver for Milton. Killins caught three passes for 140 yards, one of them a 71-yard touchdown pass, and only ran for 40 yards.
"I've been personally improving on team skills like better communication, along with personal physical skills like speed and agility too," shared Killins Jr. after the win.
And like a great teammate, Killins Jr. complimented Milton about their tight connection. "It's like playing backyard football with him."
Additionally, solid teamwork finds ways to adjust to the opposition by finding strengths in all of their teammates.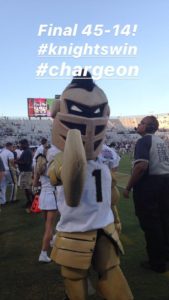 UCF used five running backs to total 240 yards, including Milton. Milton tossed three touchdown passes: 24 yards to Gabriel Davis, two-yards to Michael Colubiale, and 13 yards to Otis Anderson. Not to mention Milton used six different receivers in nine completed passes in the first half, and would have easily passed for more if he threw more accurately on the deep passes.
And yet, like a great teammate, Milton knew his faults and is eager to improve.
"I am not satisfied with how I played," said Milton. "About 50% pass-completion is not that good so it needs improvement."
Defensively, the Knights allowed 163 yards passing, one interception caught by free-safety Richie Grant, and gave up only 16 first downs. Grant shared that the defense came out fresh and new after last week's struggles against FAU.
"Once we got those turnovers in today's game, we knew that's what we were set out to do," said Grant enthusiastically. He then jokingly mentioned the three interceptions and four turnovers that resulted in only one interception and four turnovers. "Who's counting?"
Overall, UCF is getting better as a team. In order to strive for success, they represent a supportive, non-arrogant team with the adaptability to adjust. Overall, they earned the win and will learn each day to become even better teammates for the next opponent.
"Our football team focuses on the daily task at hand. They are continuing to grow together. They are continuing to buy into what we're doing," said first-year Knights Coach Josh Heupel. "That's allowing us to play better in all three phases."
https://www.instagram.com/p/BoU-Mj4hdXx/?taken-by=theballout
Podcast: Play in new window | Download