Seattle, WA — I arrived at day two of the Bumbershoot festival on Saturday with a game plan to see and discover as much as I could that I missed from the first night.
The first thing I did was stop at the Bai juice tent. They were handing out juices to passing festival goers, and they had an interactive DJ booth where you could go and pretend to be a DJ…and this was where "DJ Ball Out" was born!
As I stepped into the booth, I was able to choose which beat I wanted to start with. From there I built layers of sound as visuals of pineapples danced on the screen in front of me. There were lights flashing and smoke blasting out from the floor to create dramatic effects to the music I was producing.
From there, I checked out the Bumbersci at the Armory where the Allen Institute held a virtual reality mitochondria demonstration. They helped me put on the VR goggles and handed me the controls. I was able to view the powerhouse of the cell and press on different areas to learn more about its function.
After this, I checked out the Odwalla "Road to Our Roots" VW van and was given free smoothie samples. Their smoothies are so refreshing! They also had a cute van set up for a perfect photo op with the Space Needle in the background.
After checking out their smoothies, I decided to wander around the festival grounds. I checked out vendors, and I made my way to the Fisher Green Stage where Yung Pinch was performing. I had never heard of him before, but the crowd was jumping with their hands in the air as the Huntington Beach-based rapper performed, and the energy of the show as fun and lively. When his show was over, I waited at the stage for Saweetie. She came out with her dancers and performed her hit song, "ICY GRL".
By now it was time for some early dinner. I headed on over to the outside food court where there was a variety of foods were available. I chose to stop at Island Noodles and try their chicken wok fried noodles. These noodles brought me back to life and gave me the energy I needed for the rest of the night.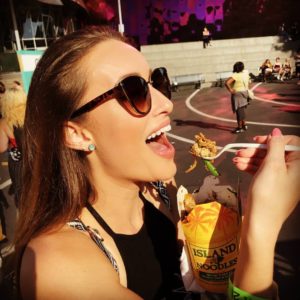 I wanted to check out the Silent Disco, but it was only available on day one. If you're not exactly sure what silent disco is, it's where everyone is wearing headphones and dancing to music only they can hear. There are different channels of music you can switch to, so you're surrounded by people dancing to music and you have no idea what they're listening to, but everyone has a great time.
As I was walking around I noticed people dancing with headphones on at the Rebel Yell Bourbon booth. I became excited because this was my chance to try it out! I put the headphones on and was instructed on the different channel settings. There were three settings: 80's, 90's, and current top 40 songs. DJ Skriblo was playing the current hits for everyone, even if you weren't wearing headphones.
I started flipping through the channels and stopped on the 90's channel to dance to TLC's "No Scrubs". The next song to come on was "Family Affair" by Mary J. Blige. At that point, I looked around and could see everyone mouthing the words and dancing to the same song I was. It was such a unique experience because we were all listening to the same song, and no one except for us knew what we were listening to.
The Rebel Yell Bourbon tent was near the Fisher Green Stage, so I decided to catch the last half of Marian Hill, an electric-pop duo from Philadelphia. During this set, Steve Davit came out with a saxophone solo, and the crowd loved the soulful sound.
After their show, I stayed at the same stage in anticipation for T-Pain, who is touring in support of his latest album, Oblivion.  A massive crowd gathered to watch him perform as he played many of his hits, including "Cyclone," "Booty Wurk," and "Buy U a Drank." I loved every second of his performance. He engaged with the crowd, and had everyone singing and dancing.
https://www.instagram.com/p/BnPGCx2Fs1R/?taken-by=theballout
After T-Pain, I headed to the main stage at the Memorial Stadium for Illenium, an electronic dance music DJ and producer. While there were technical difficulties for the two prior performers (AJR and Young Thug), it seemed all issues were sorted out by Illenium's set because his set was loud and full of bass with no issues in sight.. He had stage lights, CO2 cannons, pyrotechnics, and fireworks.
After Illenium's set ended I waited at the same stage for one of the largest performances of the weekend, J. Cole. People began pouring into the stadium, and the floor area was packed. This was the first time I had seen the surrounding stands full with people. The letters KOD floated above the stage, which is also the name of his current tour and latest album.
Everyone cheered when he took the stage, and he opened up with "Window Pain (Outro)". During his show, he talked about how history repeats itself, which segued perfectly into his song "Fire Squad." He also played songs from his earlier albums, such as "Can't Get Enough," "Nobody's Perfect," and "Power Trip". He also performed his hits "No Role Modelz" and "ATM", closing his set with a fireworks display.
Day two of Bumbershoot was unforgettable. There are so many new experiences throughout this diverse festival, so I have high hopes for the final day!