Seattle, WA — With it being the unofficial end of summer, thousands of people attended the last day of Bumbershoot to enjoy performances by a variety of artists.
Something I had been looking forward to all weekend was the Cardi B laser show at the Laser Dome. There is space for 350 people in the laser dome, but there were so many people in line that I wasn't sure how we would all be able to pack in there.
When I got inside, there were split seating options. You could sit in a chair or lie on the ground. I decided to join people lying on the ground. This gave us a great position to look up at the dome without hurting our necks.
When the lights turned off it became pitch black in the dome. The DJ introduced himself, and then started playing Cardi B hits while putting on an amazing live 30-minute laser show.
After the laser show, I made my way to see Blondie at the Fisher Green Stage. Debbie Harry walked out rocking a highlighter yellow-green wig, bright highlighter sunglasses, a black sequin jumpsuit, and a polka dot kimono that read "STOP F*CKING THE PLANET" on the back. They started right into "One Way or Another," and it's great to know that even after 44 years, they're still making rock music.
"We're just gonna rip through everything tonight and enjoy this beautiful evening," Debbie stated after a few songs. "No umbrellas tonight. Are you ready? We're going to have fun now."
The stage then lit up with black lights making the neon elements of her outfit glow.
The crowd was a mix of older fans and young teenagers, but everyone was having a blast. Blondie had a really fun show. They played hits like "Hangin on the Telephone" and "Fun."
You could tell they were having a great time on stage. While drummer, Clem Burke, was doing a drum solo, Debbie took off her kimono, then jumped right into her famous "Call Me." The crowd was hyped up and sang along to every word.
After Blondie, I headed over to the Mural Amphitheatre where Tinashe was playing. She was 10 minutes late for her show, but she made up for it with energetic dancing and beautiful vocals. She opened up with "Party Famous," and her set was the loudest of the entire weekend.
She did a great job of interacting with the crowd, too.
"Seattle, I'm so happy to be here. Tonight I'm going to perform some of my favorite songs that I've written for you guys. From Aquarius, and my newest album, Joyride." Next, she directed her comments toward a specific group of individuals in the crowd.  "This is for all my sexy ladies in the house." She then sang "Me so Bad," and after immediately went straight into "Faded Love."
At one point, Tinashe started talking about how she was single and lonely and asked if there were other lonely people out there. Of course, fans started screaming. She then brought up a fan from the crowd. His name was Will, aka "Mr. Green Hat," and sat him in a chair. She told him to put his hands behind his back, while she began singing "Company." She even proceeded to give him a lap dance right there on stage, and everyone went crazy with their cheering.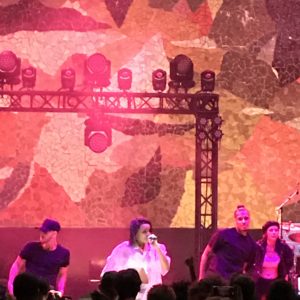 With the crowd rowdy from her performance with "Mr. Green Hat," Tinashe dropped the tempo. She slowed things down a bit with one of her favorite songs from her album Joyride called "Fires and Flames."
As great as her performance was, I left her set 15 minutes early because I wanted to get a good spot for SZA. As I was walking to the main stage, you could still hear Tinashe singing her heart out in the background.
SZA has grown into a huge star over the last couple of years. She has collaborations with Kendrick Lamar, Cardi B, and Rhianna. She had a packed stadium and she opened with one of my favorite songs, "Supermodel." SZA has a talent for making her shows feel intimate and she speaks directly to you.
"We're gonna do some jams," SZA told the crowd as she introduced herself. She performed hits from her album Cntrl, such as "Go Gina," "Broken Clocks," and "Drew Barrymore."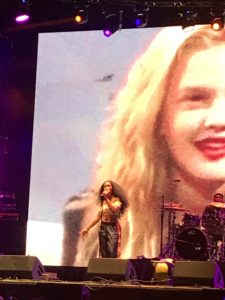 Every time her fans were projected on the large screens, you could see them singing along and crying to her music, both guys and girls. I love the deep emotional connection you can get with music, and SZA's powerful voice held the audience and moved them. I even joined in by tearing up during her song "Love Galore." Her voice was just so incredible live.
She spoke about her time in high school and how she wanted to be cool, or "at least normal." But she learned that no one is really normal, it is an impossible standard. This introduced her song, "Normal Girl."
SZA is just so relatable and okay with being vulnerable. It was one of my favorite performances of the weekend.
Looking around you could see people immersed in her music and experiencing the amazing vocals and talent SZA had to offer as she closed the last night of Bumbershoot. The end of her show had fireworks, and the overall three-day experience was unforgettable.