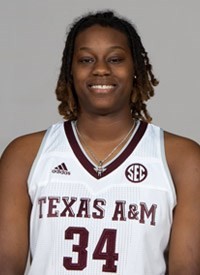 Caylinne Martin, a player on the Texas A&M women's basketball team, has been charged with a third degree felony, alongside her twin sister Corinne, after the two were arrested for an attack which led to an elderly individual being injured.
According to a report by The Eagle, the Martin sisters were arrested about two weeks ago for their involvement with an elderly man back on Christmas Eve of 2017. The same report states the sisters were released from the jail only one day after being taken into custody.
Back in December, the elderly man who is 68-years old and his son, were attacked by the Martin sisters along with three other individuals in a Houston home. The report states the man under attack bit the thumb of Corinne — drawing blood — and as a result, Caylinne is being accused of hitting the 68-year old man with a closed fist prior to the five attackers fleeing the scene.
The elder man did receive treatment after the attack on a broken nose.
However, according to Aaron Poole, Caylinne's attorney, she stated she was not involved in a physical altercation as she was not in the home at the time of the attack, but outside in the car with a toddler.
"I'm very comfortable with the fact that she was never, ever involved in any way, shape or form in a physical altercation. She wasn't even in the apartment and there is going to be, I think, multiple people, to corroborate that," Poole shared in a release with The Eagle.
Per school policy, Caylinne has been suspended from the basketball team indefinitely due to being arrested the report stated. Her twin Corinne, who was a manager for the team, is set to graduate from Texas A&M in August and is no longer apart of the team.
Caylinne played for the Aggies as a redshirt junior this season after transferring in from McLennan Community College and being named a junior college All-American.