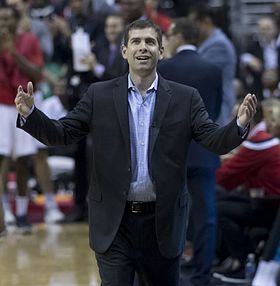 By RJ Saunders
Philadelphia, PA — Terry Rozier may have not been as "Scary" as he's been in the first two games in this series, however the nightmare continues for Philadelphia as they find themselves down 3-0 in the series.
After the Game Two loss in Boston, you started to realize that as great as the Sixers are, there is a dent in their armor. That dent, experience in the playoffs. In addition, what to do in key moments when the game is tight and every decision that you make is crucial to the outcome of the game.
Coming into tonight, neither team really had an advantage over the other. You knew that Philadelphia was going to play tough in front of their home crowd and they did. In addition, you knew that Boston wasn't going to come into Philadelphia just looking to give up one game and potentially spark life back into the Sixers and have the Sixers believe they could not only win this game but tie the series. It was going to come down to who wanted to put on their hard hats and go to work. Cause this game was physical.
For the Sixers, they played well in the first half. After a slow start in the first, they would finish the quarter on a 12-2 run. In addition, in the second quarter they began to feel it from downtown as the team would cash in 6 threes, finish the quarter on a 28-5 run and take a three-point lead going into the half. If you were a Sixer fan, the energy that you saw from the team was something to be happy about going into the second half.
The strong play that you got from Ben Simmons, who was more aggressive in that first half than he was all of Game Two, went to halftime with eight points and five assists and Joel Embiid, also came out aggressive with 11 points and eight boards. Not to mention, your shooting core also had a great first half for the Sixers with Dario Saric, JJ Redick, Marco Belinelli and Ersan Ilyasova made major contributions in the first half.
You also had to be satisfied with the effort you put on the Celtics team defensively as Boston shot an ice cold 31 percent from downtown and you were able to contain the big three of Jayson Tatum, who finished the half with 11 points, Terry Rozier wasn't all that "Scary" in the first half either only scoring 7 points and was a minus 11 in the first half and you held Al Horford scoreless. However, the second half became an absolute fight.
As the game became physical in the second half, neither team seemed to be able to get into any sort of rhythm or flow. Philadelphia scored 17 points in the third quarter on 38 percent shooting and did not make good on their three-point opportunities, missing all six of their three-point attempts. Boston was also made Joel Embiid, who finished with 22 points and 19 boards, work for every single basket.
However, the Sixers also made it difficult for the Celtics to convert on their opportunities as the Celtics would go the final three minutes without a field goal in the third quarter. Brett Brown had stated to Cassidy Hubbarth that this game would be decided by the three-point shot. He could never be more wrong, as this game would be decided inside and who would step up and make the big shots.
In the fourth quarter and overtime, as physical as those quarters were, they were quarters that left you on your feet and had both coaches and players needing to make key plays. In addition, both teams would make said plays, but also make their fair share of mistakes.
Jayson Tatum would finish the game with 24 points and break Larry Bird's record for most consecutive 20-point performances by a rookie in the post season. However, he missed 3 crucial free throws that could've very much cost the Celtics the opportunity of going up 3-0 in the series.
JJ Redick had a costly turnover that lead to a Jaylen Brown layup that could've cost the Sixers Game Three in regulation, until Marco Belinelli bails he and the Sixers out with a shot to send the game to overtime and giving Philadelphia a whole lot of energy going into the overtime period.
However, the one thing that Boston has that Philadelphia doesn't… is Coach Brad Stevens. Stevens did an outstanding job in that overtime period of both calming his team down after a miraculous shot by Belinelli and drawing up out of bounds plays for his team that worked to perfection. He also got a much-needed contribution from former all-star center, Al Horford, who didn't score his first basket until the 9:35 mark of the third quarter, finished with 13 huge points and a steal to ice the game.
This is something that Philadelphia is going to have to learn going forward in this series and next season. They are relying on their two young stars to take them to they promised land. Although they do a fine job and are sure to be the leaders of the new era of NBA stars, they don't have the experience just yet to know what to do in these situations.
Which in turn, lead to bad shot selection and costly turnovers. Brad Stevens, who is without his two best players in Kyrie Irving and Gordon Hayward, is still able to rally his guys together and have them believe that they can win any series. Even understanding that his guys, individually, are not the best players on the floor.
Both, Philadelphia and Boston have young squads. However, when you have a coach that can have his troops still trust their own process after Belinelli hit that shot that he did that could take the air out of any team, and you have "The Process" posterizing Aron Baynes and hyping the crowd as he always does, to still have a coach make you believe, that you can still walk out with a win amongst all that is something that every NBA team wants in a coach. And Stevens may be only one of three coaches in the league who can do that.
The game was physical and both teams gave their all on the floor. However, Boston is in complete control of this series, and have an opportunity to go back to the Eastern Conference Finals for the second straight year after being probably being the underdogs going into this series. Showing that "The Process" is no match for "The System".