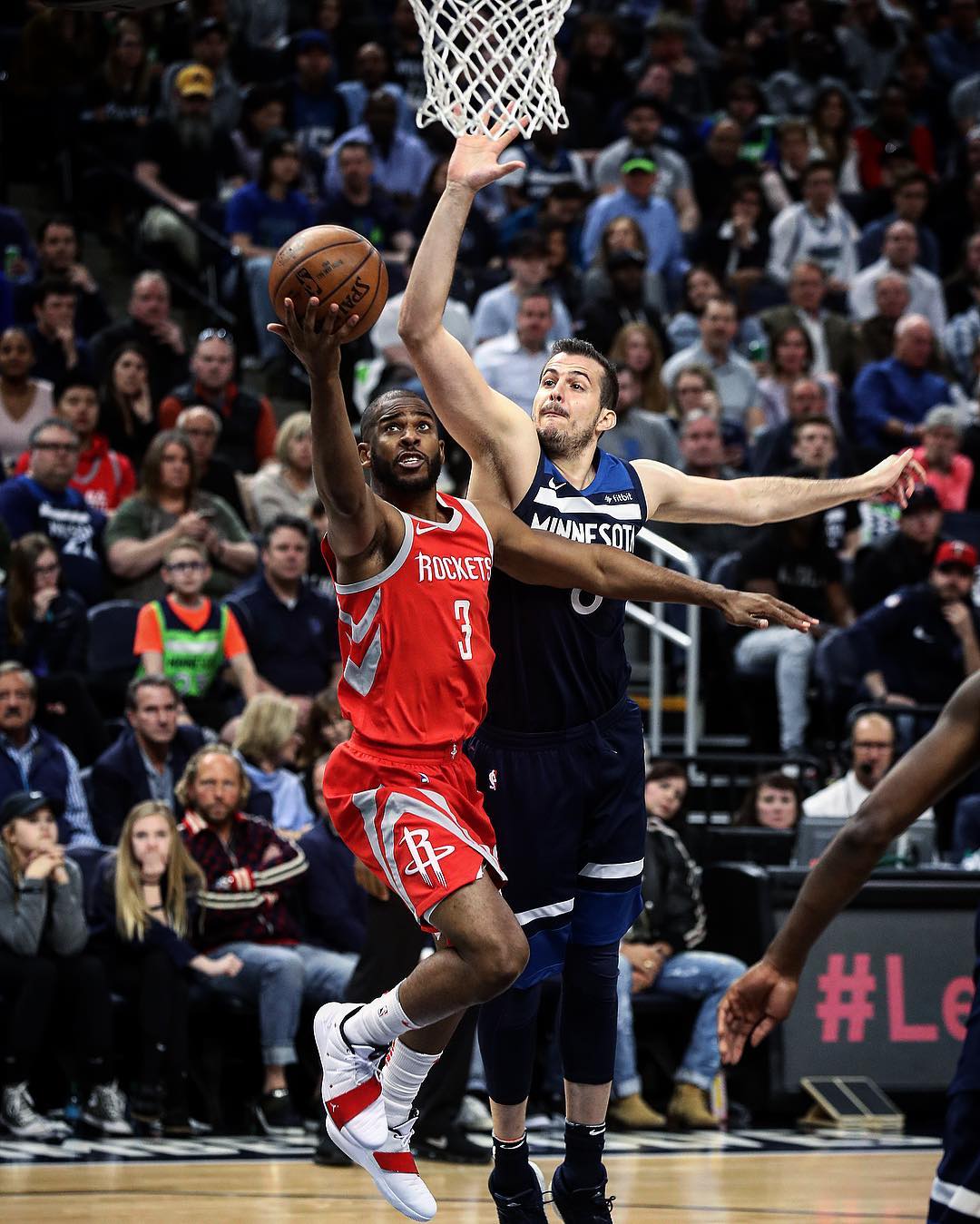 Houston, TX — James Harden must have slept a lot easier last night, Evan after the atrocious performance he put on.
Why, you ask? Because despite his 12 point, 2-of-18 shooting performance (1-of-10 3-pt), his counterparts picked up the scoring load to lead the first-seed Houston Rockets to a 102-82 victory over the eighth-seed Minnesota Timberwolves in game two of the Western Conference First Round playoffs. Chris Paul led all scorers with 27 points, while Gerald Green came off the bench to score 21 and Trevor Ariza scored 15.
Minnesota, on the other hand, can't seem to get into the playoff mindset.
Their franchise cornerstone, Karl-Anthony Towns, was held to single-digit scoring for the second straight game as he only scored FIVE points on 2-of-9 shooting. The other parts of their "Big 3", Andrew Wiggins and Jimmy Butler, combined for a grand total of 24 points. The team's leading scorer in game two: Nemanja Bjelica, with 16 points…off the bench.
Let's start with three reasons why this game (and most likely this series) has gotten out of hand for the Timberwolves.
1) HARDEN FIGURED OUT WHY DEFENSE IS THE MAJOR KEY:
While Harden had possibly the worst shooting night of his career, he more than made up for it on the defensive end. Known for his continuous defensive lapses, Harden laid down for no one Wednesday night, even bodying Towns (who's a good seven inches and nearly 30 pounds heavier) for a steal, one of three that Harden had on the night. To go along with those steals, Harden had three blocks, a career playoff-high.
The rest of the Rockets weren't slouches either on that end. Paul had three steals, while the team combined for 42 defensive rebounds (including a combined 21 from Green and Clint Capela), keeping Minnesota from capitalizing on missed shots…which we'll get to here next.
2) GIVE KAT THE DAMN BALL:
If you are a beat reporter for Minnesota, you should be asking head coach Tom Thibodeau one question, and one question only:
"Why isn't Karl-Anthony Towns getting more touches?"
Yes, crediting the Rockets' defense is the right thing to do; I'm not trying to slander them in any way. But the main culprit is the game plan of Thibodeau himself. In game one, Derrick Rose (yes, that Derrick Rose) had more shot attempts than Towns. In Wednesday's game two, Jamal Crawford, in his 18th season, had the same amount of attempts as Towns. And he's coming off the bench. Towns was the no. 1 pick in the 2015 draft and it was made clear that from day one, he was going to be the man that they laid their hopes and dreams on.
Thibodeau isn't coaching like Towns is the guy, and to Towns' credit, he isn't complaining. But If I was a Timberwolves fan and my team hadn't been to the playoffs since the 2004-05 season, I'd be up in arms that my franchise guy isn't getting the shots that he should be getting at such a pivotal time.
3) HOUSTON IS GOING GREEN…GERALD GREEN
If I had the hardcore fan that Gerald Green would play a major role in the Houston Rockets' playoff push this season, they probably would've said you are out of your mind.
Well, I must be out of my mind then…because guess what? Gerald Green is becoming a difference maker in the Rockets' push to return to the NBA Finals.
Green had a terrible shooting night in Sunday's game one (2-of-5, 4 points), but played his tail off in other aspects of the game (seven rebounds in 20 minutes. Wednesday night, Green returned to the late-season form that the Rockets were accustomed to seeing. He was all over the place: three-pointers (5-of-12, including four during Houston's 37-point second quarter), rebounds (12), and even chipped in an assist and a block.
In his last 10 games, Green has been going off, averaging 16.2 PPG and 4.3 RPG off the bench; if Houston is to make a prolonged push in the playoffs, they will need Green to keep up that consistency. Otherwise, if both Harden and Paul have off-nights in the same game (history says it will happen sooner rather than later), and Green isn't going off…the Rockets will be in trouble.
Game three of the Houston-Minnesota series will continue on Saturday at 7:30 PM EST.