It's no secret that Jimmy Butler is a force to be reckoned with on the basketball court. In fact, one media colleague just called me and exclaimed, "Butler is a damn DOG!" after witnessing his latest jaw-dropping performance.
Jimmy Butler turns into 'Playoff Jimmy' again!
Playoff Jimmy showed up again in Game 2. During the game against the Celtics, Butler showed off his incredible skill and determination by obliterating the opposition.
He began by breaking Grant Williams. Earlier, Williams hit a three and immediately started talking trash to Bulter. Soon after, "Playoff Jimmy" left the feisty forward in his wake as he scored an and-1 to bring the Heat within nine points.
From there, Butler led his team on an impressive 24-9 run that left Boston reeling.
"I just don't know if I'm the best person to talk to," said Bulter after the game.
"Y'ALL BETTER LEAVE JIMMY BUTLER ALONE" 🗣️ @MiamiHEAT pic.twitter.com/Unt3oxgagz

— NBA on TNT (@NBAonTNT) May 20, 2023
It was obvious after the game that Williams' teammates weren't fond of him waking up Butler.
Reporter: "Did Grant Williams make a mistake poking the bear with Jimmy Butler?"

Jaylen Brown: "Next question." pic.twitter.com/3LIQUIII7l

— Bleacher Report (@BleacherReport) May 20, 2023
Despite his breathtaking performance, Butler was quick to credit his teammates, saying, "We've got some dogs, and I love it. I love every bit of it. Guys never quit; we never give up. We love playing with one another!"
It's clear that Butler thrives in an environment where he can rely on his fellow players to match his level of intensity and passion.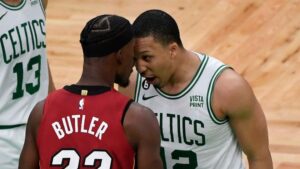 With the Heat now up 2-0 and headed to Miami for the next two games, it's safe to say that Boston has their work cut out for them. But with Butler leading the charge, the Heat are sure to give them a run for their money.
Get ready for some Heat! Miami goes up 2-0
The Miami Heat just upped the ante in the Eastern Conference Finals, stunning the basketball world with a thrilling 111-105 win over Boston in Game 2.
Jimmy Butler, also known as "Playoff Jimmy," didn't disappoint and led his team to victory with 27 points, delivering multiple clutch buckets in the final minutes. But it wasn't a one-man show.
Bam Adebayo dominated with 22 points, 17 rebounds, and nine assists, falling just short of a triple-double. Meanwhile, Caleb Martin set a new playoff career-high with 25 points of his own.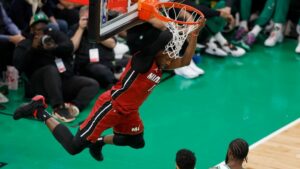 In the meantime, the series shifts back to South Florida, where the Heat are undefeated in the 2023 postseason. If Boston can't win four out of the next five games, they'll be out of the running for a trip to the NBA Finals. Could this be Miami's year? Stay tuned to find out!
Fourth-quarter struggles again doom Boston
Boston Celtics star Jayson Tatum led the team with an impressive 34 points, 13 rebounds, and eight assists. Despite his spectacular performance, Tatum's fourth-quarter performance was lackluster, as he missed both shots and committed two turnovers.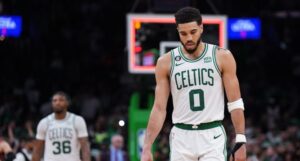 Unfortunately for Boston, they lost their second game at home in just three nights after blowing an 89-77 lead. Jaylen Brown contributed 16 points, although he struggled to score efficiently with a 7-for-23 shooting.
Brown's performance in the final quarter was also disappointing, as Miami outscored the Celtics 36-22.