Seattle, WA — Labor Day weekend signifies the end of summer and the return of school, but in the Pacific Northwest, Labor Day weekend only means one thing: Bumbershoot.
Bumbershoot (colloquial term for umbrella) is one of the largest contemporary festivals held in North America. It's located at the Seattle Center in Seattle, Washington. There is live music, comedy, theatre, film, visual arts, dance performances, and so much more all packed into one culturally diverse weekend.
What started as a small contemporary art festival in the 70's soon grew into the well-known festival that it is today. Thousands of people from across the country come to the Seattle Center to attend this annual international music and arts festival.
The Seattle Center is a perfect place to hold a festival because there are many indoor and outdoor areas for music and other artistic performances. There were also a variety of food options scattered throughout the grounds, and a lot of lawn space for people to lie down and relax.
I loved walking around and checking out each venue. It seemed like every time I looked up, the iconic Space Needle was right there. The weather Friday night was a comfortable 68 degrees, which is perfect when you're dancing in a crowd.
One of my most anticipated artists Friday night was Lil' Wayne. As I descended the stairs into the memorial stadium, I took in the views of the main stage. People were beginning to trickle in to see Lil' Wayne, and he immediately got to work pumping the crowd up.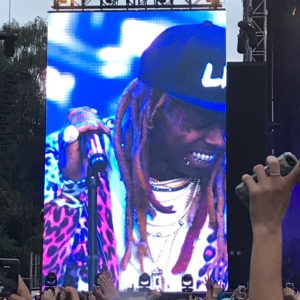 He was on time and came out almost immediately after his DJ/ hypeman, opening up with "I'm Goin' In", which is a '09 song with Drake and Young Jeezy. He was rocking a pink leopard jacket and heavy chain necklaces. He played all of his hit songs and throughout his set, he was praising his fans and pointing to them and the "man above" for his success.
Honestly, seeing him live made my middle school dreams of seeing him in concert finally come true, and he didn't disappoint! People were singing along to most of his songs, and when he asked the crowd if there were any 'old school Lil' Wayne' fans since he's been doing this for 20 years now, everyone cheered, even the teenagers in the crowd.
Next on the schedule was Ludacris. LUDA! I have looked at many different festival line-ups, but I had never Ludacris on any of them until the Bumbershoot schedule came out, so I felt this was a really unique opportunity to see him. He performed at the Fisher Green Stage, which is outside on a lawn.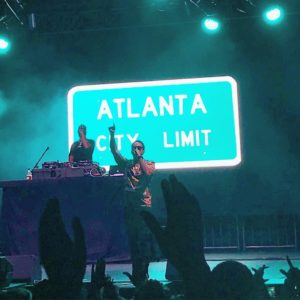 He kept the crowd waiting about 10-15 minutes past schedule before news clips of reporters and television hosts talking about his scandals began playing on the screen; however, the sound wasn't working well, so they stopped it and tried again about five minutes after. This time you could understand what the people on the screen were saying, and then he came out on stage and didn't waste any time in bringing a high-energy performance. He played fan favorites, such as, "My Chick Bad", "Move B*tch", and "Blueberry Yum Yum".
The Chainsmokers closed out the night at the Memorial Stadium Main Stage. Electronic dance music filled the stadium as the music producer duo played mixes of their hit songs, "Closer" and "Roses", as well as a continuous mix of their other songs. The bass was heavy and there were pyrotechnics displayed with almost every drop.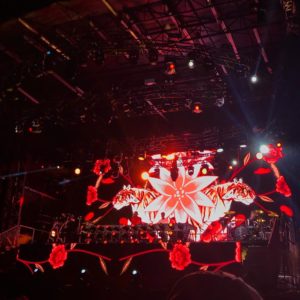 As I was walking the grounds of the festival, there were so many colorful lights and people talking about their days and who they enjoyed seeing the most. I looked around one more time as day one came to an end, and became more excited about what day two would have in store for me.
The schedule for Saturday includes T-Pain, Illenium, and J. Cole — I can't wait.